Quinoa & Almond Salad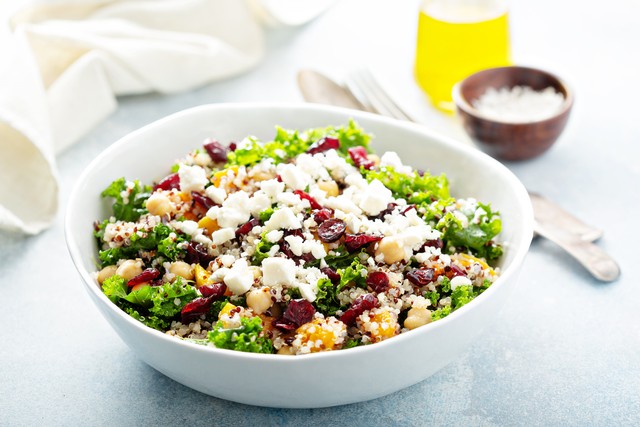 Recipe Date:
January 24, 2023
Measurements:
Imperial (US)
Ingredients
1/2 cup Quinoa
1 cup Chicken Broth
1/3 cup Sliced Almonds
2 tbsps Sunflower Seeds
4 cups Baby Spinach
1/3 cup Dried Cranberries
1 Granny Smith Apple
1 tsp Lemon Juice
1 Avocado
1/2 cup Feta
Raspberry Walnut Vinaigrette
Directions
Combine the quinoa and water (or broth) in a small pot over high heat. Bring to a boil and add salt to taste. Reduce heat, simmer for 10-15 minutes or until the liquid is absorbed. Remove from heat and let stand for 10 minutes, then add 2 tablespoons of Raspberry Walnut Vinaigrette. Chill in the fridge until at room temperature.
Toast almonds and sunflower seeds until lightly toasted. Thinly slice the apple and avocado, toss both with lemon juice. Mix the chopped spinach with the quinoa, add the chopped apple, avocado, dried cranberries, almonds and sunflower seeds. Toss with desired amount of vinaigrette and enjoy!