Dark Horse Vineyard Collector Box
LIMITED EDITION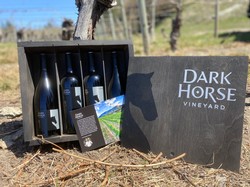 Dark Horse Vineyard Limited Edition Wooden Collector Box
"My passion is to make the best wines possible. It's a balance of utilizing the latest technology, and also honouring the traditional and trusted methods to enhance the natural varietal characteristics. By doing this we can realize the truly unique terroir that is found at Dark Horse Vineyard".
Derek Kontkanen | Winemaker
*Wines sold separately.
Product Reviews