Visit Us at Nk'Mip Cellars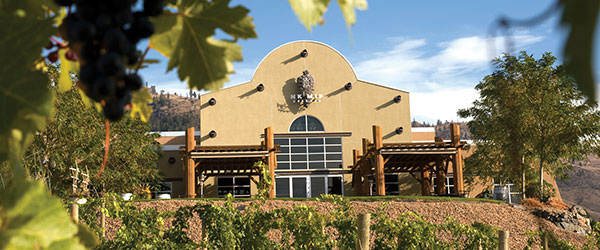 About Us
At Nk'Mip Cellars, we are the dedicated guardians of a proud legacy. As the first Indigenous-owned winery in North America, we are inspired to express our culture in everything we do. Our property is located on 1,200 acres of band land in the town of Osoyoos. This southern Okanagan area is home to Canada's only pocket desert. With some of the most spectacular views in the Okanagan, this region is well known for its long, hot summer days, cool nights, mild winters and minimal rainfall. The Qwam Qwmt series of wines, translated to "achieving excellence" are a reflection of the focus of our viticulture and winemaking teams toward this vision.
---
Our wines can be ordered online at www.greatestatesokanagan.com. Receive FREE SHIPPING (post office pick up) on 6+ bottles or upgrade to doorstep delivery (shipping fees apply) for delivery to BC, MB, SK and NS.
Tours & Experiences
Nk'Mip Cellars was designed by Robert MacKenzie, a Penticton-based architect with a passion for celebrating the Okanagan character and advancing sustainable practices. The Cellars are as much about the people who visit as the building itself, offering memorable experiences that provide powerful insight into our way of life. Nestled in our vineyard overlooking the town of Osoyoos, Nk'Mip Cellars has a world-class seasonal Patio Restaurant featuring a locally sourced menu, and spectacular views of the lake and surrounding hills.
---
Tastings & Experiences

Main Tasting Bar
Sample a flight of four of Nk'Mip Cellars' award winning wines (tasting fee non-redeemable). Choose from one of our available wine flights:
Winemaker's Series Flight: $5
Premium Series Flight: $15
Reservations recommended
---
Private VIP Grotto Tasting Experience
By appointment only
Reservations Required
Enjoy a private vineyard tour followed by a tasting in our exclusive Grotto overlooking the Red Barrel room. You'll enjoy a special selection of five library wines from the Qwam Qwmt and Mer'r'yim Series while seated at our Grotto tasting table. Limited quantities of these specially selected wines will be available for purchase after your experience. Fee is $75 per person and is non-redeemable.
See Other Tasting & Experience Options
---
Nk'Mip Cellars Patio Restaurant
The Patio offers Bistro Fine Dining in a picturesque location, with fresh, farm-to-table innovations inspired by traditional Aboriginal foods and techniques.
Open seasonally

View Patio Hours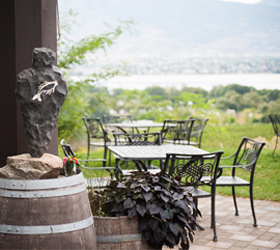 Hours of Operation
Phone | 250.495.2985
Email | info@nkmipcellars.com
Spring
(March 1 - April 30)
10:00 am - 5:00 pm

Late Spring
(May 1 - June 30)
10:00 am - 6:00 pm
Tasting by appointment 10:00 am - 4:30 pm
Summer
(July 1 - October 9)
10:00 am - 5:00 pm | Tuesday - Friday
10:00 am - 8:00 pm | Saturday - Monday
Tasting by appointment 10:00 am - 5:30 pm Tuesday - Friday
Tasting by appointment 10:00 am - 7:30 pm Saturday - Monday
Fall (October 10 - October 31)
10:00am - 6:00pm | Daily
Winter (November 1 – February 28)
10:00am - 5:00pm | Daily
Please note we are closed December 24, 25, 26, and January 1
---
Contact
Wine Shop Tel: 250.495.2985
Wine Club Inquiries Tel: 778.409.9922
Email: info@nkmipcellars.com
---
Location
1400 Rancher Creek Road
Osoyoos, BC V0H 1V6
---