Visit Us at Nk'Mip Cellars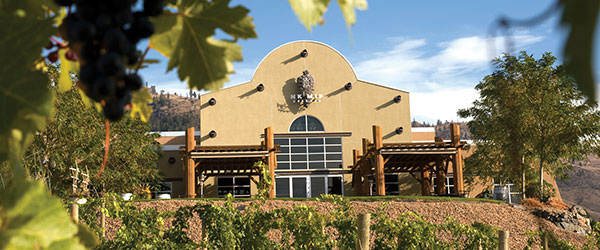 About Us
At Nk'Mip Cellars, we are the dedicated guardians of a proud legacy. As the first Indigenous-owned winery in North America, we are inspired to express our culture in everything we do. Our property is located on 1,200 acres of band land in the town of Osoyoos. This southern Okanagan area is home to Canada's only pocket desert. With some of the most spectacular views in the Okanagan, this region is well known for its long, hot summer days, cool nights, mild winters and minimal rainfall. The Qwam Qwmt series of wines, translated to "achieving excellence" are a reflection of the focus of our viticulture and winemaking teams toward this vision.
---
Tours & Experiences
Nk'Mip Cellars was designed by Robert MacKenzie, a Penticton-based architect with a passion for celebrating the Okanagan character and advancing sustainable practices. The Cellars are as much about the people who visit as the building itself, offering memorable experiences that provide powerful insight into our way of life. Nestled in our vineyard overlooking the town of Osoyoos, Nk'Mip Cellars has a world-class seasonal Patio Restaurant featuring a locally sourced menu, and spectacular views of the lake and surrounding hills.
View Private & Group Experience Listing
---
Tastings & Experiences
Main Tasting Bar
Sample 4 wines for $8.00 (fee waived with bottle purchase)
Try our acclaimed Riesling Icewine for $3 (fee waived with bottle purchase)
Qwam Qwmt Tasting Gallery
April 1 - April 30 | Friday - Sunday
May 1 - October 31 | 10:30 am - 4:30 pm | Daily
$15 non-refundable Runs approximately 25 minutes.
Enjoy an in-depth tasting of our premium Qwam Qwmt series. See the difference Riedel varietal glassware makes in our semi-private tasting gallery.

Bookings accepted every half hour.
For groups smaller than 8 guests, your tasting is not guaranteed private.
Tasting Fees collected are donated to the Desert Cultural Centre for the Preservation of the Okanagan Language and to the B.C. Hospitality Fund
Elements of Wine Pairings
November 1 - 30 | Friday - Sunday | Hourly from 11:00 am - 3:00 pm
$30 per person
In the Indigenous tradition the Medicine Wheel represents the Four Elements of nature, Earth, Water, Air and Fire. In the wine world there are four main elements at play in wine pairings: Salt, Sweet, Sour & Savoury. Join us as to learn how to master these elements in pairing wines with your meals as we walk you through a pairing experience playing with these food elements.
Qwam Qwmt Mystery Flights
November 1st – February 28th | Friday - Sunday |11:00am, 12:00pm, 1:00pm, 2:00pm & 3:00pm
$25 per person
Join us in our Qwam Qwmt Gallery and test your nose and palate as you enjoy a tasting of
a mystery flight of five wines that may include specially selected library release wines that
will also be available for purchase after your tasting.
---
Nk'Mip Cellars Patio Restaurant
The Patio offers Bistro Fine Dining in a picturesque location, with fresh, farm-to-table innovations using traditional Aboriginal techniques by Chef Orlin Godfrey.
Open seasonally

View Patio Hours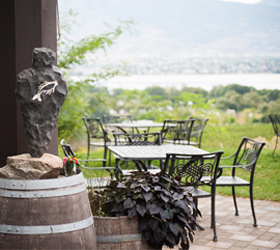 Hours of Operation
Phone | 250.495.2985
Email | info@nkmipcellars.com
Spring
(April 1 - May 31)
10:00 am - 5:00 pm

Summer
(June 1 - Septmber 1)
10:00 am - 6:00 pm | for Wine Sales
Tasting by appoimtent 10:00 am - 5:30 pm
Fall (September 2 - October 31)
10:00am - 6:00pm | Daily
Winter (November 1 – March 30)
10:00am - 5:00pm | Daily
Please note we are closed December 25, 26, and January 1
---
Contact
Wine Shop Tel: 250.495.2985
Wine Club Inquiries Tel: 250.583.9844
Email: info@nkmipcellars.com
---
Location
1400 Rancher Creek Road
Osoyoos, BC V0H 1V6
---