Visit Us at Cellar Door & More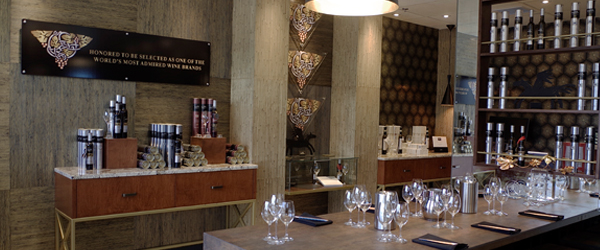 Cellar Door & More
Our wines can be ordered online at www.greatestatesokanagan.com. Receive FREE SHIPPING (post office pick up) on 6+ bottles or upgrade to doorstep delivery (shipping fees apply) for delivery to BC, MB, SK and NS.
To simplify your experience, we offer two award-winning, recognized wine brands in one stop at the gateway to South Okanagan wine country.
About Inniskillin
Inniskillin is Canada's original Estate winery, recognized by Drinks International as "One of the World's Most Admired Brands". We feature limited edition Discovery Series wines and single vineyard wines produced from the Golden Mile Dark Horse vineyard. Inniskillin is internationally recognized and acclaimed for producing some of the world's best Icewines. Each year as winter approaches, our winemakers are focused in their pursuit of this luscious "Nectar of the Gods", constantly monitoring weather conditions to ensure optimal harvest times and guarantee top class harvests.
About Jackson-Triggs
Jackson-Triggs Okanagan is dedicated to the pursuit of excellence in VQA wines through establishing first-rate vineyard plantings, coupled with extensive research and development.The sandy desert terroir in this area is ideally suited to varietals that demand high heat, such as Shiraz and Zinfandel. In 2006, our hard work and dedication was rewarded when the 2004 Grand Reserve Shiraz won "Best in World" at London's International Wine and Spirit Competition.
---
Tastings & Experiences
Although Inniskillin and Jackson-Triggs do not offer tours, our experiences are not to be missed. Whether you're discovering how these two brands complement each other, gaining a better understanding of what sets our single vineyards apart, or learning about luscious Icewine and unique ways to enjoy it, you're sure to be impressed!
---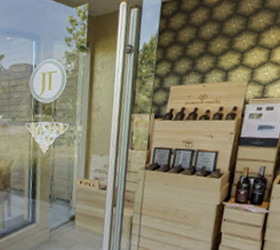 ---
Hours of Operation
Phone | 250.498.4500
Email | info@Inniskillin.com
Dates: March 1st - April 30th
Time: 11:00 am - 5:00 pm
Dates: May 1st - June 30th
Time: 11:00 am - 5:00 pm
Dates: July 1st - August 31st
Time: 10:00 am - 5:00 pm
Dates: September 1st - October 31st
Time: 11:00 am - 4:00 pm
Dates: November 1st - February 28th
Time: 11:00 am - 4:00 pm
---
Contacts
Wine Shop Tel: 250.498.4500
Wine Club Inquiries Tel: 250.583.9844
Email Inniskillin
Email Jackson-Triggs
---
Location
7857 Tucelnuit Drive (Just north of Oliver, off Highway 97)
Oliver, BC V0H 1T2
---