2011 Black Sage Vineyard Pipe 500mL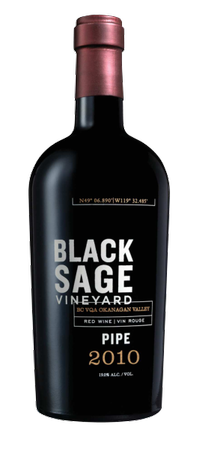 Wine Profile
Tasting Notes
This fortified wine is a blend of Cabernet Sauvignon, Merlot and Cabernet Franc, usually the last grapes to be harvested. Savour the luscious flavours of ripe cherry and soft blackberry with a hint of fig. Enjoy this wine with fruit, cheeses and nuts, or try it with a dark bitter chocolate dessert.
Awards
SILVER MEDAL - DESSERT STYLE WINE - OKANAGAN WINE FESTIVAL
Product Reviews
vino
(Feb 6, 2014 at 11:56 AM)
Really like this wine. Reminds me of my days back home.
Rosie
(Sep 25, 2014 at 5:24 PM)
Consistently delicious! I have all my friends hooked and have been purchasing this PIPE for over 15 years.
Brent
(Dec 31, 2014 at 2:27 PM)
Great port... I mean Pipe. It leaves you wanting more.
Anita
(Jul 30, 2021 at 6:54 PM)
Beautiful body with a smooth finish. Great with chocolate or any dessert! Must have