Chicken Biryani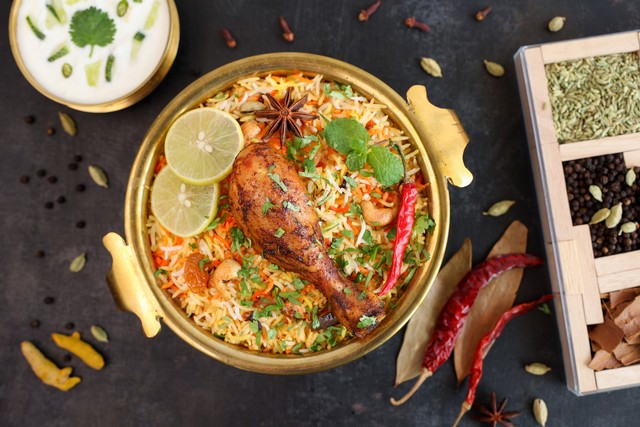 Recipe Date:
February 16, 2023
Measurements:
Imperial (US)
Ingredients
1 tbsp Ghee/Vegetable Oil
1 1/2 lbs Boneless Skinless Chicken Breasts, cut into cubes
1 Yellow Onion
1 Jalepeno Pepper
3 tbsps Ginger Paste (prepared)
2 tsps Garam Masala
1 tsp Cumin
1 tsp Turmeric
1 1/2 tsps Salt
1 tbsp Minced Garlic
2 Tomatoes, large
1 cup Basmati Rice (uncooked)
2 1/4 cups Chicken Broth
1/4 cup Cilantro
1 Lime, cut into wedges
Directions
Heat oil over medium heat in a frying pan. Once simmering, add chicken pieces and let them cook until golden brown. Turn the chicken pieces and add the onion, jalepeno, ginger, garam masala, cumin, turmeric and salt. Sauté for 3 minutes or until the onion has softened.
Add garlic and tomatoes to the pan. Stir well, then add the rice and broth. Let this mixture come to a boil, then cover the pan and turn the heat to low. Let rice steam for 15 minutes, turn off the heat then continue to steam for another 10 minutes. Garnish with silantro, and serve with lime wedges.