Spinach, Strawberry & Walnut Salad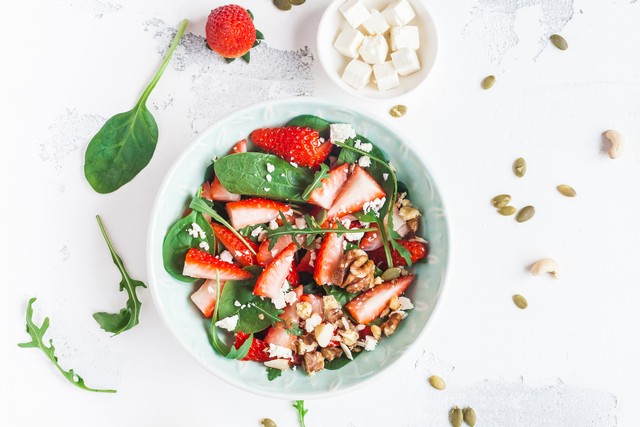 Recipe Date:
March 25, 2022
Measurements:
Imperial (US)
Ingredients
1/4 cup Red Wine Vinegar
1 small Shallot, coarsely chopped
1 cup Fresh Strawberries, stemmed and quartered
1 tbsp Strawberry Preserves
1/3 cup Olive Oil
Salt & Pepper to taste
5 ozs Baby Spinach
2 ozs Walnuts, coarsely chopped
3 ozs Crumbled Feta Cheese
8 ozs Strawberries, stemmed and quartered
Directions
For the Dressing:
Add red wine vinegar, shallot, strawberries, strawberry preserves and honey to a blender, blend until smooth. Add olive oil, blend until emulsified. Season to taste with salt and pepper.
For the Salad:
Add spinach to a large salad bowl and coat lightly with dressing, toss to coat. Sprinkle with strawberries, walnuts and feta cheese. Dress with additional dressing if desired. Pair with a glass of Rosé and enjoy!