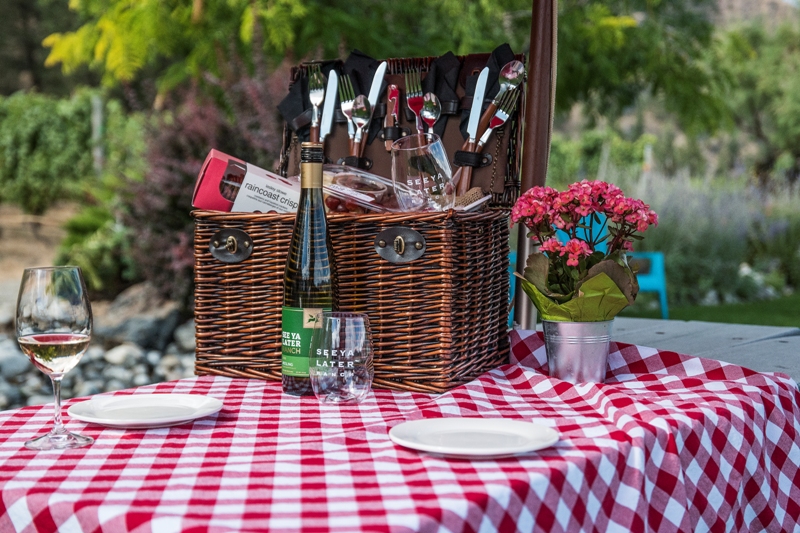 Okanagan Wineries and Parks with Picnic Areas
Nothing says summer quite like enjoying an al fresco meal in a beautiful setting. Luckily, the Okanagan offers plenty of picnic options. And, many of them fit perfectly into a day of wine touring!
We looked at the picnic area in terms of its setting, whether it has facilities, and what other attractions or activities can be enjoyed there. We whittled down the list of options to come up with our top picnic spots in the Okanagan. If you're wondering which wineries have picnic areas, you're in luck. We've included a few in our list.
Top Picnic Spots in the South Okanagan (Summerland to Osoyoos)
Sumac Ridge Estate Winery - Summerland
There are two picnic areas at Sumac Ridge that offer a lovely vineyard vista. You can spread your blanket out on the grass or set yourself up at one of the bistro tables. And, it's a licensed area so you can purchase a bottle at the wine shop and enjoy it on the lawn. Forgot to pack a picnic? No problem. The wine shop also offers nibbles (both sweet and savoury) and there's a cooler in the back stocked with everything you need for a DIY cheese and charcuterie plate. This is the perfect spot for a spontaneous picnic!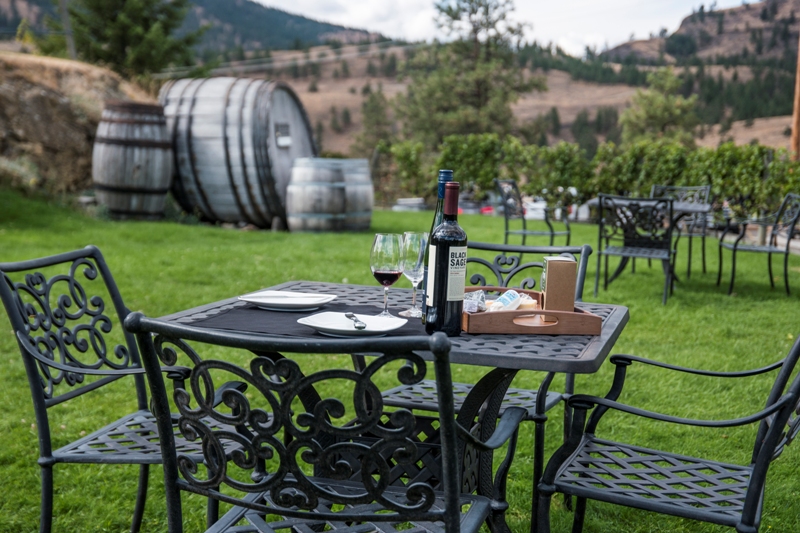 Peach Orchard Park - Summerland
There are a lot of different areas to choose from at this waterfront park. You can grab a stretch of grass close to the water, snag a picnic table, or claim a spot on the beach. This park is perfect for bigger family gatherings thanks to the covered group picnic area. And, if you need to work off some of that potato salad, there's a lakeside walkway. Bathroom facilities, a floating dock, a swimming beach, a doggie beach, and a splash park all make this a great spot for long, leisurely picnic.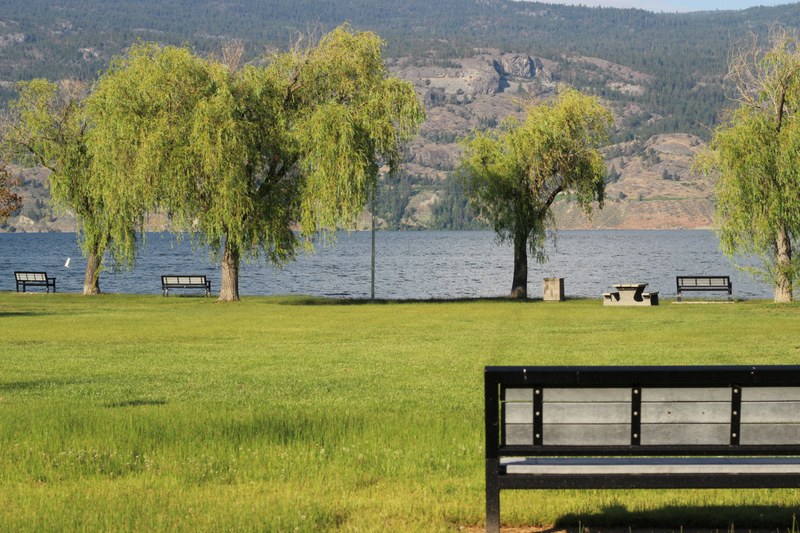 Sun-Oka Beach Provincial Park - South of Summerland
There are several provincial parks along the Hwy. 97 corridor between Peachland and Penticton but Sun-Oka is the best option for a picnic. The first reason for that is the sheer abundance of picnic tables. You can find a table in the trees, on the grass, on the beach; romantically secluded or in a cluster for groups. There are also plenty of areas to lay out a picnic cloth on either the grass or sand. There are also good facilities here, a nice swimming beach, and lots of chirping birds to help you forget that you are steps from the highway. If you like to picnic with your pooch, there's an entirely separate dog beach you're going to love.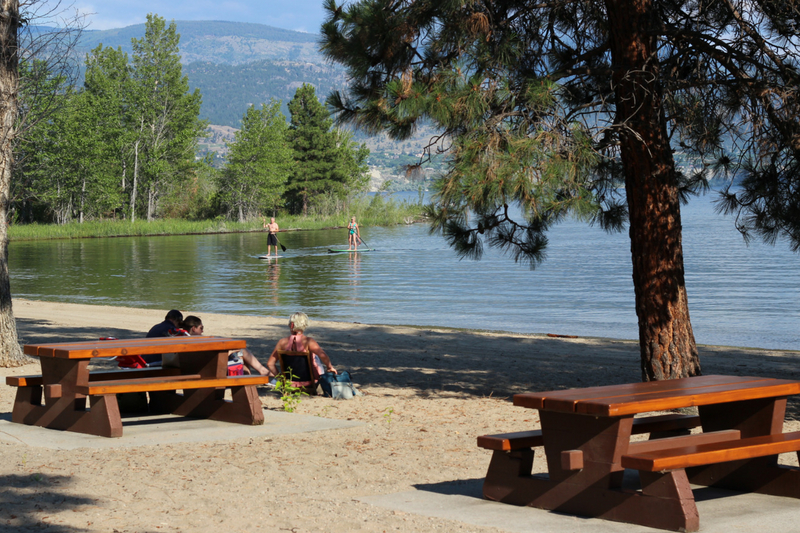 See Ya Later Ranch - Okanagan Falls
You can't beat the scenery from this winery picnic area! See Ya Later Ranch is located above Okanagan Falls with a long view out over the vineyard of Okanagan Lake. It's stunning. The picnic area offers both tables and grassy areas in the garden. You can also choose a shaded spot if you're not a sun-lover. The best part - you can purchase a bottle of wine at the wine shop and enjoy it right away. Now, if you want the wine and views without the hassle of bringing a picnic, the Patio Restaurant is open 7-days a week through the summer.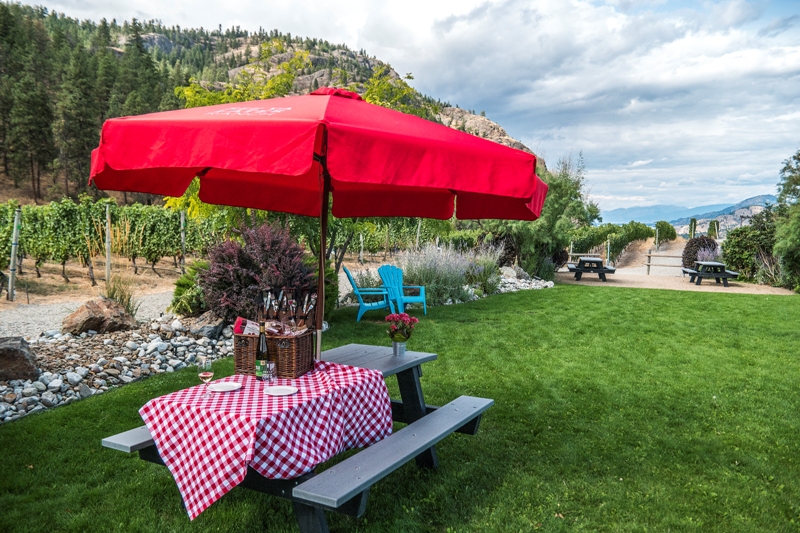 Christie Memorial Park & Kenyon Park - Okanagan Falls
Picnicking at this park is like getting two parks in one - both on the lake. To the East, you have Christie Memorial Park with its grassy area dotted with massive weeping willow trees that just beg to be napped under. Right next door, you have kid-friendly, Kenyon Park with a splash park and playground and lots of grass to run around on. Plus, there's a covered picnic area that is great for big families or groups. There are good facilities here, a shallow swimming area, and you're only a block from the main strip in case you forgot something.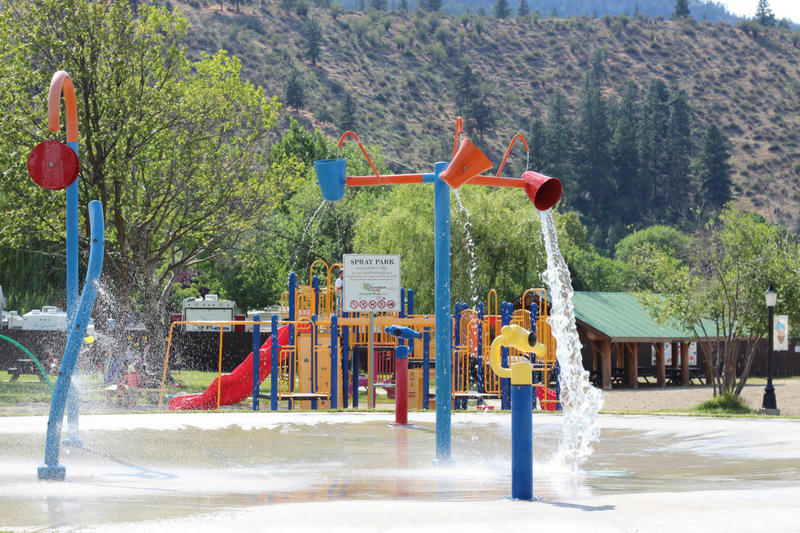 Jackson-Triggs and Inniskillin Winery - Oliver
Fancy a picnic on a winery patio? This location is for you. There's a nice patio table where you are welcome to nosh on your own food while enjoying a bottle purchased from the wine shop. The best part of picnicking here is that there are actually two wineries here - Jackson-Triggs and Inniskillin - you can choose wines from either of their iconic portfolios. The sunny patio offers a vineyard panorama backed by rocky hills. You can also enjoy the delectable food and wine pairing experiences here (in case you show up without a picnic).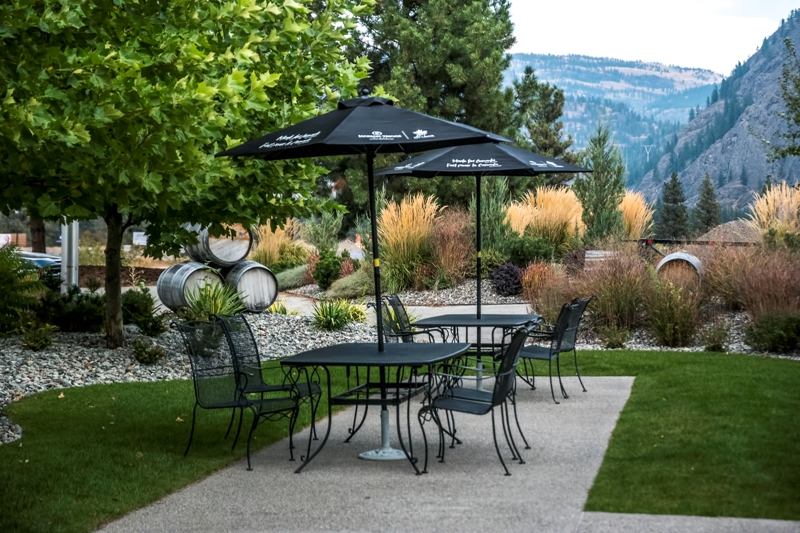 Sẁiẁs (formerly Haynes Point) - Osoyoos
There is so much to recommend this location for a picnic, especially since the campground itself is usually booked solid. The day use area at Sẁiẁs (pronounced s-wee-yous) Provincial Park is set just up from a cute beach right on Osoyoos Lake. There are picnic tables, change rooms and washrooms, trees for shade and plenty of things to entertain you when you're not eating. Take a dip in the lake, walk through the marsh and check out some birds, or learn more about the cultural significance of this site now operated by the Osoyoos Indian Band. After a visit to nearby Nk'Mip Cellars, it's definitely a great place to spend a few hours enjoying the splendor of the south end of the Valley.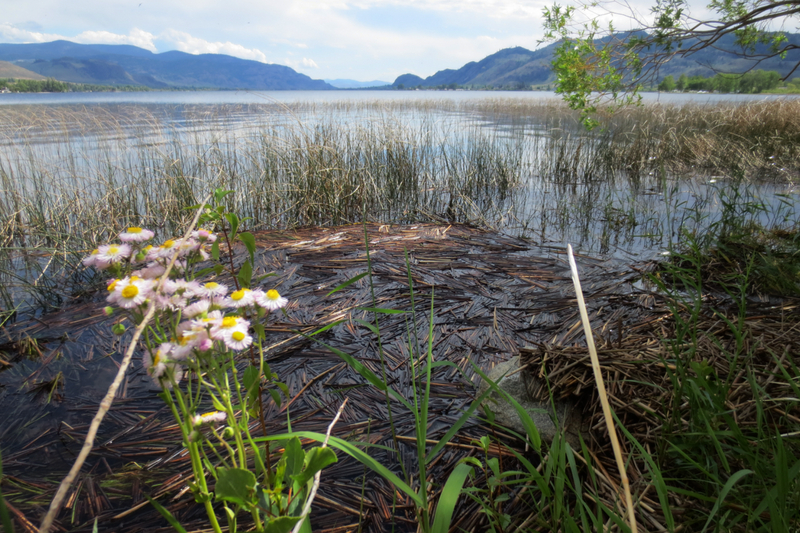 Nk'Mip Cellars - Osoyoos
The first thing you need to know about picnicking at Nk'Mip Cellars is that there is no picnic area at Nk'Mip Cellars! So, why is it on this list? Because you can enjoy all of the things you love about a picnic without the hassle of packing a picnic. The patio restaurant offers a spectacular view, delicious lunch or snack options, and serves award-winning wine by the glass or bottle. This is the place if your idea of a picnic is as upscale as picnicking gets - kind of like glamping instead of camping.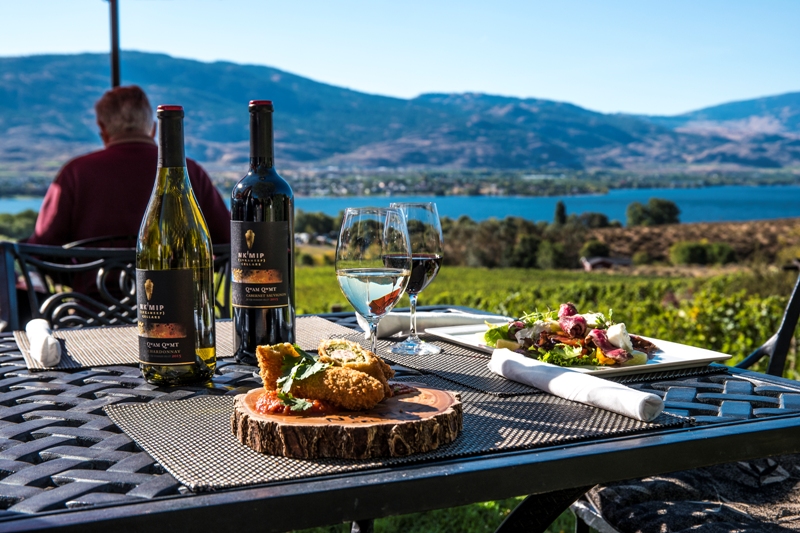 Conkle Provincial Park - Westbridge, BC
This final entry might surprise you and that's because it's a bit of a local's secret and a hidden gem. That's because it's a bit off the beaten track. From Nk'Mip Cellars, head down the hill and turn left on Hwy 3. Watch for signs for Conkle Provincial Park after about 40 km. Turn left on Johnstone Creek Road (which is a bit bumpy going) and continue to follow the signs. So, what makes this spot worth the 1hr + drive from Nk'Mip? The picnic area is located on a pebble and sand beach next to one of the most serene lakes you'll ever lay your eyes on. Plus, there are some rustic facilities, trees for shade, and a couple of tables. Once you get out here, you won't want to leave which is why we suggest arriving prepared with a tent and some wine from Nk'Mip so you can slip into one of the first come/first serve, forested campsites. It's the perfect place to enjoy your wine and leisurely picnic while surrounded by nature.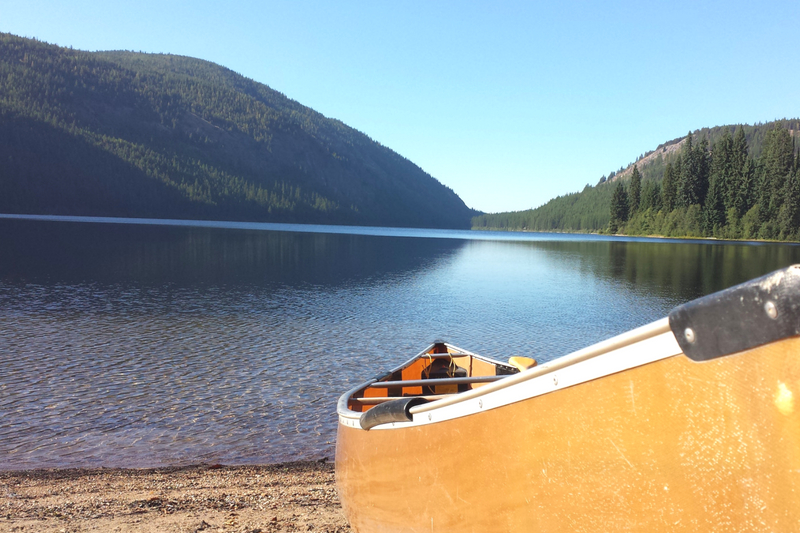 Winery Images by Milk Creative Communications

Sumac Ridge Estate Winery's 37th Anniversary Event!

Sumac Ridge will mark this special occasion by offering complimentary Steller's Jay Sparkling Wine. It will be served with its perfect pairing - mind-blowing truffle and tarragon popcorn.
Inside the wine store, guests can enter to win a surprise giveaway - perfect for wine-lovers. Plus, there will be specially priced gift packs like a bottle of Steller's Jay Gewurztraminer with 2 Go Vino Glasses and stopper for only $37. It's perfect for a picnic, patio, or party.
Those who want to keep the party going can sign up for Bubbles and Bites at 3:30 pm. This is a spectacular food pairing experience in the sparkling wine cave for only $25. And, anyone who signs up on this special day will get a bonus gift.
37 years is a milestone well worth celebrating. Stop by Sumac Ridge Estate Winery on July 11, 2018, from 11:30 am to 4 pm to be a part of it.
This event is in the past.

The Bubbles and Bites experience is available daily. Click the RESERVE NOW button below and select the day you'd like to visit.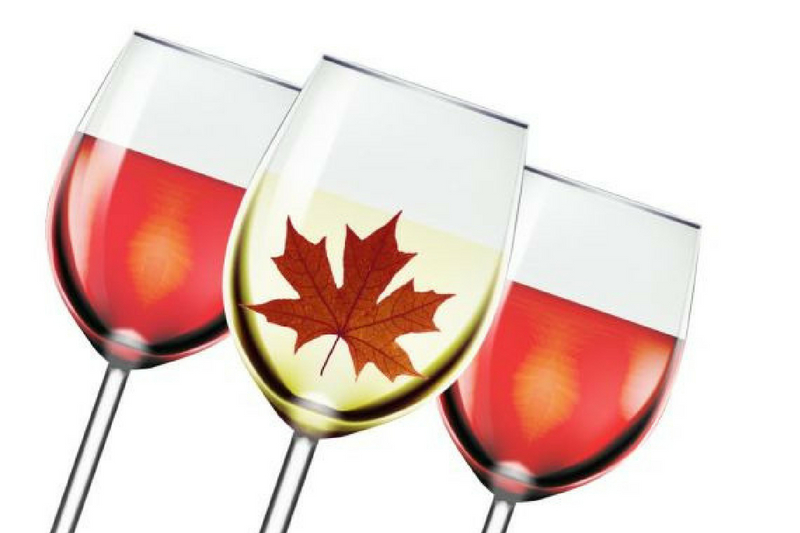 Test Your Knowledge with this Quiz
Ask someone to name a Canadian drink they're likely to say beer but did you know that wine has a deeper history here?
The first record of beer being made in Canada is from 1646 when Jesuit Brother Ambroise started to brew beer in what was then 'New France'.
However, the Vikings were making wine more than six centuries earlier in the area now known as the UNESCO World Heritage Site L'Anse aux Meadows in Newfoundland. So taken by the wild vines they found when they arrived from Iceland, they actually called their community Vinland.
Now that we've gotten the trivia train started, let's see how well you know your Canadian (and BC) wine.
Canadian Wine Quiz
1. Which Canadian celebrity does not own a winery (or parts of a winery)?
Mike Weir
Shania Twain
Dan Aykroyd
Wayne Gretzky
2. Which winery was the first Aboriginal-owned in North America
Gondwana Wines
Totem Vineyards
Nk'Mip Cellars
Indigenous World Winery
3. What year was the first Canadian winery established (besides the Vikings)?
1811
1792
1859
1921
4. There are 28.4 billion litres of wine produced around the world. What percentage does Canada contribute to that number?
1%
5%
.008%
.3%
5. Which country is not among the top importers of Canadian wine?
Japan
United States of America
Taiwan
China
6. True or false, Canada is the second largest consistent producer of Icewine in the world.
True
False
7. What type of wine is the most popular among Canadians?
Red
White
Sparkling
Rosé
8. How many people are estimated to visit BC wineries each year?
10,000
500,000
1,000,000
1,250,000
9. In 2006, for the first time ever, a Canadian winery won the coveted Shiraz/Syrah of the Year Award at the prestigious Spirit Competition in London. Which one was it?
Cave Spring Winery
Jackson-Triggs Okanagan Estate Winery
Sumac Ridge Estate Winery
Pillitteri Estate Winery
10. What does VQA stand for?
Vintners Quality Assurance
Vintners Quality Alliance
Vintners Quality Award
Voluntary Quality Assessment
Viniferas Qualis Acclamatus
Scroll down for the answers...
🢗
🢗
🢗
Answers
1. b) Shania Twain does not own a winery.
2. c) Nk'Mip Cellars in Osoyoos, BC was the first Aboriginal-owned winery. They opened their doors in 2002.
3. a) 1811. While there were people growing grapes and attempting wine before this, Johann Schiller made and sold wine in Ontario in 1811 and is widely considered the father of Canadian wine. In the west, Father Charles Pandosy made wine from grapes he planted at the Oblate Mission in Kelowna around 1859. However, the first winery license was issued in 1975 to Donald Ziraldo and Karl Kaiser of Inniskillin.
4. d) .3% Canada produces about 85.2 million litres of the global 28.4 billion litres of wine.
5. a) Japan is not a top importer of Canadian wine. In 2016, the top 5 countries were China, USA, Taiwan, South Korea and the UK.
6. b) False. Canada is the top producer of icewine in the world.
7. a) Red. According to Statistics Canada, 53.4% of all wine sales in 2016/2017 were red wine. White wine was the next most popular with 32.3%, followed by sparkling wine at 5.6% and Rosé and other styles of wine round things out.
8. c) 1,000,000 people visit BC wineries each year.
9. b) Jackson-Triggs. The Okanagan Estate Grand Reserve Shiraz was the first North American wine to ever win the prestigious award.
10. VQA stands for b) Vintners Quality Alliance. It's a regulatory and appellation system which guarantees the high quality and authenticity of origin for Canadian wines. BC VQA indicates it has met these requirements in British Columbia.
How did you do? Let us know on our Facebook page! Now that you know the answers, challenge your friends - over a glass of Canadian wine, of course.
Want to Learn More?
Here are the sources we gathered our information from.
https://www.rom.on.ca/en/blog/vikings-in-canada
http://www.canadianvintners.com/industry-statistics/
https://www150.statcan.gc.ca/n1/daily-quotidien/180510/dq180510a-eng.htm
http://www.winesofcanada.com/beginings.html
https://www.theglobeandmail.com/life/food-and-wine/wine/tracing-ontarios-wine-history/article1445548/
https://johnschreiner.blogspot.com/2016/03/class-of-2015-northern-lights-estate.html
Celebrate National Indigenous People's Day at North America's First Aboriginal Winery
What better way to welcome the summer than on a patio perch high above Osoyoos Lake celebrating National Indigenous People's Day with a multi-course meal prepared by Aboriginal chefs paired with wines crafted by Nk'Mip's own Justin Hall, a proud member of the Osoyoos Indian Band?
This five-course dinner representing the elements Earth, Water, Fire, and Air created by Enoch Cree Chef Shane Chartrand (River Cree Resort Edmonton), Nk'Mip Winery Chef Orlin Godfrey, and Chef Joseph Shawana.
Winemaker, Justin Hall will also personally share his pairings with the dinner. Plus there will be live entertainment and those magnificent vineyard views to add to the magic of the evening.
This event is in the past.
Here are a few from last year's event. As you can see, this is an event not to be missed!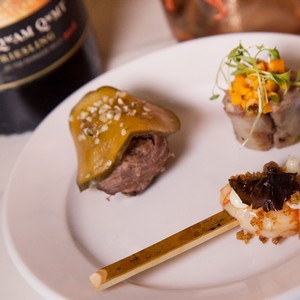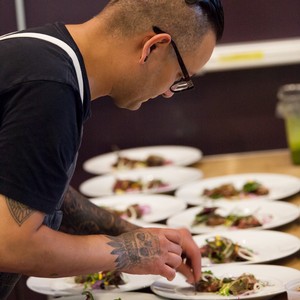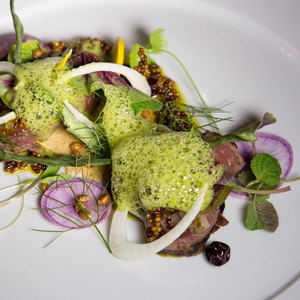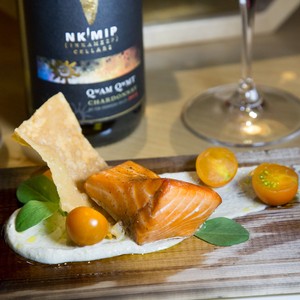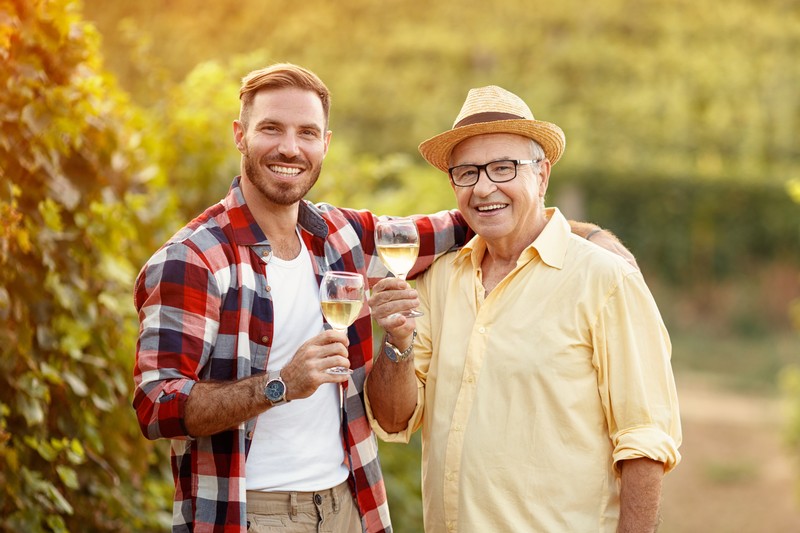 Matching Your Dad's Style to a Type of Wine

Looking for a last minute Father's Day gift? We've got you covered. Here's your guide to finding the perfect Father's Day wine gift - depending on the kind of Dad he is.
Grill Master
If your dad lights up inside every time he lights up the barbecue then turn to a red wine. If his go to is a big, juicy steak or a Flintstone-sized rack of ribs then you'll want to reach for one of the Okanagan's sumptuous Shiraz options. These will pair beautifully with pretty much any red meat he wants to throw on the BBQ. He'll be in grill-master heaven.
Old-School Dad
Nothing says classic vino like Chardonnay. But, guess what? Chardonnay is no longer old-school. It's one of the hippest new choices in wine now that it's overcome the bad rap it got back in the 90's. But, you don't need to tell Dad that - to him, a bottle of the Jackson-Triggs Grand Reserve Chardonnay or the Inniskillin Dark Horse Vineyard Chardonnay will simply represent a trusty bottle of white that he can enjoy with dinner or watching TV. And, if you happen to be joining him - you can enjoy it too. Not sure which one he'll like - check out this virtual tasting to help you decide.
Nerd
If your Dad is the thinking type, then give him the Steller's Jay Mountain Jay Brut. This wine has two great stories for your dad to nerd-out on. The first is the way they riddle the sparkling wine in the traditional Champagne style. This involves some pretty interesting science as the wine goes through the 'en tirage', 'riddling' and 'disgorging' stages.
The second nerdy fact about this wine is that the BC Wine Authority required Steller's Jay to change the name of the wine. If your dad loves a good semantics conversation, then he'll want to check out the reason for the name change.
Fit Father
If health is top of mind for you paternal leader, slip him a nice bottle of Pinot Noir this Father's Day. Red wine contains resveratrol, an antioxidant that some studies found may help heart health when consumed in moderation. And that's the other reason that this is the perfect wine for your health-conscious Dad - it's a real sipper. A wine like the Nk'Mip Cellars Winemaker's Pinot Noir is perfect to pour into a big, round glass and enjoy slowly over the course of a relaxing evening.
Fisherman
If your dad loves to fish, and more importantly, loves to eat what he catches then a bottle of Jimmy My Pal from See Ya Later Ranch is going to make him very happy. It's a blend of Chardonnay and Pinot Gris that is light and fresh. Plus, it's got hints of citrus and lychee that are sure to make his catch of the day sing.
Romantic
If your father wears his heart on his sleeve then you've got to go with a Rosé - try the Nk'Mip Cellars Winemaker's Rosé or for a romantic morning of breakfast in bed, he might like the Steller's Jay Sparkling Shiraz for a unique take on the classic mimosa. Either way, he'll be feeling the love on Father's Day.
Adventure Dad
If your father loves to get out and have adventures, then don't give him a bottle of wine - give him a wine experience! Our wineries have a variety of great food and wine experiences like Bubbles and Bites at Steller's Jay, lunch on the patio at See Ya Later Ranch, The Land to Legacy Tour at Nk'Mip Cellars (perfect if your dad is into history and culture) and the food and wine pairing experiences at Inniskillin. You can reserve an experience for the two of you to enjoy together or give him a gift certificate that he can take advantage of another time.
Whether it's your Dad or the Dad in your life, no matter what kind of wine-style he has, we hope he has a Happy Father's Day.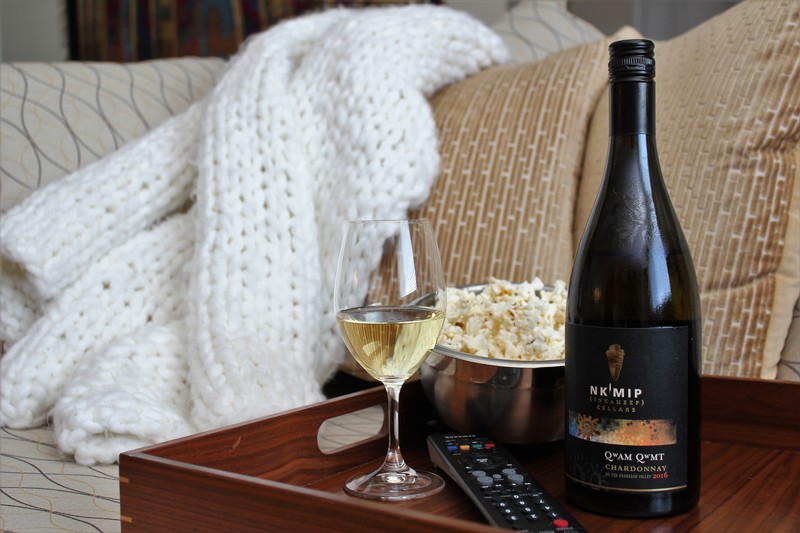 How the New Chardonnay is Converting the ABC Club
If you were a wine drinker in the 90's, you probably think you know what Chardonnay is all about. Afterall, it was the unofficial white wine of the decade. If you ordered a glass of white at a restaurant, it was inevitably a Chardonnay. It was the bottle you brought to every dinner party because everyone (who knew anything about wine) loved Chardonnay. Showing up with a Chardonnay earned you lots of Brownie points.
And then the tides turned.
Chardonnay became the victim of its own immense popularity. A lot of wineries started producing Chardonnay and playing up the attributes that people loved the most - sweetness and oakiness - until it became a caricature of itself.
In an effort to be soft and sweet, the winemakers were doing 100% malolactic fermentation. The wine became cloying and lacked acidity. These mass producers also used wood chips to capture that oak flavour but they overdid it so that oak became the dominant flavour. There was no sense of balance in these 'Big Chards' - all the nuance was gone.
First, the wine aficionados noticed and the public wasn't far behind. Noses were turning up at dinner parties and restaurants. Wine lovers were joining the ABC club, as in, "Pour me Anything But Chardonnay!" You wouldn't dream of bringing a Chardonnay to a dinner party lest people think you were either trying to pawn the bottle off on those who you presumed didn't know better or, gasp, you didn't know better.
Great winemakers were dismayed. The chardonnay grape had so much potential and their beautifully balanced wines were being snubbed; caught up in the maligning of Chardonnay.
Big wine producers moved on, leaving Chardonnay with a bad reputation.
Flash forward a couple of decades and wine aficionados are encouraging wine lovers to give Chardonnay another shot. Winemakers have spent the last decade creating magic with the varietal. Take, for example, the Nk'Mip Cellars Qwam Qwmt Chardonnay. It won a gold medal the Chardonnay du Monde competition in France.
World-class Chardonnays are being produced in the Okanagan and changing people's minds.
Nk'Mip Senior Winemaker, Randy Picton is happy to see that people are rediscovering Chardonnay and finally letting go of their bias against it. "The difference now is that the use of oak is more restrained," he explains, "The fruit comes through more and the structure is more pleasing."
Beyond that, designing an award-winning Chardonnay demands attention to the subtleties of the variety and terroir, as Randy explains, "It requires an appropriate amount of oak for the type of fruit that you have. Retaining a little bit of acidity in the wine so you have some nice length in the wine; through the structure of the wine. I think also, it's nice if you can get some strength to the mid-palate too which you can from some nice French oak. It's having everything in balance and making sure that the wine has some character from the vineyard; from the place that the grapes were grown."
That sense of place is something that shows up in all of the Great Estates Okanagan Chardonnays. As a result, our tasting room staff have been witnessing these wines convert ABC club members back to Chardonnay-lovers, one by one.
So, don't be surprised if you start to see more Chardonnays showing up at dinner parties and picnics this year. And, definitely don't be shy about trying them yourself. You might just discover that it's a perfect pairing for a night in with a good movie and a bowl of popcorn.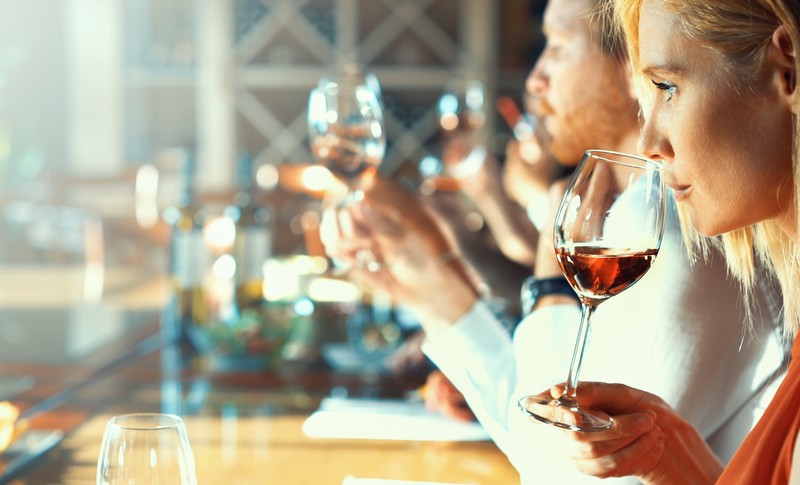 Does your nose know wine?
Develop your sense of smell while having fun!
Attempt to identify selected aromas which are the key elements of wine. This interactive experience includes a mystery wine game and ultimately guides guests to develop a personal sensory memory to help recognize aromas.
Enjoy 4 estate grown wines in our private vineyard room, followed by a delicious charcuterie platter.
This is a great event to do with friends or on your own to develop a deeper understanding of the nuances of wine tasting.
Join us at Sumac Ridge Estate Winery for Master Your Senses. Select your date and book now.
Master Your Senses
Venue: Sumac Ridge Estate Winery
Price: $35 plus tax
Time: 2:00pm - 4:00pm
Dates: March 24, April 21 & May 19
Taking Sparkling Brunch Cocktails Up a Notch
What could be better than sleeping in on a weekend and then enjoying brunch with a refreshing Mimosa? There's something perfect about the combination of fresh juice and sparkling wine that makes that mid-morning meal feel like a luxury.
Did you know that the Mimosa has been around since the 1920's?
The creation of the Mimosa is most commonly attributed to a Parisien bartender named Frank Meier. He started pouring them for guests at the Ritz in Paris around 1925. Some say he may have gotten his inspiration for the fresh and lively cocktail from a bartender in London.
A few years before the Mimosa made its debut at the Ritz, a bartender named Pat McGarry was slinging a morning cocktail called a Buck's Fizz at the famous London Buck's Club.
While both cocktails are a mixture of fresh orange juice and sparkling wine, there is a slight difference. The Mimosa is a 2 parts orange juice to 1 part wine while Buck's Fizz is the opposite - an eye-opening 2 parts sparkling to 1 part orange juice.
Despite being the first, it would seem that Buck's Fizz lost out to the Mimosa in the popularity contest. These days, we usually refer to any combination of juice and sparkling as a Mimosa. Perhaps it sounds just a bit more sophisticated. Sorry, Buck.
The Mimosa has come a long way since the roaring 20's. And, it's not just the juice to sparkling wine ratio that's changing. We love to get creative and play around with fresh combinations of Mimosa cocktails.
Here are three that are sure to liven up your next brunch.
Okanagan Mimosa
This is the quintessential Valley Mimosa - vineyards and orchards in a glass.
½ part fresh apple juice
½ part fresh pear juice
1 part Jackson-Triggs Reserve Series Methode Classique Brut
Rim flute with cinnamon sugar. (optional)
Pour chilled juices into the flute and gently stir.
Top with chilled Jackson-Triggs Reserve Series Methode Classique Brut.
Pomosa
This cheery, light red mimosa is perfect for the sunrise you missed while you were sleeping in.
1 part pomegranate juice
1 part Steller's Jay Sparkling Gewurztraminer
¼ part Okanagan Spirits Raspberry Liqueur
Pour chilled juice and liqueur into a coupe glass and stir.
Top with the chilled Steller's Jay Sparkling Gewurztraminer.
Garnish with pomegranate seeds.
Deep Dark Fizz
This one follows the ratio of a Buck's Fizz but with a dark side. Who says you can't have sparkling red wine for brunch?
1 part tart cherry juice
2 parts Steller's Jay Sparkling Shiraz
Pour chilled tart cherry juice into a flute.
Top with Steller's Jay Sparkling Shiraz.
Garnish with a lime twist or a dark cherry.
Any of these Mimosas are sure to make your next brunch a big hit but they're so tasty, why limit them to the morning? We're picturing afternoon patios, sunsets, and late night celebrations - so many potential Mimosa moments!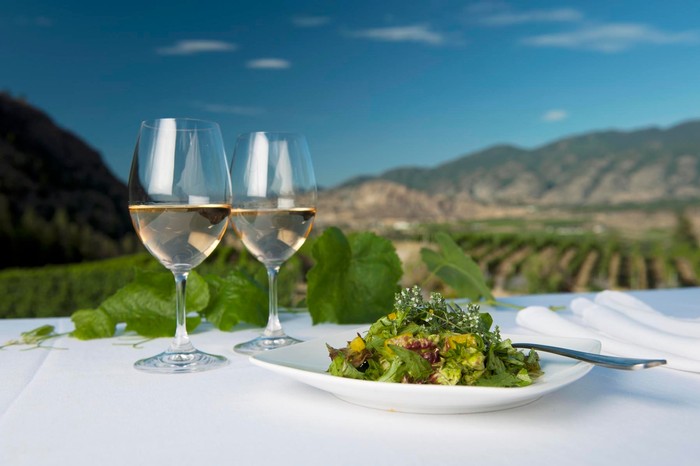 Treat Mom to Delicious Food, Great Wine, and Breathtaking Views
This Mother's Day, See Ya Later Ranch is hosting a brunch that's sure to make Mom happy. Chef Ben has crafted a special menu featuring classic eggs benny, salads, nibbles, and heartier plates like the mouth-watering braised beef sandwich.
But, we know that brunch is all about the refreshments! Enjoy a perfectly paired glass of SYL wine with your meal or celebrate Mom with a mimosa or sparkling cocktail.
The SYL brunch is served on the gorgeous patio where you can relax, take in the amazing view and enjoy your day with Mom.
This event is in the past.

Join us for an amazing afternoon of food and wine tasting in Osoyoos, BC
Discover the legacy of our land in a progressive wine and food experience, celebrating our spring releases.
On May 12th, we invite you to enjoy a guided tour and five-course lunch set in several stations throughout the winery. You'll get a glimpse behind the scenes as we make our way through the winery and cellar. We'll stop to discuss the wine, taste it and indulge in perfect pairings prepared by our chef.
Plus, you'll be one of the first to experience our new spring releases.
RESERVE TODAY - SPACE IS LIMITED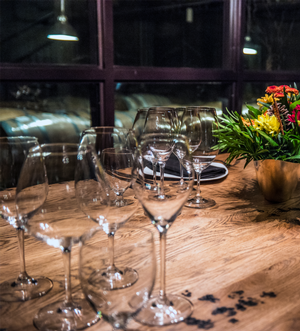 Nk'Mip Cellars' Spring Food & Wine Pairing Lunch - In the Cellar Series
Saturday, May 12th, 2018
12:30 pm
This event is in the past.