December 28, 2018 | Great Estates Okanagan
Wine Geek Challenge - Answer Key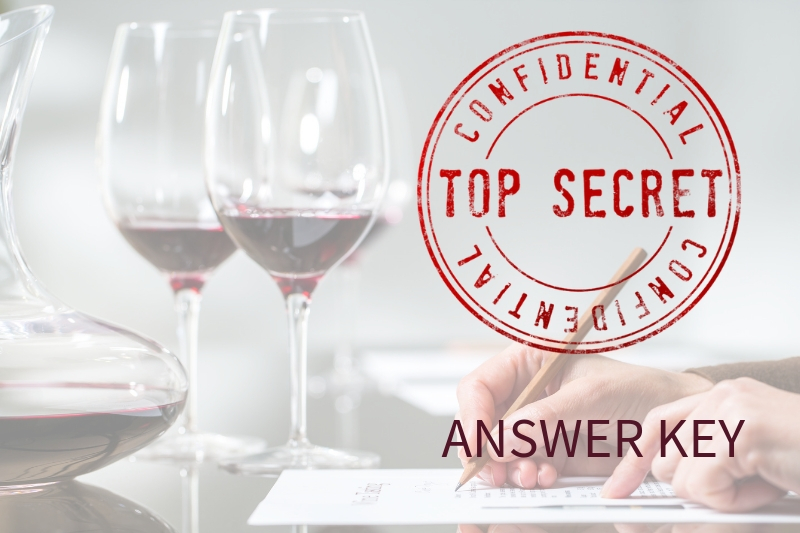 This is the answer key for the Are You a Wine Geek Quiz. If you've found it by mistake - have a little fun and go back and take the challenge.
Now it's time to see how much of a wine geek you really are. Here are the correct answers:
1. Where do tannins in wine come from?
Answer: D
As it relates to winemaking, tannins are a polyphenol found predominantly in grape skins. However, tannins also naturally occur in grape seeds and stems. Oak also contains some tannins so winemakers may increase the tannins in a wine when they use oak barrels to age the wine. Alternatively, it is also possible to increase the amount of tannins in wine by adding a powered form of concentrated tannins - however, this is not a very common practice.
2. Why would a winemaker interrupt fermentation?
Answer: C
Arresting the fermentation process before it is fully complete stops the yeast from consuming all of the natural sugar from the grapes. This allows winemakers to create a naturally sweeter wine.
3. What is Noble Rot
Answer: B
Botrytis cinerea, 'grey fungus', or noble rot affects ripe grapes usually in wet conditions. If these conditions are followed by dry conditions the fungus causes the grapes to shrivel. Wine made from these grapes are particularly sweet and are referred to as botrytized wines.
4. Why can't you call Steller's Jay Mountain Jay Brut a Champagne?
Answer: D
Only wine made in the Champagne region of France (in the northeast part of the country) can carry the name 'Champagne'. So, despite the fact that all of the Steller's Jay sparkling wines are made using the traditional Champagne-method of winemaking - it cannot be called Champagne.
5. What are you describing when you talk about 'the finish' when wine tasting?
Answer: A
Wine can taste different after it leaves the mouth. This lingering effect is part of the wine-tasting experience and is considered 'the finish'. When discussing the finish, wine experts will note things like the flavour, how long it lingers, and if it is pleasant.
6. If you were in Austria, how would you order ice wine?
Answer: C
Eiswein is a German word that translated to ice (eis) wine (wein). Since eiswein originated in Germany, Austrian wineries use the German name.
7. What should you avoid when tasting wine?
Answer: D
To create the perfect wine tasting environment, you want to limit anything that will distract your five senses. Here's an article where we share tips on hosting an elevated wine tasting experience.
8. Which Great Estates Okanagan winemaker won winemaker of the year at the 2018 International Wine and Spirits Competition?
Answer: A
Inniskillin Okanagan winemaker, Derek Kontkanen accepted the prestigious award in London, England at the International Wine and Spirits Competition in November 2018. But, our other wineries are not without accolades! For example, Nk'Mip Cellars has been named winery of the year in multiple award competitions including the InterVin International Wine Awards in 2016/17.
9. Which of these wines cannot go in a traditional red Meritage?
Answer: Gamay Noir.
Meritage is traditionally made with 'noble' varieties originating from the Bordeaux region of France. Gamay Noir originated from the Burgundy region and was much maligned by aristocrats. It is now popular in the Beaujolais and Loire Valley regions of France as well as in the Okanagan. It's often blended with traditional Meritage varietals but including it in a blend means you can no longer call it a Meritage. Did you know you can try your hand at creating the perfect blend in our Mastering Meritage workshop using Black Sage Wines? It's held at Sumac Ridge periodically throughout the year.
10. How many small glasses (125 ml) of wine can you get from a standard bottle of wine?
Answer: A
A regular 750 ml bottle of wine contains 6 small glasses of wine of about 4 oz each. The common 'industry pour' is 5 oz meaning you'll get about 5 glasses out of each bottle.
11. Why do we decant wine?
Answer: D
Decanting wine will aerate the wine which will open it up on the nose and palate (especially in a young wine). Slowly decanting an older bottle of wine will also ensure that any sediment remains at the bottom of the bottle (typically in older bottles of wine).
12. Why should you use a varietal specific glass when enjoying wine?
Answer: A
Varietal-specific glasses are created by looking at where each wine would ideally land in the mouth and designing a glass that will deliver it there. Really - it's science (which we explore in detail in this article). It is true, that some glasses (like the Icewine glass) were also designed to improve aeration during the swirl but this is not necessarily true across the board.
13. What wine would pair well with blue cheese?
Answer: D
Blue cheese is a very interesting and versatile cheese to pair with wine! Not only does it change the taste of the wine, but the wine can dramatically alter the flavour of the cheese. Want to up your wine-and-cheese-pairing know-how? The Great Estates Wine Experience Centre offers an amazing, elevated wine tasting with cheese pairings.
14. What temperature should wine be cellared at?
Answer: B
All wine varieties should be stored in a dark cool room that is consistently between 10 - 15° C. One of the biggest mistakes people make is storing wine on or above their refrigerator.
15. Where is the Great Estates Wine Experience Centre located?
Answer: D
The Great Estates Wine Experience Centre opened in September 2018 in downtown Penticton next to the Penticton Lakeside Resort. It's open year round for wine tastings (featuring all of the Great Estate Wineries - including winery-exclusives) and elevated wine tasting experiences.
16. What's the difference between aging wine in a French oak barrel versus an American oak barrel?
Answer: B
According to the Wine Spectator, "Speaking in broad generalities, French oak barrels are typically more subtle and spicy, offering textures of satin or silk. American barrels tend to be stronger in flavor, often described as cream soda, vanilla, or coconut, resulting in wines with a more creamy texture."
17. What colour are the grapes used to make Zinfandel?
Answer: C
Zinfandel comes from a grape with black skin. The variety is believed to originate from Croatia but has become popular in both the old and new world because of its high sugar content.
18. Gewurztraminer is a popular wine in Germany. What is the German origin of the word?
Answer: D
Gewurtz in German translates to 'spice'. The second part gets its name from an area known as Tramin which is in the south Tyrol region of northern Italy. Grapes originating from this area are known as Traminer (as in 'from Tramin').
19. Where is the first officially recognized sub appellation in BC?
Answer: A
The Golden Mile Bench became the first sub appellation of the Okanagan Valley Designated Viticultural Area in 2014. It is identified as an east-facing bench on the side of a mountain just south of Oliver, BC. Despite the elevation, it is actually much warmer than the Valley floor which means that it is ideal for growing grapes that need a bit more heat and would be susceptible to frost. Inniskillin's Dark Horse Estate Vineyard is located in the Golden Mile Bench.
Okanagan Falls was named BC's second sub appellation in 2018.
20. What does terroir refer to in wine tasting?
Answer: B
Terroir is how all environmental factors (land, soil composition, climate, and farming practices) are represented and realized in the final wine product.

How many did you get right? Share your score on social media and be sure to tag us #greatestatesokanagan so we don't miss it!

And, make sure you don't share this secret answer key before everyone has a chance to test their own knowledge with the quiz. Shhhhh.
Comments
Commenting has been turned off.