Visit Us at the Great Estates Wine Experience Centre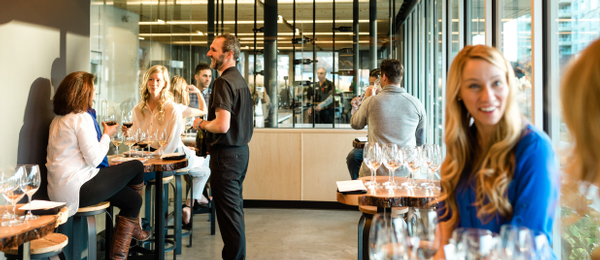 About Us
Introducing the new Great Estates Okanagan Wine Experience Centre, at the Lakeside Resort in Penticton.
Our new Wine Experience Centre is a great addition to the Great Estates Okanagan wineries, focusing on wine education, wine and food experiences and wine purchases. Experience the best of our wineries and discover our distinct terroir from Summerland to Osoyoos.
Great Estates Okanagan Wine Club member benefits are honoured at the Wine Experience Centre.
---
Tastings & Experiences
Although the Great Estates Experience Centre does not offer tours, our wine tastings & experiences are not to be missed. Whether you're discovering how our brands complement each other, gaining a better understanding of what sets our vineyards apart, or learning about luscious Icewine and unique ways to enjoy it, you're sure to be impressed.
Visitors to the Experience Centre will have the chance to take part in daily tastings so they can sniff, swirl and sip their way through the Great Estates Okanagan portfolio which includes Black Sage Vineyard, Inniskillin, Nk'Mip Cellars, Jackson-Triggs, Sunrock Vineyards, Dark Horse, Steller's Jay, See Ya Later Ranch and Sumac Ridge.
---
Tastings
Daily
$8 Flight of 4 wines - refunded with purchase
$15 Premium wine tasting of 4 wines - non refundable
Monthly Education Series
$35 per person
Each month we'll delve into a new topic, including everything from how Sweet/Salty/Sour
flavours work with food pairings, how terroir effects varietals, vertical tastings…anything and
everything!
Wine + Chocolate = Happiness
Saturdays and Sundays
$25 per person. Advanced booking required.
We've partnered with Maison Mulnati, a local vegan chocolatier, to create an experience that showcases both the beautiful wines we have to offer at the Wine Experience Centre as well as
the talent of the chocolatier. Four premium wines, each paired with a specially made dark
chocolate – two infused with our wines.