Visit Us at Sumac Ridge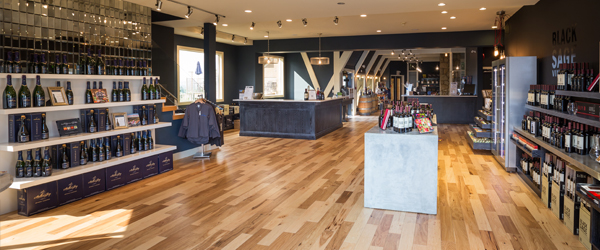 About Sumac Ridge
Sumac Ridge offers three iconic brands in one great location. Sumac Ridge, Black Sage and Steller's Jay are all featured in an array of experiences to suit all wine lovers. Founded in 1979, Sumac Ridge is the oldest operating estate winery in British Columbia, dedicated to producing 100% British Columbia wines since its inception. The winery is nestled in the heart of the Okanagan Valley near the scenic town of Summerland.
Daily Tastings
Tasting Bar
By appointment only | 11:00am - 5:30pm
$8 - $15 per person
Reserve Online
Weekend Food & Wine Experience
DATE: SATURDAYS
VENUE: BLACK SAGE HALL, 17403 HWY 97N, SUMMERLAND BC, V0H1Z0
TIME: SATURDAYS, 2PM TO 3PM
CONTACT: SARAH ISAKSEN
PHONE: 250.494.0451
INFO: INFO@SUMACRIDGE.COM
Come join us for a different experience each month. Taste our winery exclusives and new releases. Your host will describe how each wine is thoughtfully paired with a delicious food bite. $30 per person plus tax.
January: Winter White Wine & Food Pairing Experience
February: Sweet & Savory Chocolate Experience
March: Progressive Pairing Experience
Monthly Dinner Series
DATES: ONE FRIDAY PER MONTH
VENUE: BLACK SAGE HALL, 17403 HWY 97N, SUMMERLAND BC, V0H1Z0
TIME: 6PM TO 9PM
CONTACT: SARAH ISAKSEN
PHONE: 250.583.9839
Join us for our monthly dinner series as Chef Kevin Deavu creates delicious dishes from seasonally focused ingredients. Your 3 course set menu will include:
Mushroom Bisque
Venison Osso Buco
Elderberry Tart
(please advise of any dietary restrictions in advanced so requests can be accommodated)
$75 per person + tax + gratuity.
Book your household up to 6 people.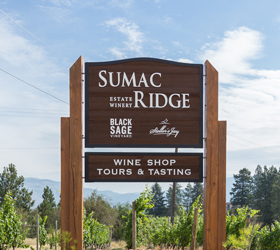 Hours of Operation
Spring (March 1 - June 25)
11:00 am - 6:00 pm for Wine Sales
Tasting 11:00 am - 5:30 pm
Summer (June 26 - September 6)
10:00 am - 6:00 pm for Wine Sales
Tasting 11:00 am - 5:30 pm
Fall (September 2 - December 31)
10:00 am – 5:00 pm | Daily
Tasting 11:00 am - 4:30 pm
Winter (January 2 – February 29)
11:00 am – 5:00 pm | Daily
Tasting 11:00 am - 4:30 pm
---
Contact
Wine Shop Tel: 250.494.0451
Wine Club Inquiries Tel: 250.583.9844
Email: info@sumacridge.com
---
Location
17403 Highway 97 N
Summerland, BC V0H 1Z0
---