January 15, 2019 | Recipes | Great Estates Okanagan
Beautiful Beef Stew Recipe with Wine Pairings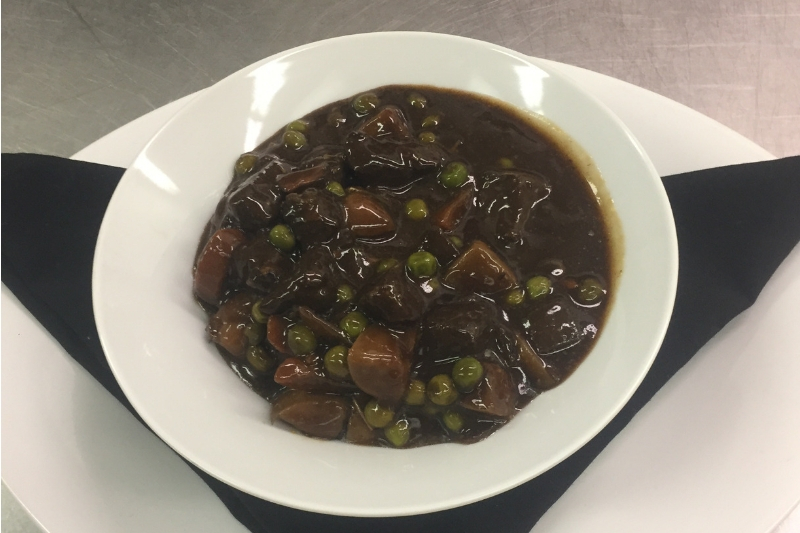 Comfort Food and Wine
Want to know the antidote to cold, dark, winter nights? Beef stew served with a bold red wine.
Great Estates Okanagan Chef, Ben Overland, loves to serve this hearty, comforting meal at this time of year. And, since there is no substitute for made-from-scratch beef stew, he's sharing his recipe with us.
This recipe can be made on the stovetop in a large stock pot or in a slow cooker. Ben has given us his recipe but he also says that stews are a great way to clean out the fridge so don't be afraid to get creative with the ingredients. Really, almost anything goes, as he explains, "Leftover squash from two dinners ago, put it in. Random herbs, wonderful."
He also likes to add celery root as an option to his stock, "Add diced celery root when you add the carrots. If using celery stalks, slice the celery about ½ inch thick and add it about an hour before the stew is expected to be done."
Ideally, you are making the stock from scratch but if you need a cooking short-cut, you can use powdered beef base - just follow the directions on the package.
For pairings, we recommend 2015 Inniskillin Reserve Merlot, 2015 Black Sage Vineyard Meritage, or the 2015 Sunrock Vineyards Shiraz. The bold dark fruit components of these wines and prominent tannins will be softened by the richness of the stew. And, the rosemary component will not override the flavours of these delicious wines. They also each provide a lovely glass of 'cook's nip.'
Speaking of cooking, let's prepeare this beautiful beef stew recipe.
Ingredients:
4 Tbsp Olive Oil
½ lb. Butter
2 lb. Stewing Beef (1" cubes, fat removed)
2 L. Beef Stock
½ lb. Potatoes
1 Medium Onion (diced)
2 Large Carrots
2 cups Frozen Peas
Salt
Pepper
Rosemary
Crème Fraiche or sour cream (optional) for garnish.
Method:
In a bowl, generously season diced beef with salt and pepper.
In a large, heavy-bottomed skillet combine half of the oil and half of the butter. When the butter is frothy and golden brown add cubed beef in a single layer. Get a nice,crisp sear on all sides of the beef. Do this in batches to keep the temperature high and the butter from burning.
When beef is seared, strain off the fat and set the beef aside. Start again with fresh fat until all of the beef is seared.
If using a powdered beef base, follow directions on the package and get this started. While the stock is heating up, cut potatoes and onion into bite-sized pieces. Peel carrots and cut them into bite-sized pieces as well. Chunky carrots are better than thin slices, as they don't break down as fast.
If using a crockpot, combine beef, potatoes, onions, and stock into the bowl, affix the lid, then set the program according to the directions.
If using a pot on the stove, combine the same ingredients and bring to a good simmer over medium/high heat. Once simmering, turn heat down to low and cover with a tight-fitting lid.
In the crockpot, this stew will take 4-5 hours, on the stove it should take closer to 3 hours.
Halfway through the cooking process, add your carrots and a sprig of fresh rosemary.
After three hours of cooking time, taste-test a piece of beef. If it is tender enough for you, add the 2 cups of frozen peas, stir, turn off the heat and put the lid back. The peas will thaw in about 5 minutes. Once the peas are cooked taste the broth and adjust the seasoning to your preference.
If you have some crème Fraiche or sour cream, add it as a garnish. It's great for the temperature contrast and the sourness helps counter the richness of the stew.
Note, if you are using powdered stock mix, use enough to make about two litres of stock. If you are going this route, Ben recommends using half beef base and half powdered gravy as it will result in a thicker strew.
For those using a ready-made stock from a butcher shop, you may want to add a thickening agent such as cornstarch. To do this, take one cup of cold stock and combine it with one tablespoon of cornstarch. Whisk until there are no visible lumps. Add this mixture to the rest of the stock.
One last tip: If you find the stew a little thin once everything has cooked, ladle out half of the liquid and reduce it by half in a separate pot (on medium/high heat). Return the reduced stock to your stew, et voila!
Pour a glass of bold, fruity red wine and enjoy a perfect winter meal.
Wine Pairing Recommendations for Beautiful Beef Stew

CLICK IMAGE TO SHOP NOW
Comments
Commenting has been turned off.