The Red Wine Lover
Mother's Day Gift of Red Wine!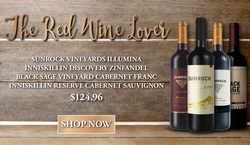 The Red Wine Lover | 4 Bottles of Red Wine
Sunrock Vineyards Illumina | Winery Exclusive
There is an abundance of blackberries, dark cherries, vanilla mocha, baking spices, and dark fruit jamminess on the nose. The palate has juicy dark fruits, a luscious note of spice and vanilla and some smooth smoky oak. The tannins and acid are soft and the finish is long and pleasant.
Inniskillin Okanagan Discovery Series Zinfandel
This wine displays beautiful red-violet in colour with intense ripe berry aromas on the nose complemented by hints of spicy oak. On the palate it has a great concentration of red fruits; cherry and prune. This is a rich, full bodied wine with a long smooth finish.
Black Sage Vineyard Cabernet Franc
The nose has pleasant notes of red berries, some red currants, dried strawberries, and smoky mocha notes. The flavours on the nose carry over to the palate. With bright red fruits, mocha and vanilla, and some hints of spice on the finish. The acidity is lively and the tannins are firm yet approachable.
Inniskillin Okanagan Reserve Cabernet Sauvignon | Winery Exclusive
Captivating cassis, some acai berries, a hint of graphite (earthiness), and subtle oak aromas. There are plenty of fruit flavours on the palate with a pleasant undertone of smoky oak and vanilla. The tannins are softer than you would expect (although they are still firm), and there is a pleasant acidic backbone leading to a lengthy finish.