Nk'Mip Cellars Patio Restaurant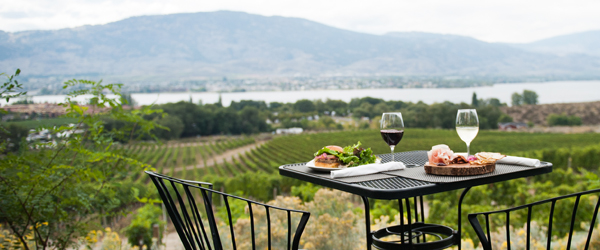 Spring | April 18 - June 28 | Closed
Summer | June 29 - September 1 | 11:30 am - 4:00 pm | Daily
Fall | September 2 - October 6 | 11:30 am - 3:00 pm | Daily
On our picturesque Patio, we feature contemporary North American cuisine with fresh farm-to-table innovations that celebrate traditional Indigenous techniques.
We gladly accept reservations for a first seating, after which we are on a walk in basis.
---
Spring | April 18 - June 28 | 3:00 pm - 5:00 pm | Daily
Summer | June 29 - September 1 | 4:00 pm - 7:00 pm | Daily
Fall | September 2 - October 6 | 3:00 pm - 5:00 pm | Daily

Enjoy a glass of award-winning wine and a light snack while taking in the breathtaking view of the sun setting over Osoyoos Lake. The Lounge Patio is the perfect place to relax during the post-lunch, pre-dinner period of the day; soak up the sun and share a bottle of wine and cheese selection with friends!
The Sunset Wine Lounge is walk-in only.
---