Steller's Jay 2019 Sparkling Shiraz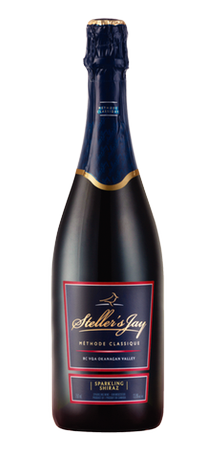 Wine Profile
Tasting Notes
This Sparkling Shiraz first catches your eye with its deep violet colour and persistent magenta mousse. Fresh black cherry aromas are complemented by spice, picking up white pepper qualities with exposure in the glass. Black currant and blackberry dance on the palate, with a peppery note balancing the fruit. Medium- sized bubbles give way to some soft tannins and delicious mid-palate sweetness.
Food Pairing Notes
Serve slightly chilled as a toast to accompany a celebration or special occasion. Try at brunch, and as an appetizer with cured meats and rich cheeses. Holiday table fare such as roast turkey and duck will have their flavours brightened by the natural acidity and effervescent bubbles of this sparkling wine.
Product Reviews
Elizabeth Wiebe
(Jan 4, 2019 at 3:25 PM)
Rich, dark berry flavours, distinctive and bubbly all at the same time! Perfect for New Year's Eve and to celebrate special moments all year around!
Karen
(Mar 17, 2021 at 10:21 AM)
We loved this wine. It is very bubbly, rich tasting and delicious. We had it with steak and as a pre dinner drink. It was best with the steak.
Wendy D
(Jul 31, 2023 at 5:14 AM)
Having discovered Seppelt Sparkling Shiraz when I lived in Australia, I was keen to find a similar product when I returned to the Okanagan. This was it! So delicious with turkey at Christmas or in summer with BBQ prime rib or just for a celebration of any kind. Bubbly, dry with beautiful berry flavours, this is a most enjoyable sparkling.