12 Days on the Ranch
Free FedEx door delivery | Member discount not available on this package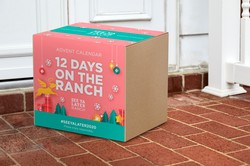 12 Days on the Ranch!
Kick off your holidays Ranch Style!
This 12-bottle journey with See Ya Later Ranch is perfect for sipping, sharing, gifting or saving! You'll have a cheerful holiday season where puppies & pinot are notable companions & décor items. From our ranch to your home, we invite you to raise a glass!
5 reds, 5 whites + 2 others!
Free FedEx door delivery
No additional discounts available on this offer. (Member discount not available on this package)