See Ya Later Ranch 2019 Major's Block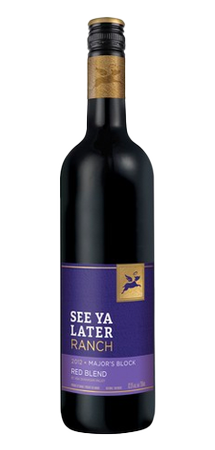 Wine Profile
Tasting Notes
Rich dark berries, toasted vanilla, mocha, and baking spices on the nose. With the palate showing similar flavors of dark fruits, vanilla spice, and toasted mocha. The tannins are soft and approachable, and the finish is mouth-watering and long.
Vineyard Notes
Early Spring brought us cooler temperatures with above average precipitation. Late Spring became very warm resulting in an earlier than usual bud break. Good weather continued until Late Summer where it started to cool off earlier than usual. October and early November weather held strong and we were able to keep our late ripening reds on the vine long enough to pick up some nice flavours. Pinot Noir, Riesling, and Chardonnay grew exceptionally well and should be standouts for the 2018 vintage.
Production Notes
The grapes were picked in late October and crushed into stainless steel tanks. The wine was pumped over twice daily for 14 days during fermentation in stainless steel tanks. The wine then went through malolactic fermentation and was aged in a special selection of French and American oak. 2018 Major's Block is a harmonious blend of 60% Shiraz,35% Merlot, 5% Zinfandel.
Food Pairing Notes
Major's Block pairs perfectly with peppercorn steak, prime rib, rare to medium-rare barbecued meats, lamb, venison and aged cheeses.
Product Reviews