Facebook Live Wine Bundle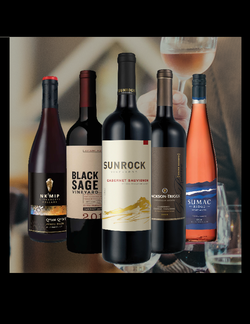 Want to learn more about Wines and grape varieties of the South Okanagan?
Bring Great Estates Wine Tastings into your home, at your leisure.
Join us through our Facebook Live videos with our "Great Estates Live Wine Tasting Package" for 6 in home wine tasting and educational opportunities. Over the next 5 weeks our wine educators across our wineries will be hosting wine tastings on line that will be available through Facebook for your viewing. Order the 6 pack of Exclusive South Okanagan wines now and start organizing your tasting group!
FACEBOOK LIVE TASTING SCHEDULE
May 23 @ 10am | See Ya Later Ranch Chardonnay
May 30 @ 10am | Nk'Mip Cellars | Qwam Qwmt Pinot Noir
June 6 @ 10am | Experience Centre | Sunrock Vineyards Cabernet Sauvignon & Black Sage Vineyard Cabernet Sauvignon
June 13 @ 10am | Jackson-Triggs | Grand Reserve Red CSV
June 20 @ 10am | Sumac Ridge | Private Reserve Rosé