Bouquet of Rose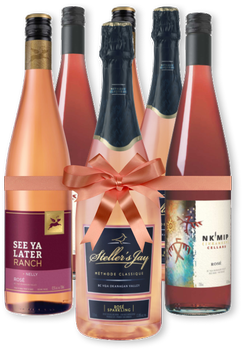 6 Bottles of Rosé
2 X Nk;Mip Cellars Winemaker's Series Rosé
This Rosé is bright pink in colour with lively aromas that mirror a palate of strawberries, rhubarb and cream. A perfect match for salads tossed in raspberry vinaigrette, grilled fish, shrimp or pork, fresh oysters in a spicy sauce, soft cheeses such as Camembert or Brie, or just for sipping on its own!

2 X Steller's Jay Sparkling Rosé
Pink grapefruit dominates the nose with subtle hints of apricot and tangerine. On the palate, this sparkling wine has persistent bubbles and refreshing acidity, offering an effervescent burst of citrus flavours that linger through the finish. The off-dry style makes it an ideal apéritif or perfect to enjoy with a variety of dishes.

2 X See Ya Later Ranch Nelly Rosé
A complex mixture of aromatics; Strawberry, grapefruit, citrus rind, and floral notes. The well-balanced acidity makes this wine a versatile choice with food. Perfect for patios!
Product Reviews