An Exclusive Bundle
An Exclusive Bundle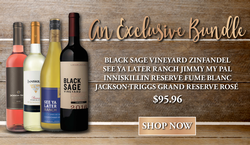 4 Bottles of Winery Exclusive Wines
Black Sage Vineyards Zinfandel
Vibrant dark cherries, blackberries, black currant, chocolate, vanilla notes. The palate is full of luscious berries, ripe plums, dark chocolate and mocha notes. The wine is full and rich with a very long finish.
See Ya Later Ranch Jimmy My Pal
Notes of apricot, Meyer lemon, and lychee on the nose with citrus zest on the palate. This refreshing blend has a light finish and medium acidity.
Inniskillin Okanagan Reserve Fumé Blanc
This wine features plenty of citrus; from fresh lime zest to subtle grapefruit and nectarine notes. Nice minerality with a crisp clean finish.
Jackson-Triggs Grand Reserve Rosé
This Rosé is bright pink in colour with lively aromas that mirror a palate of strawberries, rhubarb and cream. A perfect match for salads tossed in raspberry vinaigrette, grilled fish, shrimp or pork, fresh oysters in a spicy sauce, soft cheeses such as Camembert or Brie, or just for sipping on its own!
Product Reviews
Monica
(May 2, 2016 at 8:34 AM)
I am always happy with the service from the wine club. The wine is delicious, I enjoy introducing my friends to the wines I receive.