The Audacity of Thomas G. Bright | Orange 2019
Skin Fermented White Wine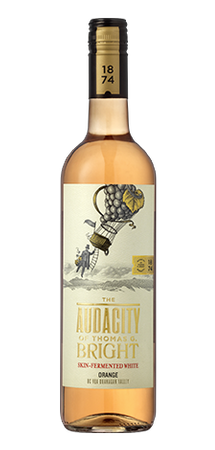 Wine Profile
Tasting Notes
The Audacity of Thomas. G. Bright is an ode to a place where explorers and mavericks have been defying the odds for generations. When our founder challenged the era's accepted wisdom and grew some of Europe's most prestigious grapes right here in Canada, dissenters deemed his strategy too risky – impossible even – but today, we continue the legacy he forged in 1874.
Winemaker Notes
Our Chardonnay was grown in the South Okanagan on the vineyards of the Osoyoos Indian Band and then aged in French oak for 9 months. The wine then went through malolactic fermentation and was kept on lees for almost a full year. This Chardonnay is golden-hued, bold, a little bit racy, and enriched with a touch of sunny vineyard sweetness from the sussreserve (Unfermented grape juice added back into the wine before bottling). With rich flavours of pineapple, lemon zest, and vanilla on the palate with a bouquet of almonds, pineapple, and caramelized sugar our Chardonnay has a crisp and clean finish with voluptuous mouthfeel.
Food Pairing Notes
This wine is ideal with Shrimp ceviche, grilled Lobster tails with herbed compound butter, Chicken piccata, or garlic butter sautéed zucchini. Try it with camembert, gorgonzola, or fontina cheese.
Product Reviews
Joanne
(Aug 4, 2023 at 11:34 AM)
Love this wine. Crisp and delicious