Sumac Ridge 2022 Private Reserve Pinot Grigio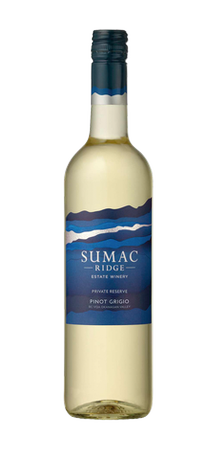 Wine Profile
Tasting Notes
Bright, floral character with some citrus aromas, which made it an exciting challenge to create a blend as all of it was fantastic.
Vineyard Notes
Bud break came very early this year as the beginning of the spring season was very hot and dry. May through early July brought on heavy rainfall and cooler temperatures which led to concerns about early berry development. The remainder of the summer was warm with cooler temperatures at night which allowed the fruit to develop balanced and bright flavours, which made for ideal whites. The reds benefitted from an earlier than usual growing season, allowing them more time to reach their potential, particularly with our late-ripening varietals. The cool autumn allowed them to hang even longer, which led to a more elegant, balanced structure.
Winemaker Notes
Grapes from this blend were sourced from farms from as far north as Lake Country and as far south as Oliver to give a real complexity which envelops the full spectrum of what Pinot Grigio can offer. These wines were fermented separately and the winemaking team spent days coming up with the perfect blend that we feel accentuates the fruit of the Okanagan Valley.
Food Pairing Notes
Seafood salad, pork chops with mushroom risotto, and BBQ chicken breasts all pair wonderfully. For cheese, try ricotta, mozzarella, chèvre, or bûcheron.
Product Reviews
Andreas Mueller
(May 24, 2014 at 7:25 PM)
Good tasting wine to enjoy on the patio with some small organic finger foods or on its own.