Nk'Mip Cellars 2021 Winemaker's Dreamcatcher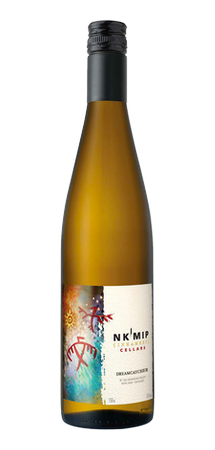 Wine Profile
Tasting Notes
The nose is filled with aromas of pineapple, peach and freshly cut grass. The entry is soft and round bursting with flavours of juicy peach, mandarin orange and citrus fruits. A cleansing acidity leads to a very balanced finish that leaves you craving more.
Vineyard Notes
A cool, wet March and April had us concerned about a difficult start to the growing season however, the weather improved and temperatures rose to above seasonal averages accelerating bud break. May was warmer than usual and we were hitting July temperatures. This spike in temperature and a warm June and July put pressure on the vineyards to get their shoot thinning done quickly as the vine growth was accelerated. Early August was cooler than normal as we were inundated with smoke from the fires burning around the northwest. Skies cleared and into September we had similar accumulated heat units as in 2016 and 2017. September was cool – ideal for the whites and Pinot Noir. Thankfully for the reds, we had a warm, sunny October to remember - allowing for an extended hang time and a great conclusion to another Okanagan vintage
Production Notes
Dreamcatcher's grapes were harvested in various picks from two different vineyard sites and fermented in stainless steel tanks. This wine is a blend of 36% Riesling, 29% Sauvignon Blanc, 24% Ehrenfelser and 11% Pinot Blanc.
Food Pairing Notes
This wine pairs perfectly with fresh seafood like freshly shucked oysters or Alaskan King Crab. It's also great with spicy Thai curries and parmesan or gouda cheeses
Other Notes
Serving temp: 8 C
Product Reviews
Max Wohlwend
(Jul 30, 2015 at 6:00 AM)
Hi you should ad the correct fact sheet to the web. Still 2013
Bonita
(Sep 1, 2017 at 8:54 AM)
Light and Lovely a favorite
Phyllis Bradshaw
(Jul 17, 2018 at 6:45 PM)
I was surprised to find this wine in a BC liquor store, since they usually offer tired and overproduced goods. Pleased that there was a wine I liked, I went back again, specifically for this product, but the store quickly ran out of their supply. Now, I must go quite far out of my way to find it at high end "boutique" liquor stores in more upscale neighborhoods than mine.
Sandy Hall
(Sep 20, 2020 at 7:13 PM)
I love this wine. Great taste!. I discovered it this summer and it has become my favourite white!