Jackson-Triggs 2021 Grand Reserve White Meritage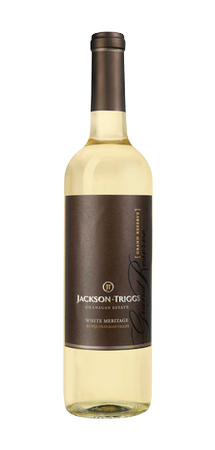 Wine Profile
Tasting Notes
Rich and round, this wine displays notes of pineapple and lime with a hint of coconut on the nose, with a melange of citrus on the palate. Very refreshing crisp medium finish.
Awards
GOLD MEDAL - 2017 Spring BC Wine Awards
Vineyard Notes
2016 had an extremely early start and very warm spring conditions, bringing the challenges of allowing the grapes enough hang-time to get full flavour development, without resulting in overly high sugars. The great news is that Mother Nature cooperated, and in July the grapes had time to slow down and develop those incredible fruit-driven flavours and aromas. October brought some frost, but we managed through the cold overnight temperatures with overhead irrigation and wind machines. The whites are crisp, fresh and full of varietal character; the reds are rich and full-bodied, with mouth-coating tannins and structure. Another outstanding vintage for Jackson-Triggs Okanagan.
Winemaker Notes
This blend of Semillon and Sauvignon Blanc was harvested separately from our Whitetail Vineyard; Sauvignon blanc at the end of August, and Semillon mid-September. All of the Semillon and a portion of the Sauvignon Blanc were fermented and aged in barrel for three months. The remainder of the Sauvignon Blanc was fermented and stored in stainless steel tank.
Food Pairing Notes
Shrimp sauteed in tomato, garlic, and onions (perfect with a baguette!), grilled garlic marinated chicken thighs with herb de Provence, and a splash of lemon juice, grilled octopus with oregano, ground pepper, sea salt, and lemon butter. Cheese: Brie, goat cheese, Crottin
Product Reviews
Lee-Ann Hargreaves
(May 14, 2014 at 8:39 PM)
Thoroughly enjoyed the crisp, refreshing taste.
Kirk Duff
(Jul 6, 2014 at 3:19 PM)
absolutely fantastic!!
Stacie Johnson
(Feb 2, 2020 at 7:49 PM)
One of the best whites I have had in a long time. Went well with seafood.