Light the Candles and Melt the Cheese this Valentine's
How does certain food earn the label of 'romantic'? For foods like chocolate or oysters, it might be the promised aphrodisiac qualities. Fruits like strawberries might make the list because they're juicy and sweet.
But, for a lot of people, a meal is romantic when you can share it. And there is no better example of share-worthy food than fondue. You've got that big pot of melted cheese in the middle where you and your partner will slowly dip nibbles of food. See, even describing it sounds romantic.
Plus, cheese fondue just begs to be paired with wine. We can all agree that wine is the most romantic beverage, right?
So, why aren't more couples dipping their way to romance on Valentine's Day (or any other date night)? It might be that the idea of making a cheese fondue feels intimidating. It's actually a lot easier than you might think.
Great Estates Okanagan Chef, Ben Overland, shares his recipe and the simple steps to a perfect fondue - the romance part is up to you.
Ingredients:
250g Gruyere (shredded)
250g Emmental (shredded)
2 Tbsp flour
1 ½ cups white wine (or chicken stock)
⅛ tsp nutmeg (grated)
pepper to taste (optional)
Method:
Begin by preparing your accompaniments (aka your dippers!). Choose bite-sized foods you love that go well with melted cheese. For example, cooked cheese tortellini, cubed sourdough bread, sliced Granny Smith apples, cooked sausage coil (chopped), cherry tomatoes, blanched broccoli and cauliflower, and boiled baby potatoes.
Set these aside.
In a bowl, combine cheeses and flour and mix well with your hands.
In a pot, bring wine to a boil and add cheese/flour mixture.
Reduce heat to medium and stir until cheese is melted and smooth.
If the fondue is too thin, make a slurry using 1 Tbsp of cornstarch and 1 cup of cold water. Whisk well so there are no lumps then slowly stir the slurry into the hot liquid. Only add a little bit at a time until desired thickness is reached. It will thicken up quickly.
Transfer your liquid cheese to your fondue pot and heat according to the instructions.
Start dipping!
Pro Tip: When you finish with the fondue, the cheese at the very bottom of the pot will have cooked and turned into a wonderful, crispy piece of swiss cheese. Make sure you eat it. It's amazing!
We recommend pairing this cheese fondue with a dry white wine like the Inniskillin Reserve Fume Blanc, Jackson-Triggs Grand Reserve Riesling, or the Nk'Mip Cellars White Mer'r'iym.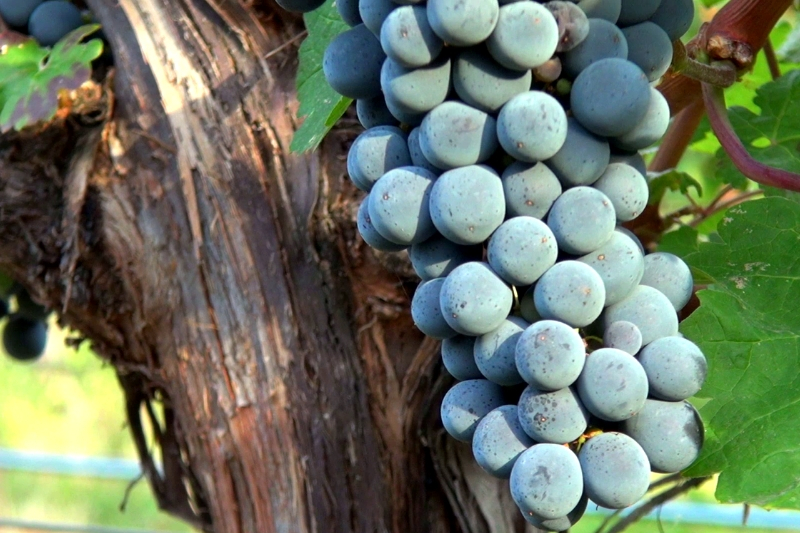 A Guide for Red Wine Lovers
Love Shiraz? We created a video just for you.
In this video, we explore three different and distinct red wines that all have the Shiraz grape varietal in common (which, by the way, is the same as the Syrah grape varietal). These wines are all distinctive and they are all delicious.
We start by meeting Jason James, the winemaker for Black Sage Vineyard. He introduces us to the big and bold Black Sage Vineyard Shiraz. He walks us through his tasting notes for the wine, tells us what makes the wine so unique in the Okanagan, and even makes a pairing suggestion. But (spoiler alert), this wine is also great on its own.
Next up in the video, we meet the winemaker from See Ya Later Ranch Winery, David Saysomsack. He tells us about Rover which is a blend that incorporates Shiraz and a somewhat surprising second varietal. He uses a very interesting technique in fermenting Rover, which he explains in the video. Plus, he gives us some tasting notes and pairing suggestions.
Finally, we hear from Dave Carson, winemaker for SunRock Vineyards. His Shiraz is distinctive because of the unique terroir that it comes from, which Dave elaborates on further. He also offers some tasting notes and food pairing suggestions. Find out why this wine definitely deserves an invitation to your next party!
But, why choose just one? Try them all and discover why each of these three Shiraz options from the Okanagan deserves to be on the 'best of the Okanagan' list.
Do you still have questions? Or, do you want to share your experience with these different Shiraz options from Great Estates Okanagan Wineries? Connect with us on Facebook, Instagram, or Twitter!
Ready to give these wines a try? Shop now online.
2016 Black Sage Vineyard Shiraz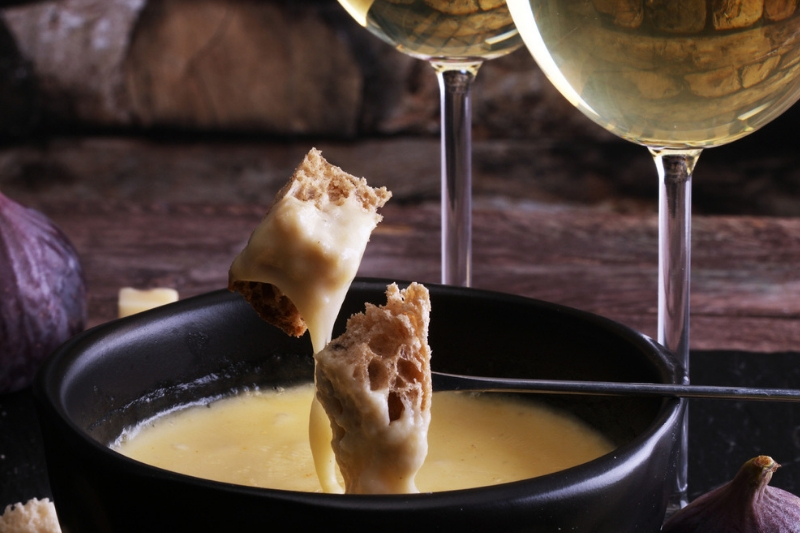 Will You Choose Chocolate or Cheese?
Fondue is a classic winter delight. Whether you like it chocolatey or cheesy, this event at Jackson-Triggs Okanagan Estate Winery will have you dreaming of a long winter.
Choose between the melted chocolate or the melted cheese. Both options come with a flight of wine featuring expertly paired selections from the Jackson Triggs Okanagan and the Inniskillin Okanagan portfolio. You and your dining partner will have an array of delicious bites of food to dip in the fondue pot.
If you've never experienced a fondue before, don't worry. An expert will explain how it works and will walk you through each of the pairings. Plus, they'll help you understand why each wine pairing works so well. This will help you experiment with more food and wine pairings.
It's not just a tasty experience; you'll learn something too!
These food and wine experiences are only available on Sat. Feb. 9th, Sun. Feb. 10th, Sat. Feb. 16th, and Sun. Feb. 17th starting every hour between 12 and 3 pm.
The only thing you have to do is pick the date and make your reservation.
Fondue for Two
Venue: Jackson-Triggs Okanagan Estate, Oliver, BC
Dates: Feb. 9th, Sun. Feb. 10th, Sat. Feb. 16th, & Sun. Feb. 17th
Times: Every hour between12 and 3 pm
Price: $50 + tax for two (includes wines for two, one fondue pot to be shared)
Wine Club Discount: 15%
Reservations Required: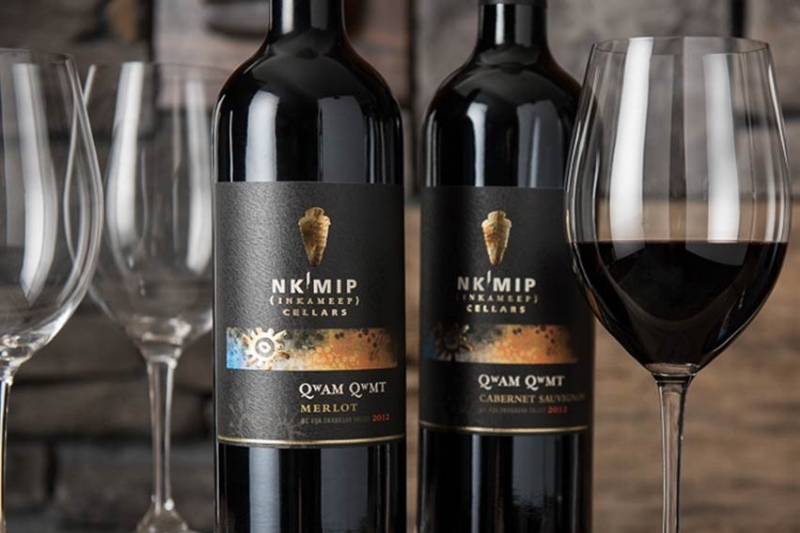 Celebrating Red Wine and Icewine in the Nk'Mip Cellar
The South Okanagan Valley is known for its amazing wines - especially the full-bodied reds and Icewines. It takes a special kind of climate and terroir to allow this to happen. Rarely do you find a place that can offer both the heat and sun required for great, full-bodied red wines and the freezing-cold winters that make Icewine possible.
The Nk'Mip vineyards are such a place and part of the reason they are so legendary.
You're invited to explore the Cellar of North America's first Indigenous owned and operated winery with Winemaker and Osoyoos Indian Band member, Justin Hall. On Friday, Feb. 15th, 2019 he'll show you to the cellar and share a specially selected collection of legendary reds and beautiful Icewines from the Nk'Mip Cellars library. You'll have a unique opportunity to taste how vintage conditions and time in the bottle shape the distinct personality of these wines.
Each tasting session includes 8 samples of wine from mixed vintages ranging from 2002 to current vintage. Space is limited so reserve yours today.
In the Cellar Series: Standing the Test of Time
Venue: The Wine Cellar at Nk'Mip Cellars, Osoyoos, BC
Date: Feb. 15, 2019
Time: 2 - 3 pm
Price: $45 per person, plus tax
Reservations Required:
Please note: The route to the Underground Cellar includes stairs, so comfortable footwear is recommended.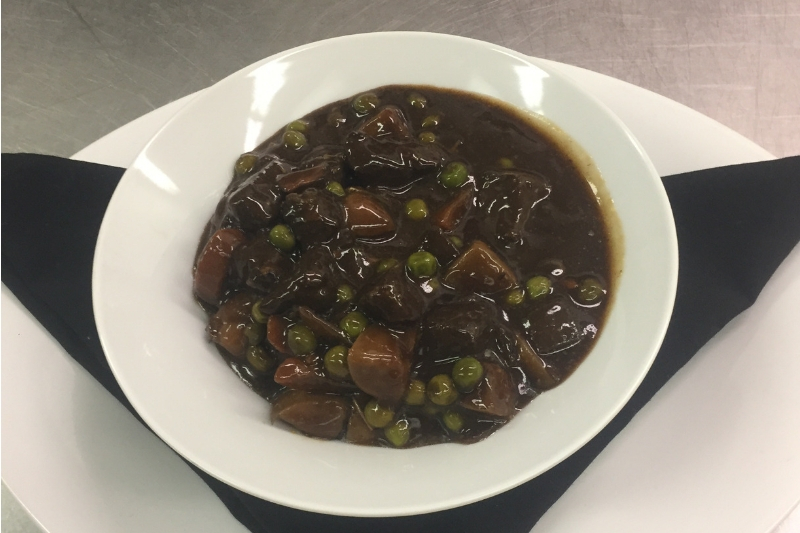 Comfort Food and Wine
Want to know the antidote to cold, dark, winter nights? Beef stew served with a bold red wine.
Great Estates Okanagan Chef, Ben Overland, loves to serve this hearty, comforting meal at this time of year. And, since there is no substitute for made-from-scratch beef stew, he's sharing his recipe with us.
This recipe can be made on the stovetop in a large stock pot or in a slow cooker. Ben has given us his recipe but he also says that stews are a great way to clean out the fridge so don't be afraid to get creative with the ingredients. Really, almost anything goes, as he explains, "Leftover squash from two dinners ago, put it in. Random herbs, wonderful."
He also likes to add celery root as an option to his stock, "Add diced celery root when you add the carrots. If using celery stalks, slice the celery about ½ inch thick and add it about an hour before the stew is expected to be done."
Ideally, you are making the stock from scratch but if you need a cooking short-cut, you can use powdered beef base - just follow the directions on the package.
For pairings, we recommend 2015 Inniskillin Reserve Merlot, 2015 Black Sage Vineyard Meritage, or the 2015 Sunrock Vineyards Shiraz. The bold dark fruit components of these wines and prominent tannins will be softened by the richness of the stew. And, the rosemary component will not override the flavours of these delicious wines. They also each provide a lovely glass of 'cook's nip.'
Speaking of cooking, let's prepeare this beautiful beef stew recipe.
Ingredients:
4 Tbsp Olive Oil
½ lb. Butter
2 lb. Stewing Beef (1" cubes, fat removed)
2 L. Beef Stock
½ lb. Potatoes
1 Medium Onion (diced)
2 Large Carrots
2 cups Frozen Peas
Salt
Pepper
Rosemary
Crème Fraiche or sour cream (optional) for garnish.
Method:
In a bowl, generously season diced beef with salt and pepper.
In a large, heavy-bottomed skillet combine half of the oil and half of the butter. When the butter is frothy and golden brown add cubed beef in a single layer. Get a nice,crisp sear on all sides of the beef. Do this in batches to keep the temperature high and the butter from burning.
When beef is seared, strain off the fat and set the beef aside. Start again with fresh fat until all of the beef is seared.
If using a powdered beef base, follow directions on the package and get this started. While the stock is heating up, cut potatoes and onion into bite-sized pieces. Peel carrots and cut them into bite-sized pieces as well. Chunky carrots are better than thin slices, as they don't break down as fast.
If using a crockpot, combine beef, potatoes, onions, and stock into the bowl, affix the lid, then set the program according to the directions.
If using a pot on the stove, combine the same ingredients and bring to a good simmer over medium/high heat. Once simmering, turn heat down to low and cover with a tight-fitting lid.
In the crockpot, this stew will take 4-5 hours, on the stove it should take closer to 3 hours.
Halfway through the cooking process, add your carrots and a sprig of fresh rosemary.
After three hours of cooking time, taste-test a piece of beef. If it is tender enough for you, add the 2 cups of frozen peas, stir, turn off the heat and put the lid back. The peas will thaw in about 5 minutes. Once the peas are cooked taste the broth and adjust the seasoning to your preference.
If you have some crème Fraiche or sour cream, add it as a garnish. It's great for the temperature contrast and the sourness helps counter the richness of the stew.
Note, if you are using powdered stock mix, use enough to make about two litres of stock. If you are going this route, Ben recommends using half beef base and half powdered gravy as it will result in a thicker strew.
For those using a ready-made stock from a butcher shop, you may want to add a thickening agent such as cornstarch. To do this, take one cup of cold stock and combine it with one tablespoon of cornstarch. Whisk until there are no visible lumps. Add this mixture to the rest of the stock.
One last tip: If you find the stew a little thin once everything has cooked, ladle out half of the liquid and reduce it by half in a separate pot (on medium/high heat). Return the reduced stock to your stew, et voila!
Pour a glass of bold, fruity red wine and enjoy a perfect winter meal.
Wine Pairing Recommendations for Beautiful Beef Stew

CLICK IMAGE TO SHOP NOW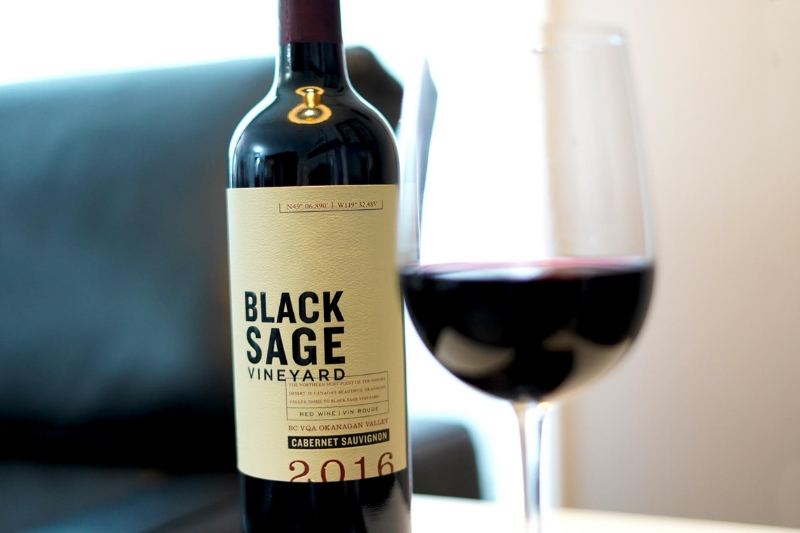 Black Sage Vineyard Winemaker, Jason James, Explains Tannins
Everyone talks about tannins in wine but what are they? And furthermore, why do we want them and why are they considered food's best friend? We take a stroll through the vines with Jason James, winemaker at Black Sage Vineyard, to find out more.
What are tannins?
Tannins are the mouthfeel that a wine imparts; there's the flavour of the wine and then there's the tactile element of it in your mouth.
Tannins are a chemical compound which you find in other drinks too— tea is a good example as it gives you that 'mouth drying' feeling. A good way to understand tannins is to take a grape and eat just the skin—that chalky drying taste is the tannins!
Why do we want tannins in wine?
Tannins help to give structure to the wine. They also help stabilize the colour as that beautiful red tone comes from the skins of the grapes. They play a couple of different roles but what they mostly do is hold the wine together.
Do you get tannins in red and white wines?
Tannin levels in white wines are going to be very low compared to reds because when you make white wine you crush and press the grapes right away and you don't ferment on the skins [because skins are removed before fermentation]. When you make red wine, you make it by fermenting with the skins and sometimes the seeds and stems too. With seeds and stems you get more aggressive tannins, so we don't want to extract those too much, but we do want the tannins from the skin.
What's the difference between a red wine for sipping or one for pairing with food?
When it comes to choosing a wine for sipping, something that's quite 'big' like a Cabernet Sauvignon maybe isn't the best choice. If you just want to drink red wine without food look for lighter varietals such as Pinot Noir or a softer medium-bodied Merlot. Cabernet Franc can be a good choice because it has a nice structure but it's not a huge wine.
Think about your cellar, high tannin wines are good to age. What happens during aging is a chemical reaction. The tannins 'polymerize' which means that they become longer chains as they bind to each other and become softer and less bitter. That's why you'll hear people say that tannins have 'integrated' in an older wine.
Why do wines with tannins pair so well with food?
Big wines with a lot of tannins are good for pairing with foods because of how the tannins react with protein - you can bind up those tannins with your food so they're not all in your mouth!
It's a chemical reaction. Tannins want to jump on to a protein, which without food would be the inside of your mouth and tongue, but when you add food it binds to that instead and the flavour softens. You'll find that if you drink a softer wine, like Gamay Noir, with steak, it just gets overwhelmed. You need something bigger to pair with the food.
How do Black Sage Vineyard wines work with food?
When I make wine, I go for something that will get both sides. My wines have that tannic structure, but we don't extract every last drying tannin from the skin and seeds of the grape, so you can still drink it alone, but it will also pair nicely with steak or a chop. I like my wine to be versatile.
What wine and food pairings do you like?
I really like to keep it simple with my wine and food. I do a lot of braised meat in the winter and you need a great wine to cook with. I'll cook with a Black Sage Vineyard wine and serve food with it too, so you get a layered flavour. A lot of people think you shouldn't cook with good wine, but you always should. Never cook with anything you wouldn't drink! That's a terrible idea – I don't know where that myth came from.
Do you have a favourite?
I love to have our Merlot, it's got a ton of fruit and that nice structure, the tannins are silky and there's a lot of them but they're not clunky or drying. I'm a big fan of my Cab Franc too – that's another one where there's more acidity to it but it has nice tannins. Black Sage Vineyard wines have matured; every year just seems to be better and more balanced. I've had enough time to work with them now and I know what I'm expecting and what they'll develop in terms of tannins and flavour profiles. It's really coming together!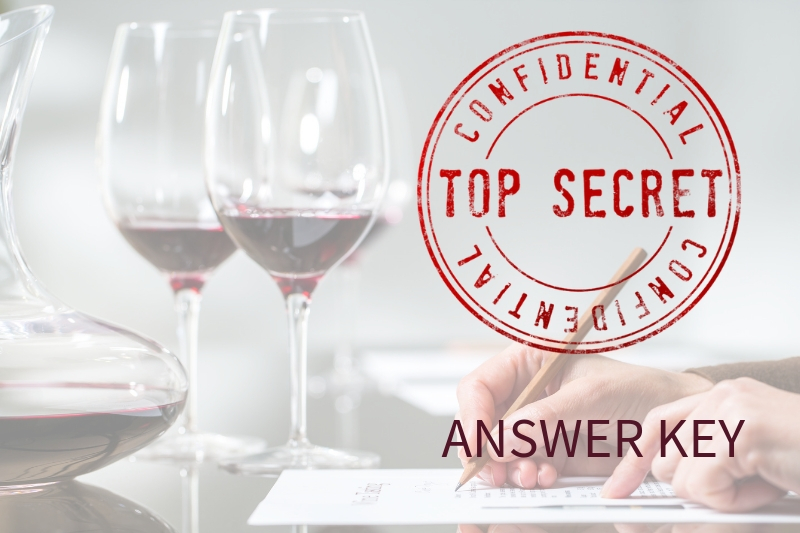 This is the answer key for the Are You a Wine Geek Quiz. If you've found it by mistake - have a little fun and go back and take the challenge.
Now it's time to see how much of a wine geek you really are. Here are the correct answers:
1. Where do tannins in wine come from?
Answer: D
As it relates to winemaking, tannins are a polyphenol found predominantly in grape skins. However, tannins also naturally occur in grape seeds and stems. Oak also contains some tannins so winemakers may increase the tannins in a wine when they use oak barrels to age the wine. Alternatively, it is also possible to increase the amount of tannins in wine by adding a powered form of concentrated tannins - however, this is not a very common practice.
2. Why would a winemaker interrupt fermentation?
Answer: C
Arresting the fermentation process before it is fully complete stops the yeast from consuming all of the natural sugar from the grapes. This allows winemakers to create a naturally sweeter wine.
3. What is Noble Rot
Answer: B
Botrytis cinerea, 'grey fungus', or noble rot affects ripe grapes usually in wet conditions. If these conditions are followed by dry conditions the fungus causes the grapes to shrivel. Wine made from these grapes are particularly sweet and are referred to as botrytized wines.
4. Why can't you call Steller's Jay Mountain Jay Brut a Champagne?
Answer: D
Only wine made in the Champagne region of France (in the northeast part of the country) can carry the name 'Champagne'. So, despite the fact that all of the Steller's Jay sparkling wines are made using the traditional Champagne-method of winemaking - it cannot be called Champagne.
5. What are you describing when you talk about 'the finish' when wine tasting?
Answer: A
Wine can taste different after it leaves the mouth. This lingering effect is part of the wine-tasting experience and is considered 'the finish'. When discussing the finish, wine experts will note things like the flavour, how long it lingers, and if it is pleasant.
6. If you were in Austria, how would you order ice wine?
Answer: C
Eiswein is a German word that translated to ice (eis) wine (wein). Since eiswein originated in Germany, Austrian wineries use the German name.
7. What should you avoid when tasting wine?
Answer: D
To create the perfect wine tasting environment, you want to limit anything that will distract your five senses. Here's an article where we share tips on hosting an elevated wine tasting experience.
8. Which Great Estates Okanagan winemaker won winemaker of the year at the 2018 International Wine and Spirits Competition?
Answer: A
Inniskillin Okanagan winemaker, Derek Kontkanen accepted the prestigious award in London, England at the International Wine and Spirits Competition in November 2018. But, our other wineries are not without accolades! For example, Nk'Mip Cellars has been named winery of the year in multiple award competitions including the InterVin International Wine Awards in 2016/17.
9. Which of these wines cannot go in a traditional red Meritage?
Answer: Gamay Noir.
Meritage is traditionally made with 'noble' varieties originating from the Bordeaux region of France. Gamay Noir originated from the Burgundy region and was much maligned by aristocrats. It is now popular in the Beaujolais and Loire Valley regions of France as well as in the Okanagan. It's often blended with traditional Meritage varietals but including it in a blend means you can no longer call it a Meritage. Did you know you can try your hand at creating the perfect blend in our Mastering Meritage workshop using Black Sage Wines? It's held at Sumac Ridge periodically throughout the year.
10. How many small glasses (125 ml) of wine can you get from a standard bottle of wine?
Answer: A
A regular 750 ml bottle of wine contains 6 small glasses of wine of about 4 oz each. The common 'industry pour' is 5 oz meaning you'll get about 5 glasses out of each bottle.
11. Why do we decant wine?
Answer: D
Decanting wine will aerate the wine which will open it up on the nose and palate (especially in a young wine). Slowly decanting an older bottle of wine will also ensure that any sediment remains at the bottom of the bottle (typically in older bottles of wine).
12. Why should you use a varietal specific glass when enjoying wine?
Answer: A
Varietal-specific glasses are created by looking at where each wine would ideally land in the mouth and designing a glass that will deliver it there. Really - it's science (which we explore in detail in this article). It is true, that some glasses (like the Icewine glass) were also designed to improve aeration during the swirl but this is not necessarily true across the board.
13. What wine would pair well with blue cheese?
Answer: D
Blue cheese is a very interesting and versatile cheese to pair with wine! Not only does it change the taste of the wine, but the wine can dramatically alter the flavour of the cheese. Want to up your wine-and-cheese-pairing know-how? The Great Estates Wine Experience Centre offers an amazing, elevated wine tasting with cheese pairings.
14. What temperature should wine be cellared at?
Answer: B
All wine varieties should be stored in a dark cool room that is consistently between 10 - 15° C. One of the biggest mistakes people make is storing wine on or above their refrigerator.
15. Where is the Great Estates Wine Experience Centre located?
Answer: D
The Great Estates Wine Experience Centre opened in September 2018 in downtown Penticton next to the Penticton Lakeside Resort. It's open year round for wine tastings (featuring all of the Great Estate Wineries - including winery-exclusives) and elevated wine tasting experiences.
16. What's the difference between aging wine in a French oak barrel versus an American oak barrel?
Answer: B
According to the Wine Spectator, "Speaking in broad generalities, French oak barrels are typically more subtle and spicy, offering textures of satin or silk. American barrels tend to be stronger in flavor, often described as cream soda, vanilla, or coconut, resulting in wines with a more creamy texture."
17. What colour are the grapes used to make Zinfandel?
Answer: C
Zinfandel comes from a grape with black skin. The variety is believed to originate from Croatia but has become popular in both the old and new world because of its high sugar content.
18. Gewurztraminer is a popular wine in Germany. What is the German origin of the word?
Answer: D
Gewurtz in German translates to 'spice'. The second part gets its name from an area known as Tramin which is in the south Tyrol region of northern Italy. Grapes originating from this area are known as Traminer (as in 'from Tramin').
19. Where is the first officially recognized sub appellation in BC?
Answer: A
The Golden Mile Bench became the first sub appellation of the Okanagan Valley Designated Viticultural Area in 2014. It is identified as an east-facing bench on the side of a mountain just south of Oliver, BC. Despite the elevation, it is actually much warmer than the Valley floor which means that it is ideal for growing grapes that need a bit more heat and would be susceptible to frost. Inniskillin's Dark Horse Estate Vineyard is located in the Golden Mile Bench.
Okanagan Falls was named BC's second sub appellation in 2018.
20. What does terroir refer to in wine tasting?
Answer: B
Terroir is how all environmental factors (land, soil composition, climate, and farming practices) are represented and realized in the final wine product.

How many did you get right? Share your score on social media and be sure to tag us #greatestatesokanagan so we don't miss it!

And, make sure you don't share this secret answer key before everyone has a chance to test their own knowledge with the quiz. Shhhhh.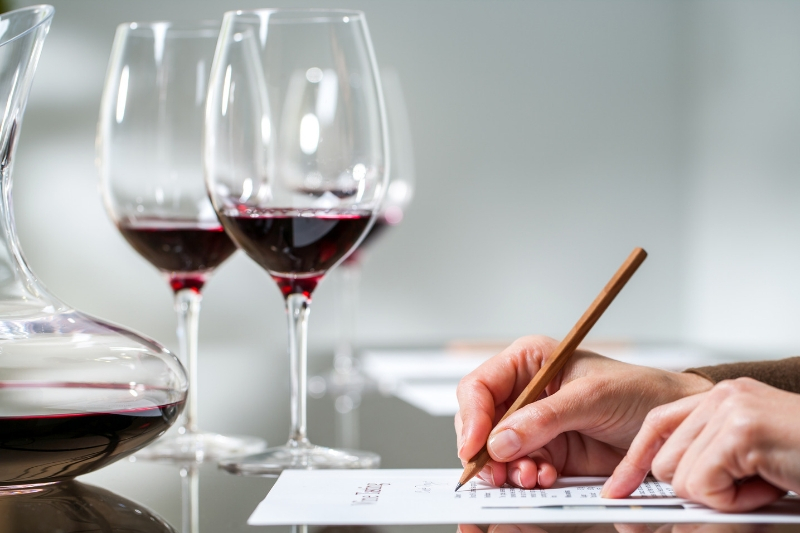 Test your Wine Knowledge with this Quiz
Quizzes are a fun way to engage your guests at a gettogether. And, if they love wine, then this will give them a chance to show off their knowledge.
If you're doing this at a party, you can either give people noisemakers (so they can 'ring in' when they know the answer) or give everyone a notepad so they can jot down their answers which you can tally at the end. As the host, you'll want to have the answer key handy.
If you're doing this on your own and want to see how you rate on the wine-geek scale, then jot down your answers before referring to the answer key which you'll find a link to at the bottom of the quiz.
Of course, this best to do with a glass (or two) of wine. We recommend pairing party quizzes with something bubbly like See Ya Later Brut, Steller's Jay Mountain Jay Brut, or Inniskillin Sparkling Tempranillo.
Good luck!
1. Where do tannins in wine come from?
The seeds, stems, skins, and oak
The seeds, stems, and skins
A powder added to the wine
All of the above
2. Why would a winemaker interrupt fermentation?
To create bubbles
To make the wine dry
To make the wine sweet
To make it in the Verde style
3. What is Noble Rot
Mold that makes the grape poisonous
Mold that causes the grape to shrivel
Mold that causes the grape to ferment on the vine
A punk band
4. Why can't you call Steller's Jay Mountain Jay Brut a Champagne?
It's not made in the Champagne style
The grapes aren't grown in the Champagne style
The grapes are not heated before fermentation
The grapes are not grown in the right region
5. What are you describing when you talk about 'the finish' when wine tasting?
The aftertaste of the wine
The last glass poured from the bottle
How the wine coats the mouth
When a wine triggers the taste buds
6. Canada has amazing ice wines - the best in the world according to the International Wine and Spirit Competition in 2018. Another region well known for ice wine is Austria. What do they call it there?
Zweiwein
Auswein
Eiswein
Süsswein
7. What should you avoid when tasting wine?
Loud music & poor lighting
Perfume & air fresheners
Brushing your teeth
All of the above
8. Which Great Estates Okanagan winery won Canadian Wine Producer of the Year at the 2018 International Wine and Spirits Competition?
Inniskillin Okanagan Winery
Nk'Mip Cellars
Black Sage Vineyard
See Ya Later Ranch
9. Which of these wines cannot go in a traditional red Meritage?
Cabernet Sauvignon, Cabernet Franc, Malbec, Merlot, Gamay Noir, Petit Verdot, Gros Verdot, St. Macaire, or Carmenère.
10. How many small glasses (125 ml) of wine can you get from a standard bottle of wine?
6
5
7
4
11. Why do we decant wine?
To get rid of sediment in aged wines
To air the wine out
To help a young wine open up
All of the above
12. Why should you use a varietal specific glass when enjoying wine?
To ensure the wine hits the right part of your palate
So you know what type of wine is being served
The design is specific to how the variety needs to be swirled
All of the above
13. What wine would pair well with blue cheese?
Zinfandel
Port
Cabernet Franc
All of the above
14. What temperature should wine be cellared at?
5 - 10° C
10 - 15° C
15 - 20°
None of the above
15. Where is the Great Estates Wine Experience Centre located?
At Sumac Winery
Vancouver
Osoyoos
Penticton
16. What's the difference between aging wine in a French oak barrel versus an American oak barrel?
French imparts more vanilla or coconut notes
American imparts more vanilla or coconut notes
American imparts a more subtle flavour influence
There's no difference
17. What colour are the grapes used to make Zinfandel?
Pink
Red
Black
Green and red
18. Gewurztraminer is a popular wine in Germany. What is the German origin of the word?
Mountain wine made in the Tramin German Alps
Floral wine of mine
My favourite wine
Spice wine using grapes out of the Tramin region of Italy
19. Where is the first officially recognized sub appellation in BC?
Golden Mile Bench
Naramata Bench
Fraser Valley
Okanagan Falls
20. What does terroir refer to in wine tasting?
The healthy minerals in wine
How the land and climate affect the taste of the wine
The feeling you get when you realize you are out of wine
When wine tastes like dirt
That's the end of the quiz. How well did you do? Find out using the ANSWER KEY.
Award one point for each correct answer.
In the case of a tie, use these bonus points to determine the true Wine Geek Champion.
1 bonus point if you belong to a wine club

2 bonus points if you've ever broken up with someone because they didn't think wine was worth all of the fuss.
3 bonus points if you've got wine in your 'cellar' that's been there for over a year.
5 bonus points if you've ever tasted the earth at a winery to get a sense of the terroir.
10 bonus points if you have a wine-related tattoo.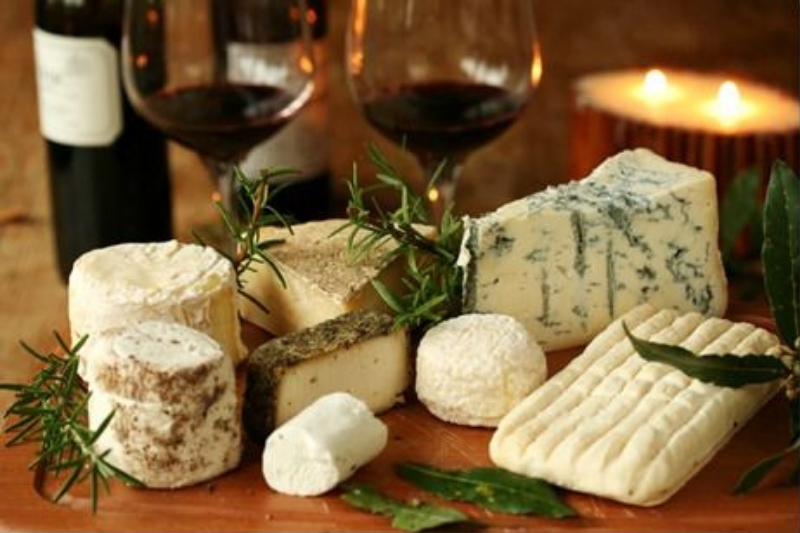 Creating Wine with Cheese Pairings Like a Pro
It's a classic pairing - wine and cheese. But, do all wines go with all cheeses? The simple answer is no. Sure, you can enjoy any wine with any cheese but to get the most out of your cheese and your wine, you need to consider several things.
Just like wines, cheeses have complex flavour profiles and compositional nuances. They also come in a variety of textures which will change the mouthfeel and how long the flavour lingers. These all need to be considered when pairing them with a wine.
In a perfect pairing, the combination of the wine and cheese shifts the gastronomic experience from what you would taste and feel with each element individually. There is a craft to discovering these magical combinations.
Luckily, there are a few tricks to the trade and we're sharing them in our Wine and Cheese 'The Perfect Pairing' Experience at the Great Estates Okanagan Wine Experience Centre in Penticton.
In this 60-minute session, you learn the essential skills to put together a truly harmonious wine and cheese pairing. We'll sample a variety of wines (red, white and dessert-style) along with a selection of fine cheeses. Discover the secret to pulling out the nuttiness of a Gran Padano, complementing the creaminess of a Brie, or softening the power of a Blue cheese.
Join us for the extraordinary experience and prepare to wow your friends and family when you host a next-level wine and cheese party.
Book now as space is limited to 10 guests per session.
Wine and Cheese 'The Perfect Pairing'
Venue: Great Estates Okanagan Wine Experience Centre
Time: Noonv
Price: $25 per person plus taxes
Dates: Every Saturday and Sunday through to January 27, 2019
Reservations Required

Gift Ideas for Wine-Lovers
Count yourself lucky if you've got a wine-lover on your list this holiday season. Just buy them some wine! We know it can be intimidating purchasing wine for someone who really knows their vino. Here are a few tips for buying wine for the oenophile on your holiday shopping list.
Select a Crowd-Pleaser.
What's their favourite wine? This is almost an impossible question because 1) it is likely to change often and 2) it might depend on their mood, their meal, or their company. Instead, stick with a crowd pleaser. This way, you can give it knowing it's a well-loved wine and they can serve it knowing it's a well-loved wine. Win-win. Not sure which are crowd pleasers? Visit the Great Estates Wine Experience Centre before the holidays, ask the winery associate to give you the low-down. The Centre stocks favoured wines from all of our Okanagan wineries so you're sure to find exactly what you're looking for. Did you know we have over 7 rosés to choose from and a wide selection of winery-exclusive wines? And, as a bonus - you get to go to the tasting bar and discover for yourself why these are so popular!
No time for that? Take advantage of Great Estates Okanagan's Gift Guide and online shopping. And, if you're buying for more than one wine-lover (and you want to get your shopping done all at once) email us to place a special order and we'll take care of all of the shipping for you.
Give them an Award-winner.
While everyone has their personal taste preference, the judges at wine competitions have honed theirs for years. When they get together and collectively agree that a wine is the best - it's a pretty sure bet your loved one will agree. Or, at the very least be interested in trying it.
Plus, buying an award-winning wine as a gift sends a clear message that you think they deserve the best. Select the Platinum, Double-Gold, or Gold winners from any wine competition to send this message.
Find Something Unique.
Every oenophile (or budding oenophile) loves to try wine. Experiencing a variety of different wines is the only way for them to develop their palate and increase their understanding of wine. So, give them a bottle that will expand their wine knowledge.
For example, Tempranillo is not a very common variety in the Okanagan so giving them a bottle of the Inniskillin Okanagan Discovery Series Tempranillo or Sparkling Tempranillo would be an exciting option. The Steller's Jay Sparkling Shiraz is another unique wine that might fit the bill. There aren't a lot of sparkling red wines that are produced in Canada. This is a style of wine more common in Australia, so giving them a bottle of this wine is like giving them an international experience.
Make it Special.
Some of the best gifts are the ones that we know the recipient wouldn't buy for themselves. This is why icewine is such a common wine gift. Icewines tend to be a little more expensive and they are often enjoyed as a special treat.
Icewines aren't the only wines that fit this bill. A fortified wine, like Black Sage Vineyard Pipe, is another great option. This dessert-style, red wine is generally served after dinner and savoured over conversation.
Of course, there's a bottle of bubbles. While we think any occasion is an occasion for sparkling wine, a gifted bottle certainly still holds that cachet of celebrations to come.
Give them a Wine-tasting Experience Instead.
If the thought of buying a wine still feels overwhelming, then give your loved one the opportunity to try a variety. All of our wineries offer elevated wine tasting experiences. These often include food pairings and an opportunity to taste winery exclusive wines. And, there's always an education component which your oenophile is sure to love. For example, learning how to pair chocolate with wine, how sparkling wine is made, or how winemakers blend wine.
There are also amazing wine and food events throughout the year at our wineries. One of our most popular is Chef Meets BC Grape. This event features wineries from all over the Okanagan as well as chefs from across BC. The food, wine, and atmosphere are spectacular. The event is held in the vineyard at See Ya Later Ranch in June and tickets are already available (at an early bird price until January 15, 2019).
Gifts of experiences are often cherished because they generate such great memories. Why not make the experience extra special and include yourself in the gift? We bet time with you is gift enough. You can book an experience at any of our wineries or on our website. Gift certificates for experiences can also be picked up at the winery or online.
The Gift of Knowledge.
When people first get into wine, they learn about how to sniff and sip to determine if they like a wine or not. They might learn a little bit of wine vocabulary so they can describe how a wine smells or tastes. For a lot of people, this is enough.
If someone is really keen to understand wine and the winemaking process, they take it a step further by registering for the WSET. The WSET is actually the Wine and Spirit Education Trust. They've created three levels of awards or levels that people can take to improve their understanding of wine.
Many people who work in the wine industry have this designation. In the Okanagan, anyone keen to get their training can check out Wine Plus+ Wine School's upcoming dates. Wine Master, Rhys Pender will certainly help your wine-enthusiast become a full-fledged oenophile.

Hopefully, these tips help take the intimidation out of buying wine for an oenophile. But, if you're still uncertain, you can always buy them wine accessories or novelties. Our winery stores all carry a variety of fun decorative items (for example, See Ya Later Ranch has a large selection of tongue-in-cheek, wine-themed signs and pillows), cookbooks, wine glasses, bottle openers, and a myriad of other vino-centric items. Why not make your shopping a little more fun? Stop by our wineries, enjoy a wine tasting, and browse the shop.