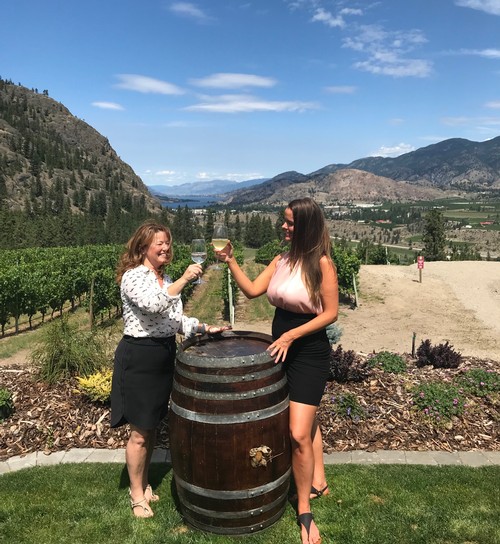 We shared a wine cocktail Virtual Tasting Room video on our social media recently and by popular demand, we are excited to share these wine cocktail recipes with you. These are perfect for sipping on your patio, with friends at a gathering, or next to the pool.
Summer Sipper

Ingredients
Ice
Twig of fresh lavender (sub with mint if lavender is not available)
1 ounce of elderflower syrup (available at IKEA)
Generous pour of Pinot Gris (or Sparkling Brut)
1/2 cup Perrier (or any other sparkling water)

Method
Add ice to your glass, then break up lavender into glass. Pour in elderflower syrup, Pinot Gris and then top with Perrier. Stir, sip, enjoy!
Ginger Ninja

Ingredients
Ice
Two tablespoons of peeled & roughly chopped fresh ginger
1-2 tablespoons agave syrup
1/2 cup Ginger ale (artisanal style soda preferred)
1-1/2 cups of Gewürztraminer
2-3 mint leaves
Method
Add ice to your glass. Place chopped ginger a fine sieve and place over a bowl (to gather pressed juices). Pour agave over ginger and press the ginger with a spoon to release the juices into the bowl. Discard ginger/sieve and add ginger ale into agave/ginger syrup in bowl to loosen up the syrup. Stir gently. Add ice to glass and pour agave syrup/ginger ale mix into glass. Top up with a generous amount of Gewürztraminer. Stir, sip, savour! Want an extra kick? Add a splash of tobassco sauce!
Peachy Keen

Ingredients
Ice
1 fresh, very ripe peach
1 cup Sparkling Brut
2-3 leaves Thai basil
Few drops of Basil infused oil

Method
Add ice to your glass. Cut peach in half and squeeze the juice into the glass, ensuring some of the flesh of the peach is crushed into the glass. Top up up Sparkling Brut. Drop in Thai basil leaves and the basil infused oil. Admire the beauty, sip, enjoy!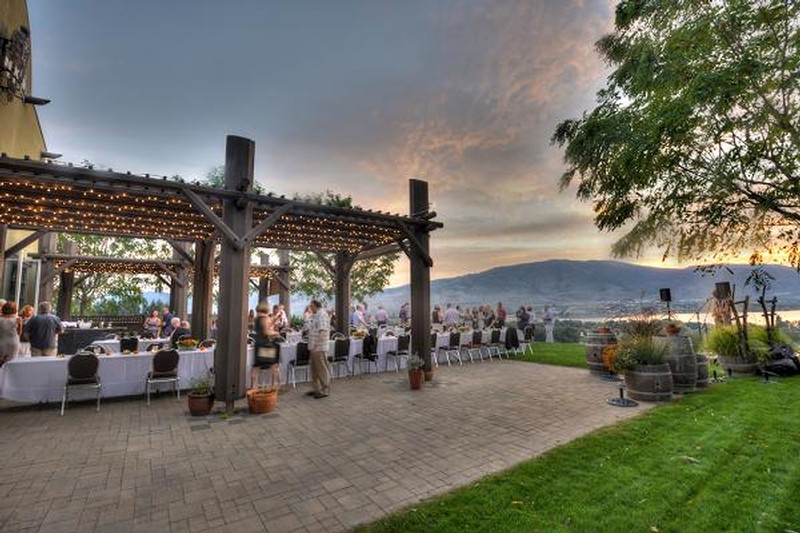 Join us for dinner and award winning wine as you enjoy the spectacular views of Osoyoos Lake and surrounding hills from the expansive Nk'Mip Cellars Patio.
Tap your toes to the musical stylings of Diane Ball. Bid on prized silent auction items. Learn about the significance of REED's work from survivor and 2019 REED award recipient, Trisha Baptie.
Tickets include a fry bread taco dinner and your first glass of award winning Nk'Mip wine.
Resist Exploitation, Embrace Dignity (REED) is a Vancouver-based nonprofit that stands with and for sexually exploited women and challenges the demand for access to their bodies. For more information please check out: http://embracedignity.org/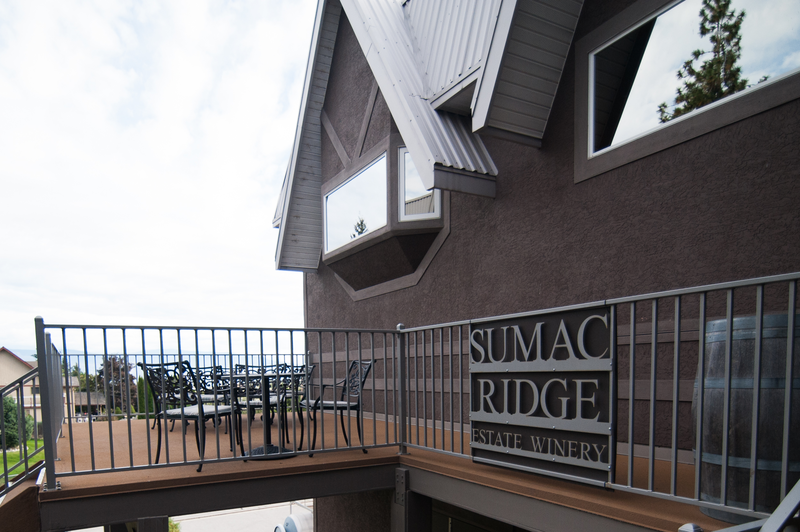 We are excited to host this unique and fun evening. Bring a friend or two and join us on the Upper Terrace Lawn of Sumac Ridge, overlooking the vineyards and lake for a 45 minute class of PiYo. A combination of Pilates and Yoga, PiYo helps build strength, flexibility, improve balance & energy for a total mind-body workout.
After your class relax with a glass of wine in the Black Sage Hall while having fun as Penticton artist Ron Gladish guides you through painting a beautiful Okanagan scene.
You won't want to miss this event. Book now!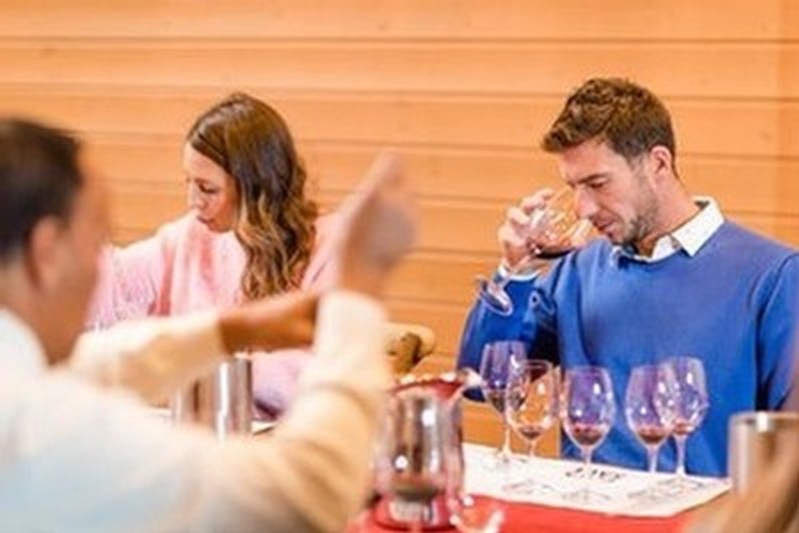 Guest Winemaker Series at the Wine Experience Centre – at the Penticton Lakeside Hotel
Join Laughing Stock Vineyard's winemaker Nikki Callaway on a journey exploring different Merlot sites through the South Okanagan. Merlot is a key investment component in LFNG's Flagship wine Portfolio. The journey will extend from the Naramata Bench, Laughing Stock Vineyards, to the South finishing in Osoyoos with the Perfect Hedge Vineyard. Your tasting will be comprised of 4 different barrel samples from 4 different vineyards. Discover the importance of a key performance indicator like Terroir and the impact it has on what you enjoy in your glass.
Insider tip – We will have a wine sample from a New oak barrel that will showcase the impact a winemaker's barrel selection has on the wine.
The evening will finish with you becoming a winemaker and creating your own merlot blend.
This will sell out fast. Get your tickets here now!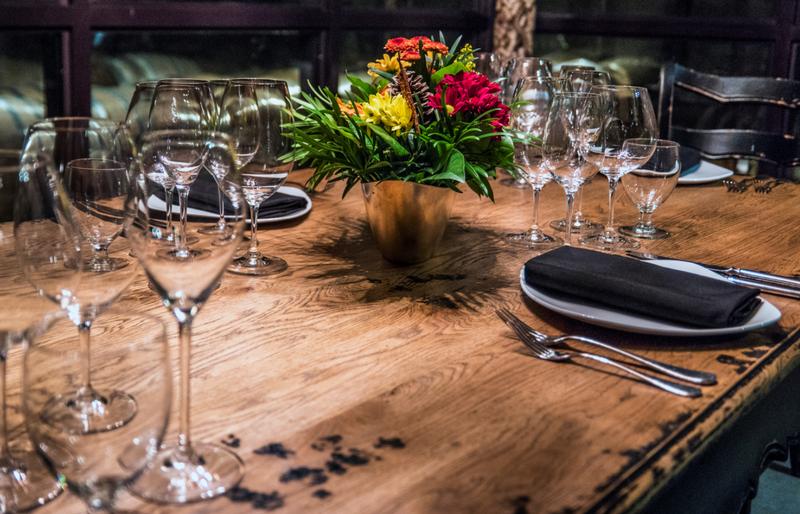 On Saturday, September 28, 2019 enjoy the bounty Fall brings in the Okanagan and join our winemaking team, including Randy Picton & Justin Hall as we enjoy a delicious, five-course dinner prepared by Winery Chef, Orlin Godfrey, expertly paired with a selection of Nk'Mip Cellars wine.
This is a popular event that always sells out. Tickets go on sale on August 1, 2019. To ensure you aren't disappointed, put a reminder in your calendar now to check back on our website to purchase your tickets then.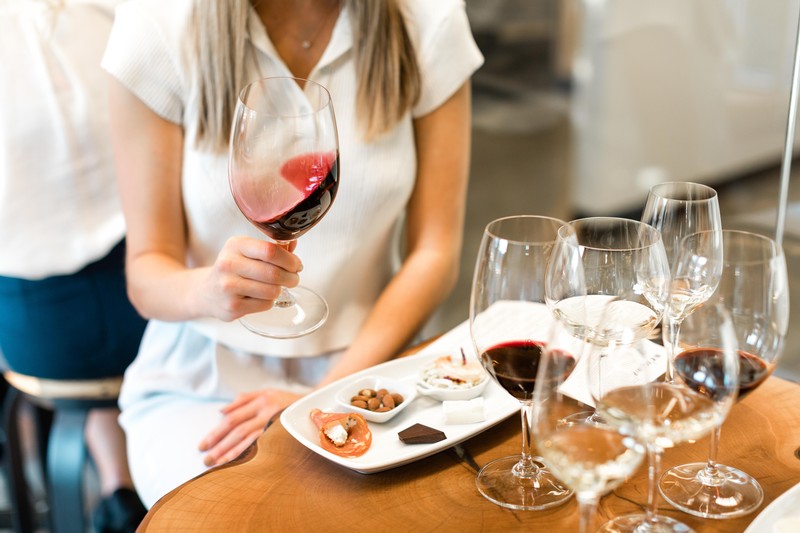 Have you ever wondered why people age their wines? Or how the environment in which the grapes are grown impact the flavour of the wine you are enjoying?
The Vertical Tasting experience at the Wine Experience Centre on July 27 and July 28 is a great opportunity in a fun way to learn about a particular winery, winemaker, their wines and their style.
Guillaume Bidart will lead you through different vintages of the same type varietal from the same winemaker and winery are tasted. He will explain the differences between various vintages and how changes to such things as seasonal temperatures, precipitation and sunshine can change the style and flavor profiles of a wine from one year to another.
At this Vertical Tasting experience, you will enjoy three vintages of our Inniskillin Dark Horse Cabernet Franc and three Vintages of our Black Sage Vineyard Shiraz. Guillaume will explain what took place in the vineyard during the growing season that led up to the harvest of each of the varietals and why each one has a distinct flavor profile.
This tasting will guide you as to how long you may want to age your wines and when you prefer drinking them.
A small plate of food bites will be provided.
This is an experience you will not want to miss. Register below:
Vertical Wine Tasting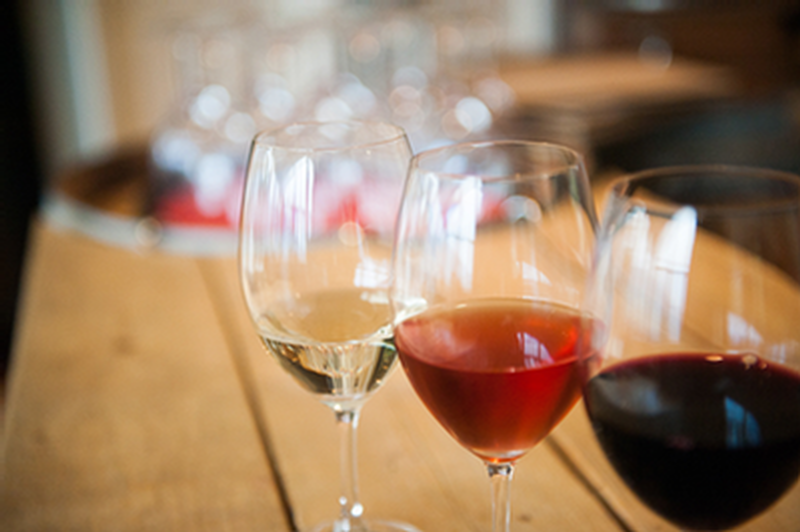 Whether you are completely new to wine, or consider yourself a wine-geek, the Blind Tasting experience at the Penticton Wine Experience Centre will fun and educational for all!
Being able to correctly identify a wine takes years of practice that includes tasting many wines in order to be able to determine the slightest nuances in taste, smell and viscosity.
Test your taste buds and challenge your friends. This tasting will be led by Guillaume Bidart and is meant to be a fun and relaxed tasting where you will learn how to determine what is in the bottle by swirling, smelling and tasting the wines before the wine is revealed to you. A great way to spend an afternoon with a small group of budding oenophiles.
This is an experience you will not want to miss. Register below:
Blind Wine Tasting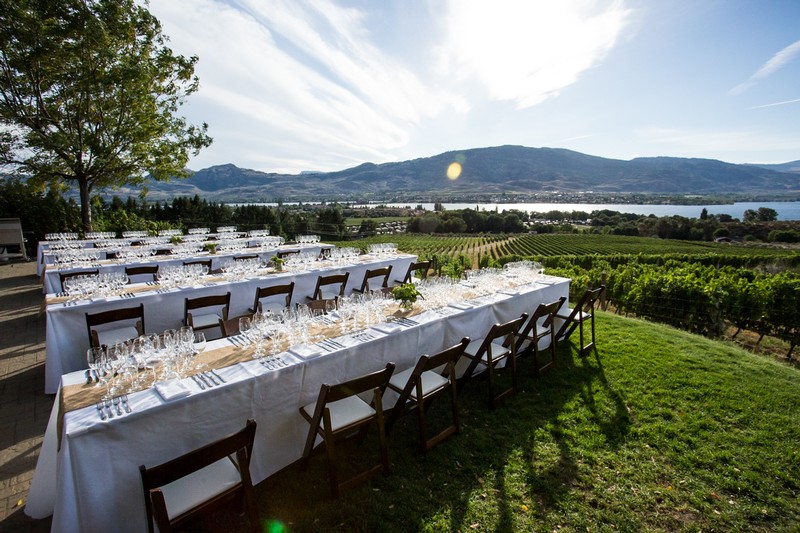 The stunning Nk'Mip Cellars in Osoyoos are excited to host the popular, third annual Elements Dinner on June 21, 2019.
Held on National Indigenous People's Day, this multi-course dinner will feature leading First Nations chefs celebrating the rich culture and heritage of Indigenous peoples. Representing the elements Earth, Water, Fire and Air, this five-course dinner is paired with Nk'Mip Cellars award-winning wine and created by Enoch Cree Chef Shane Chartrand (River Cree Resort Edmonton), Nk'Mip Winery Chef Orlin Godfrey, Chef Murray McDonald and Pastry Chef Tammy Maki (The Bear, The Fish, The Root & The Berry).
Guests will enjoy live entertainment and stunning vineyard views. This event sells out fast, grab your tickets now: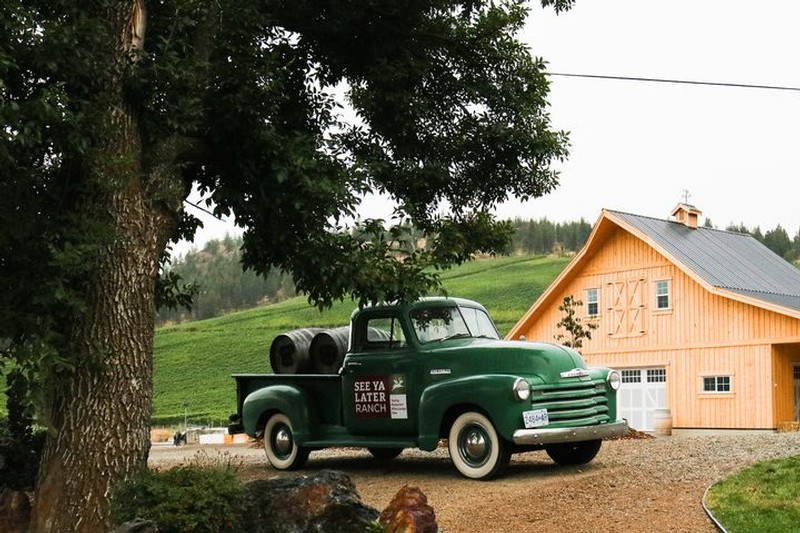 Stroll through the See Ya Later Ranch winery grounds, tasting and sipping your way through the afternoon.
This tented, festival-style outdoor extravaganza will include tastings from 49 BC wineries, as well as masterclass wine education seminars, chef demonstrations, wine and food pairings, and a variety of food stations prepared by the country's top chefs.
The event is almost sold out, purchase your tickets now before it's too late!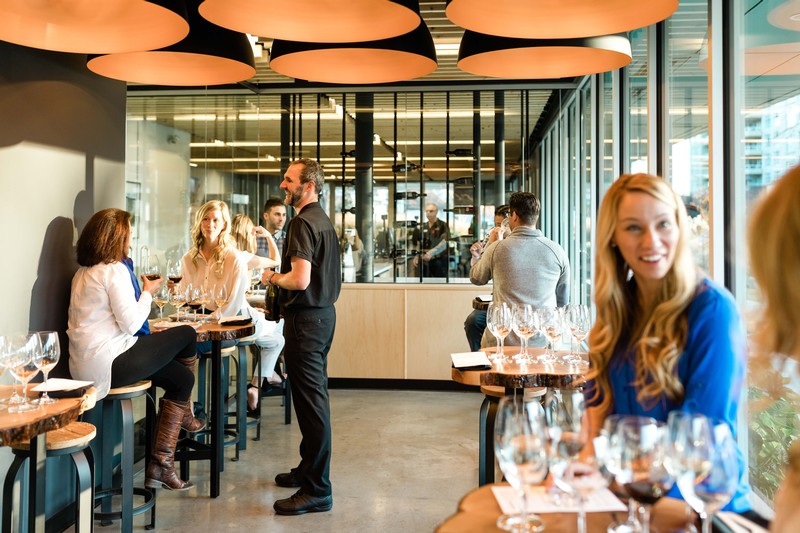 Great Estates Okanagan Wine Experience Centre (located at the Penticton Lakeside Resort) is excited to host an Open House on Saturday, June 1 from 10am-6pm. 97.1 SunFM will be live on location with chances to win draw prizes, in store specials, tasty bites and a fun blind tasting experience.
Come in to taste a variety of wines from the Great Estates Okanagan portfolio all available in one convenient location.
We look forward to seeing you at our Open House on June 1st!
This is an Open House you will not want to miss!