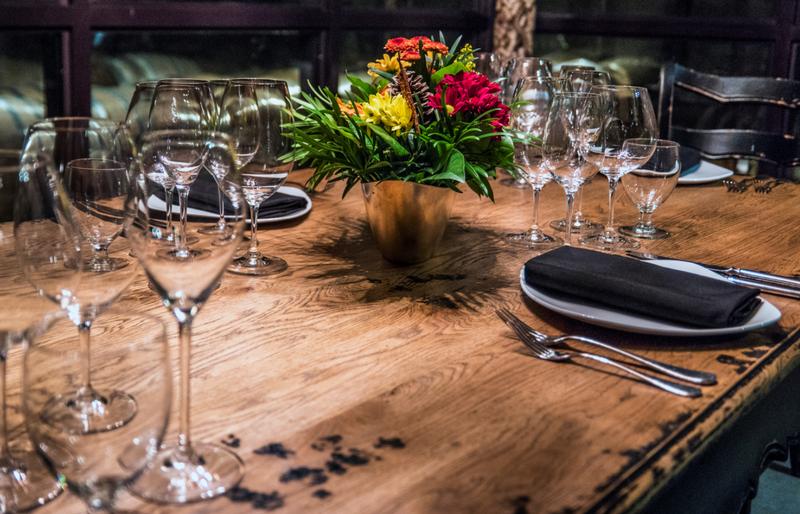 On Saturday, September 28, 2019 enjoy the bounty Fall brings in the Okanagan and join our winemaking team, including Randy Picton & Justin Hall as we enjoy a delicious, five-course dinner prepared by Winery Chef, Orlin Godfrey, expertly paired with a selection of Nk'Mip Cellars wine.
This is a popular event that always sells out. Tickets go on sale on August 1, 2019. To ensure you aren't disappointed, put a reminder in your calendar now to check back on our website to purchase your tickets then.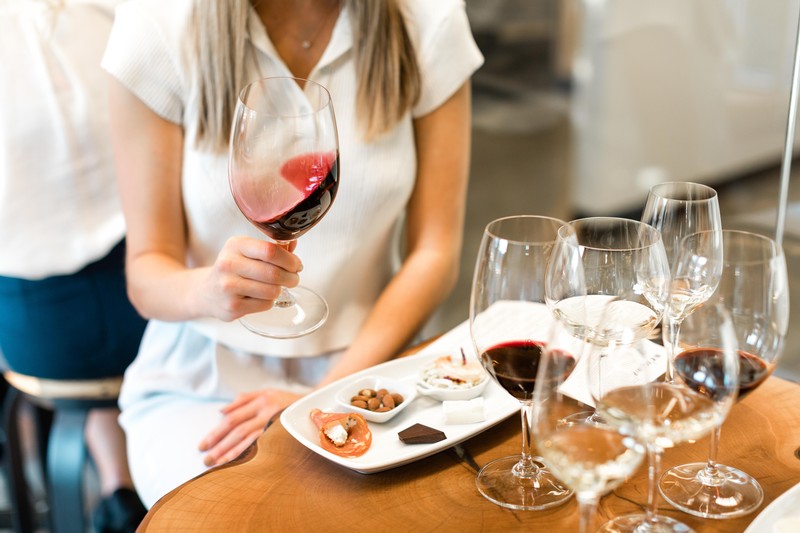 Have you ever wondered why people age their wines? Or how the environment in which the grapes are grown impact the flavour of the wine you are enjoying?
The Vertical Tasting experience at the Wine Experience Centre on July 27 and July 28 is a great opportunity in a fun way to learn about a particular winery, winemaker, their wines and their style.
Guillaume Bidart will lead you through different vintages of the same type varietal from the same winemaker and winery are tasted. He will explain the differences between various vintages and how changes to such things as seasonal temperatures, precipitation and sunshine can change the style and flavor profiles of a wine from one year to another.
At this Vertical Tasting experience, you will enjoy three vintages of our Inniskillin Dark Horse Cabernet Franc and three Vintages of our Black Sage Vineyard Shiraz. Guillaume will explain what took place in the vineyard during the growing season that led up to the harvest of each of the varietals and why each one has a distinct flavor profile.
This tasting will guide you as to how long you may want to age your wines and when you prefer drinking them.
A small plate of food bites will be provided.
This is an experience you will not want to miss. Register below:
Vertical Wine Tasting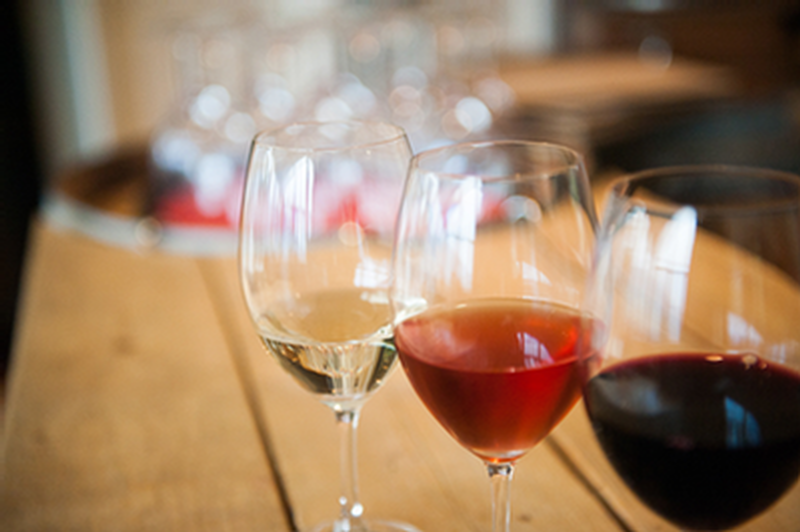 Whether you are completely new to wine, or consider yourself a wine-geek, the Blind Tasting experience on June 22 and June 23, 2019 at the Penticton Wine Experience Centre will fun and educational for all!
Being able to correctly identify a wine takes years of practice that includes tasting many wines in order to be able to determine the slightest nuances in taste, smell and viscosity.
Test your taste buds and challenge your friends. This tasting will be led by Guillaume Bidart and is meant to be a fun and relaxed tasting where you will learn how to determine what is in the bottle by swirling, smelling and tasting the wines before the wine is revealed to you. A great way to spend an afternoon with a small group of budding oenophiles.
This is an experience you will not want to miss. Register below:
Blind Wine Tasting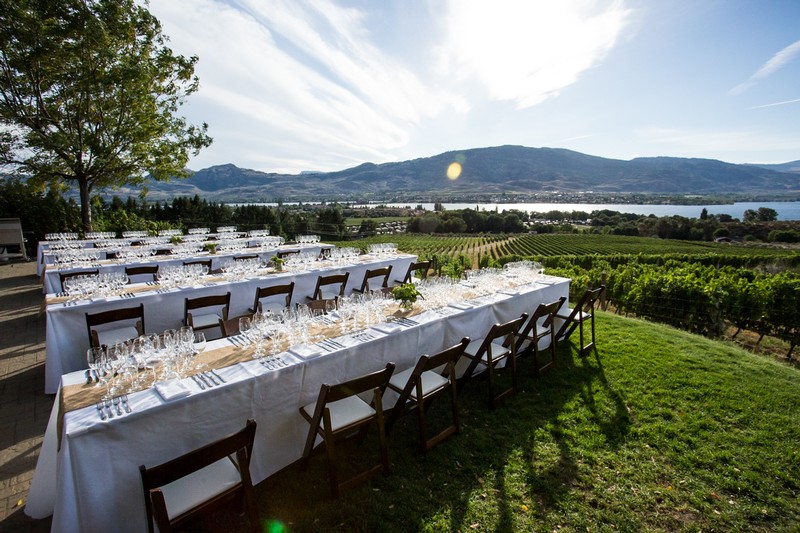 The stunning Nk'Mip Cellars in Osoyoos are excited to host the popular, third annual Elements Dinner on June 21, 2019.
Held on National Indigenous People's Day, this multi-course dinner will feature leading First Nations chefs celebrating the rich culture and heritage of Indigenous peoples. Representing the elements Earth, Water, Fire and Air, this five-course dinner is paired with Nk'Mip Cellars award-winning wine and created by Enoch Cree Chef Shane Chartrand (River Cree Resort Edmonton), Nk'Mip Winery Chef Orlin Godfrey, Chef Murray McDonald and Pastry Chef Tammy Maki (The Bear, The Fish, The Root & The Berry).
Guests will enjoy live entertainment and stunning vineyard views. This event sells out fast, grab your tickets now: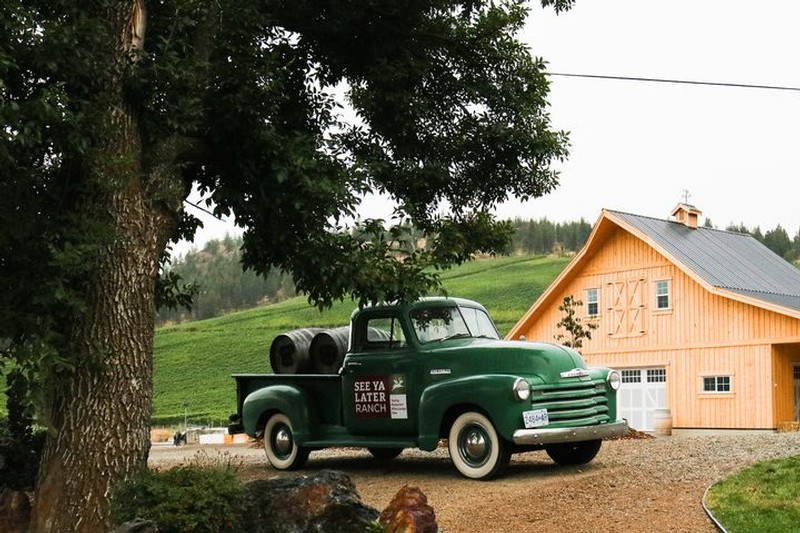 Stroll through the See Ya Later Ranch winery grounds, tasting and sipping your way through the afternoon.
This tented, festival-style outdoor extravaganza will include tastings from 49 BC wineries, as well as masterclass wine education seminars, chef demonstrations, wine and food pairings, and a variety of food stations prepared by the country's top chefs.
The event is almost sold out, purchase your tickets now before it's too late!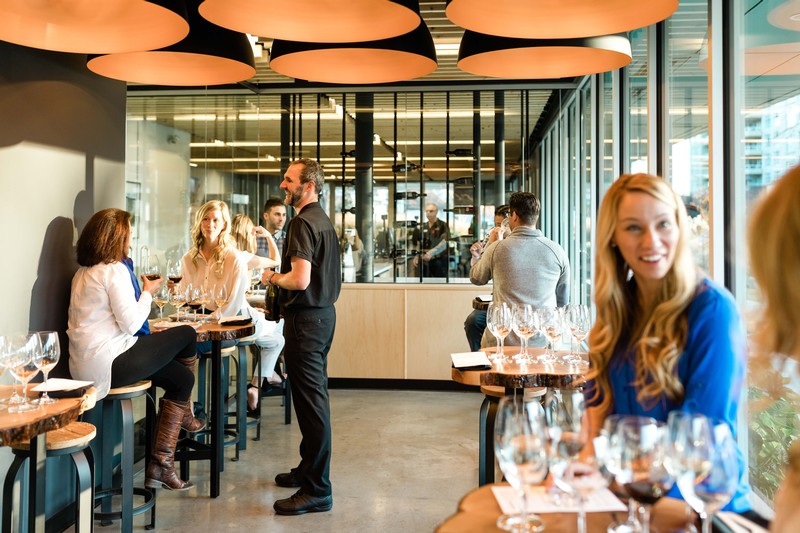 Great Estates Okanagan Wine Experience Centre (located at the Penticton Lakeside Resort) is excited to host an Open House on Saturday, June 1 from 10am-6pm. 97.1 SunFM will be live on location with chances to win draw prizes, in store specials, tasty bites and a fun blind tasting experience.
Come in to taste a variety of wines from the Great Estates Okanagan portfolio all available in one convenient location.
We look forward to seeing you at our Open House on June 1st!
This is an Open House you will not want to miss!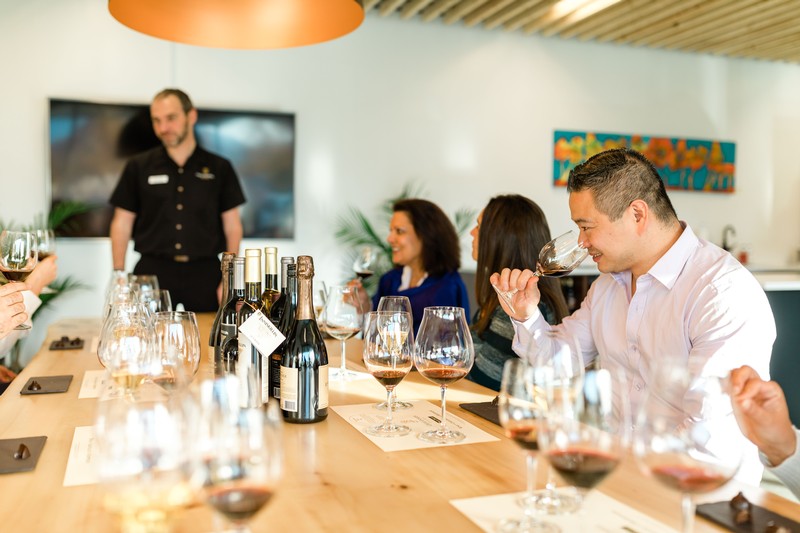 Did you know that your glass can change the taste of your wine?
On June 21, 2019 our Penticton Wine Experience and Tasting Centre is excited to join up with Riedel for a unique, fascinating and fun wine glass tasting experience.
Each participant will take home an amazing complimentary Riedel tasting set featuring glasses from the Performance collection.
Tasting led by Riedel representative: Alysha Harker.
This is an experience you will not want to miss. Register below:
Riedel Wine Glass Tasting

Ditch the Bouquet and Give her a Wine Experience!
If your mom is a big fan of wine, then don't bother getting her flowers or another cookbook - give her what she loves.
If there's one thing we're sure Mom loves more than wine, it's you. So, why not bring her to one of our wineries and enjoy a wine experience with her?
We've got a variety of winery experiences that will elevate her knowledge and appreciation of wine. Plus, they're a whole lot of fun!
Wine Experience Centre
The Great Estates Wine Experience Centre at the Lakeside Resort in Penticton will have the bubbles open all Mother's Day weekend. So, if Mom loves sparkling wine, a visit here would earn you some serious daughter/son/husband Brownie points!
You can also book the Wine and Cheese 'Perfect Pairing' Experience or try the popular Wine+Chocolate=Happiness tasting. If you have a group of 8-12, you can book a private, custom tasting!
You don't need a reservation if you want to come taste some bubbly, but you will need to reserve for a wine experience. You can do that here.
The Wine Experience Centre at the Lakeside Resort in Penticton is open from 10 am - 6 pm daily.
Sumac Ridge Estate Winery
At Sumac Ridge in Summerland, you can choose from several elevated wine tasting experiences including the Progressive Pairings, Black Sage Food & Wine Pairings, or the Black Sage Tasting Gallery.
Mom will feel extra special if you take her to the Mother's Day Bubbles 'N' Bites on May 12th from 3:30 - 4:30. It includes five vivacious sparkling wines paired perfectly with small bites served in the Steller's Jay Sparkling Wine Cave.
Reserve your spot here. Sumac Ridge is open 10 am - 5 pm daily.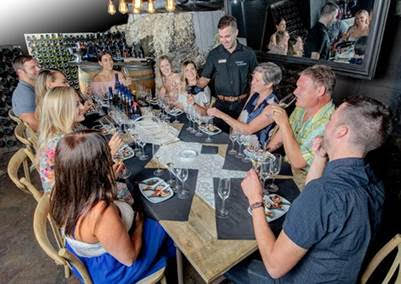 See Ya Later Ranch
This historic and scenic winery in Okanagan Falls is open for lunch on Mother's Day! You can't go wrong with the new menu. Everything from the chicken tinga sandwich to the reimagined Nicoise salad is delectable. Plus, it all comes served with that stunning view from the patio!
Or, you can take in the view from the tasting bar where fido is also welcome!
Reservations for lunch are not required but recommended. See Ya Later Ranch is open from 10 am - 5 pm daily. Find more details here.
Jackson-Triggs & Inniskillin Tasting Gallery
Drop by the Jackson-Triggs & Inniskillin Tasting Gallery in Oliver on Mother's Day to enjoy wines from three distinct wineries - Jackson-Triggs, Inniskillin, and SunRock Vineyards. You can also treat Mom to one of our new experiences.
Learn all about Terroir in the daily masterclass which includes a tasting and is available daily at 10:30am and 2:00pm. Or, you might want to try the Canadian Classics Wine & Food Experience which is happening every day at noon. Make a reservation to ensure you don't miss out. You can do that here. The Jackson-Triggs & Inniskillin Tasting Gallery is open from 10 am - 5 pm daily.
Nk'Mip Cellars
Down in Osoyoos at Nk'Mip Cellars, the Patio Restaurant is now open for the season where the food, wine, and view vie for your attention. Plus, the most popular tours and tastings are back and available on Mother's Day. Mom might like to experience the Qwam Qwmt Tasting Gallery (now accepting reservations).
Or, you could take her on the daily Land to Legacy Tour at 2 pm. If your Mom loves culture and food, book a spot for the 3:30 pm "The Perfect Union: Four Food Chiefs Wine & Food Pairing Tour" which features wine paired with indigenous cuisine.
Book your spot here. Nk'Mip Cellars is open 10 am - 6 pm daily.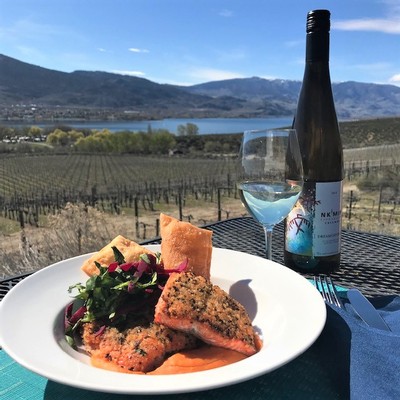 And, if you can't make it to one of the wineries with Mom this Mother's Day you can still give her the winery experience. Book an experience for her or give her a Great Estates Okanagan gift certificate which she can use at any one of our wineries or the Wine Experience Centre at the Lakeside Resort. Happy Mother's Day!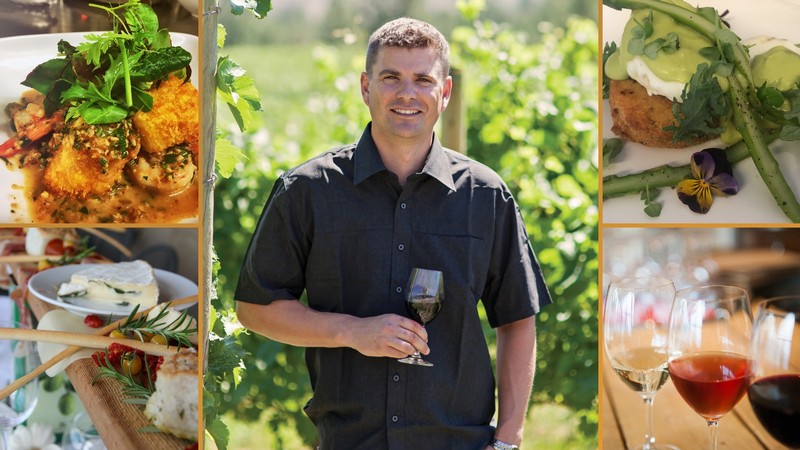 Want to help kids with cancer while enjoying a night out?
We want to make it easy (and delicious) for you to be a part of our fundraising efforts on behalf of Coast to Coast Against Cancer Foundation. So, we're doing what we do best - creating an amazing food and wine experience featuring the best of the Okanagan.
Chef Darin Paterson of Bogner's of Penticton is planning an exploration of culinary delights with his 5-course meal. He's been working closely with award-winning winemaker Derek Kontkanen to ensure that each bite is equally met with the perfect wine pairing.
And, we're talking award-winning wines.
Derek recently brought two prestigious awards home to Inniskillin Okanagan Estate Winery. One for being named the Canadian Wine Producer of the Year at the International Wine & Spirits Competition in London, England. The other was also from the IWSC for the best Ice Wine in the World.
Critically-acclaimed cuisine paired with award-winning wines. We can't blame you if you forgot that it's all in the name of charity!
Net proceeds from the night will be donated to Coast to Coast Against Cancer in support of their mission to create a world beyond kids cancer.
This is a night not to be missed. Seats are limited and reservations are required. Will we see you there?
Winemaker's Dinner at Bogner's of Penticton
This event is in the past.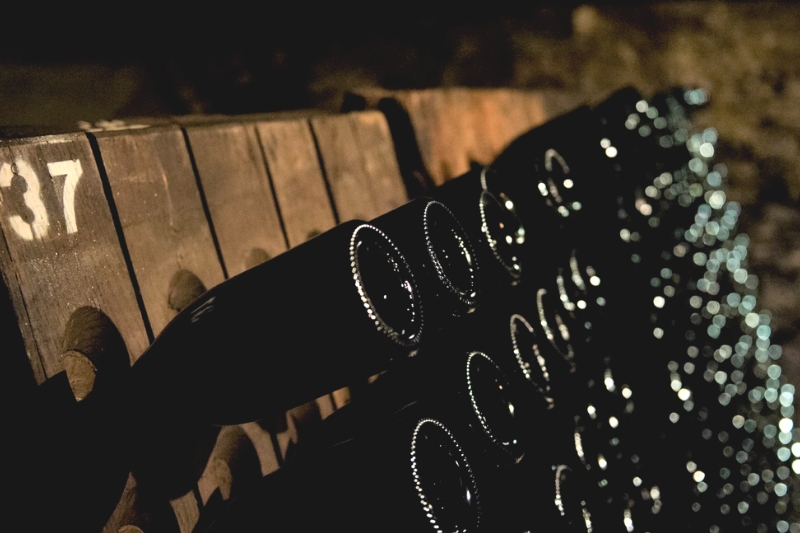 Don't Wait for a Celebration to Enjoy these Sparkling Wines
Can we talk about one of the biggest wine myths out there? Sparkling wine is not JUST for formal celebrations! Why would we limit the enjoyment of bubbles to special occasions? We'll answer that for you - there is no reason.
If you feel a need to limit your sparkling wine to a celebration then we encourage you to expand the scope of your definition. For example, did you do something nice for someone today? Let's celebrate! Did a friend spontaneous drop in? Hooray, pop the cork! Are you really killing it with your positive mental attitude? Keep it rolling by saying 'yes!' to a glass of bubbly.
Life is worth celebrating, don't you think?
We created a video featuring three great sparkling wine options from the Okanagan. They are each different but all three are exceptional. And now that you know you don't have to wait for some formal occasion, you can try them all!
Click play to see Dave Carson, the winemaker from Jackson-Triggs in Oliver, BC, share his tasting notes on the Entourage Grand Reserve Sparkling Brut. You'll also meet Derek Kontkanen, the winemaker at Inniskillin Estate Winery. He'll introduce you to the Sparkling Tempranillo Rosé Cuvée Close. And finally, Steller's Jay winemaker, Jason James has some interesting pairing suggestions for the Steller's Jay Sparkling Gewurztraminer.
Ready for a taste? Join us at our winery tasting bars or at the Great Estates Wine Experience Centre in Penticton, BC for a sample of these sparkling wines.
Wine touring in the Okanagan - there's another thing you can add to your list of things to celebrate!