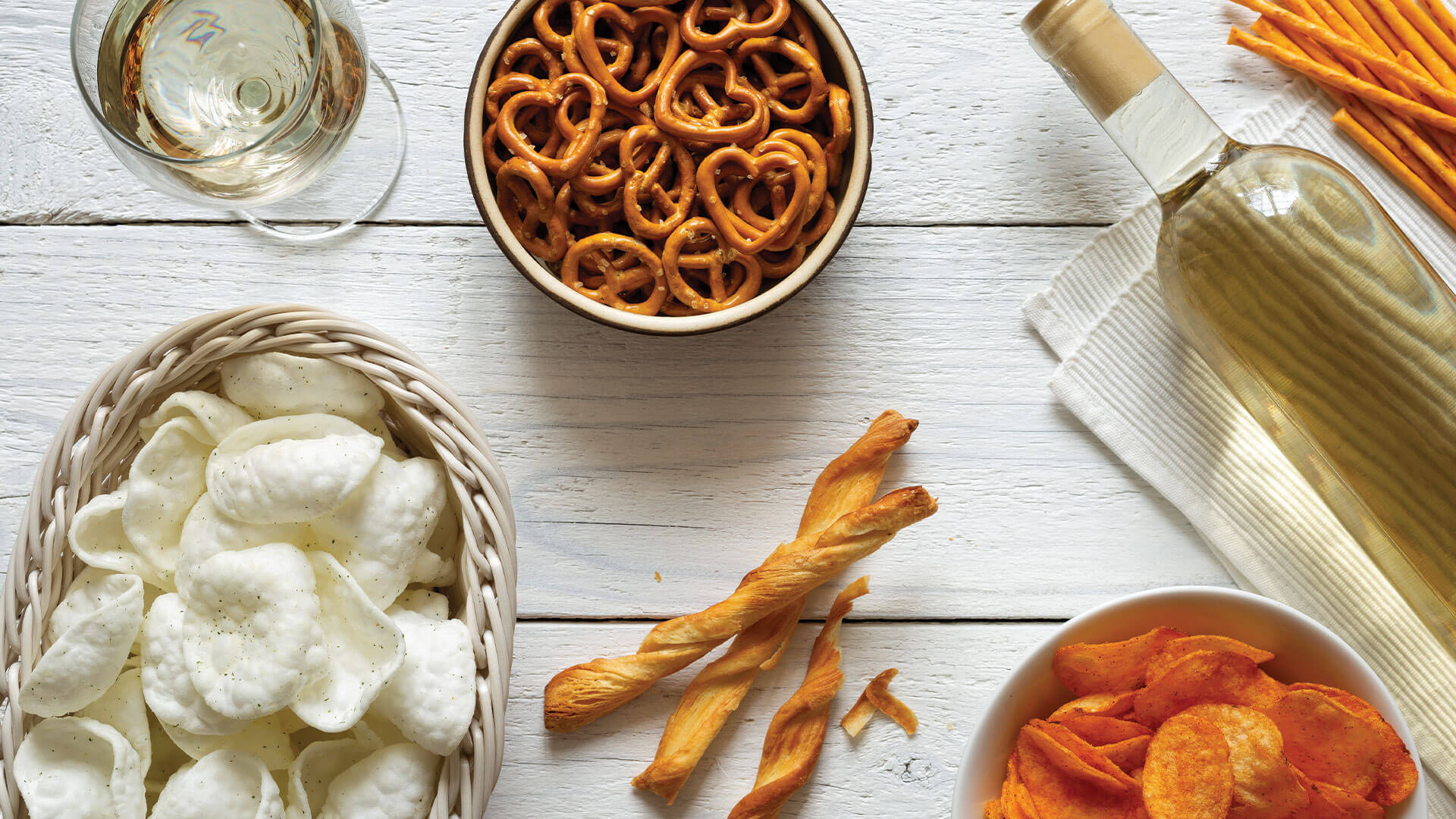 Savoury vs Sweet: Whatever your junk food snack, we've got a wine for that.
Pretzels to popcorn, brownies to caramel corn: Discover wine pairings for your favourite munchies.
Salty & Savoury: From sparkling wines to crisp rosés, choose wines with fresh acidity to match these snacks.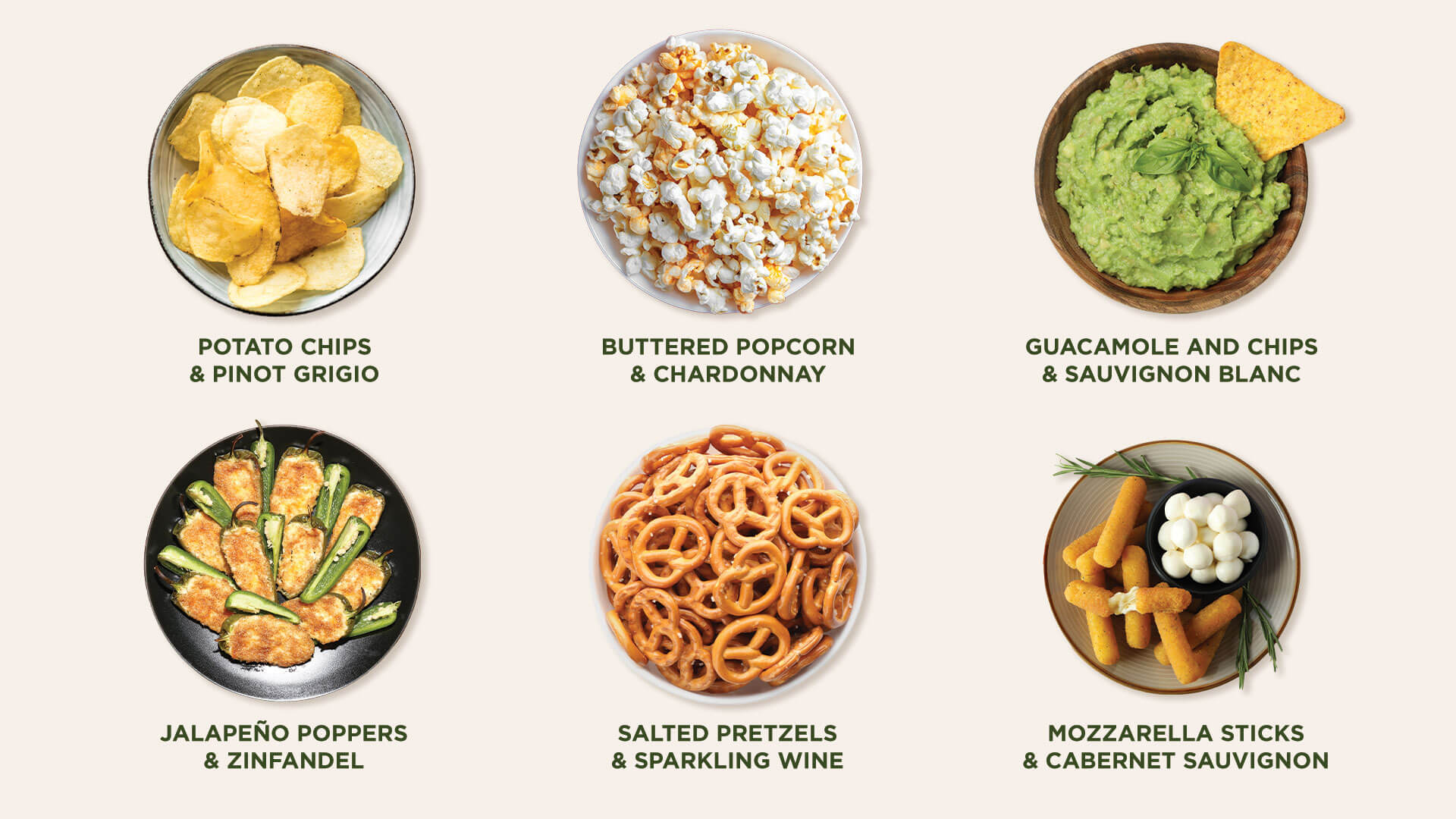 Potato Chips & Pinot Grigio
Light, crisp Pinot Grigio plus potato chips: so simple and so good. The wine's subtle flavours of green apple, citrus and mineral undertones boost the clean, salty taste of your crisps, whatever your favourite flavour from classic salt and vinegar and dill pickle to fancy schmancy black truffle.
Salted Pretzels & Sparkling Wine
Pretzel fans, take note: Make the delightful bubbles of dry sparkling wine your go-to when enjoying your favourite salty snack.
The effervescent vino is a perfect high-meets-low match that elevates the everyday munchie into an extra-ordinary experience.
Buttered Popcorn & Chardonnay
Creamy, buttery Chardonnay complements this most beloved, movie-lover's snack. Pairing the wine's smooth texture and subtle oak flavours with this toasty, nutty finger food is the ultimate in smart (and tasty) casting.
Guacamole and Chips & Sauvignon Blanc
Bright, zesty Sauvignon Blanc plus creamy, tangy guacamole: delicious! The wine's signature high acidity balances the richness of the dip, while its herbal and citrus notes boost the overall freshness of this snack-and-sip moment.
Jalapeño Poppers & Zinfandel
Jalapeño poppers demand a bold, spicy partner. Zinfandel is just that pour. The wine's ripe berry flavours and peppery undertones present a solid flavour match. Tip: Look for a bottle with a bit of residual sugar to counteract the pepper's fire.
Mozzarella Sticks & Cabernet Sauvignon
Full-bodied Cabernet Sauvignon holds its own alongside this savoury, crispy cheesy snack. Taste that irresistible fried cheese with this varietal's signature dark fruit flavours and firm tannins and one word comes to mind: wow!
Charcuterie & Rosé
Light and medium-bodied Rosé makes an ideal companion for a charcuterie board. You'll be sure to please your crowd with this pairing as the wine's refreshing, fruit-forward flavours suit the savoury, salty cured meats perfectly. Tip: The more robust your charcuterie, the more robust your wine should be.
---
Sweet treats: Look for wines with a touch of residual sugar and similar aromas and flavours when matching with these treats.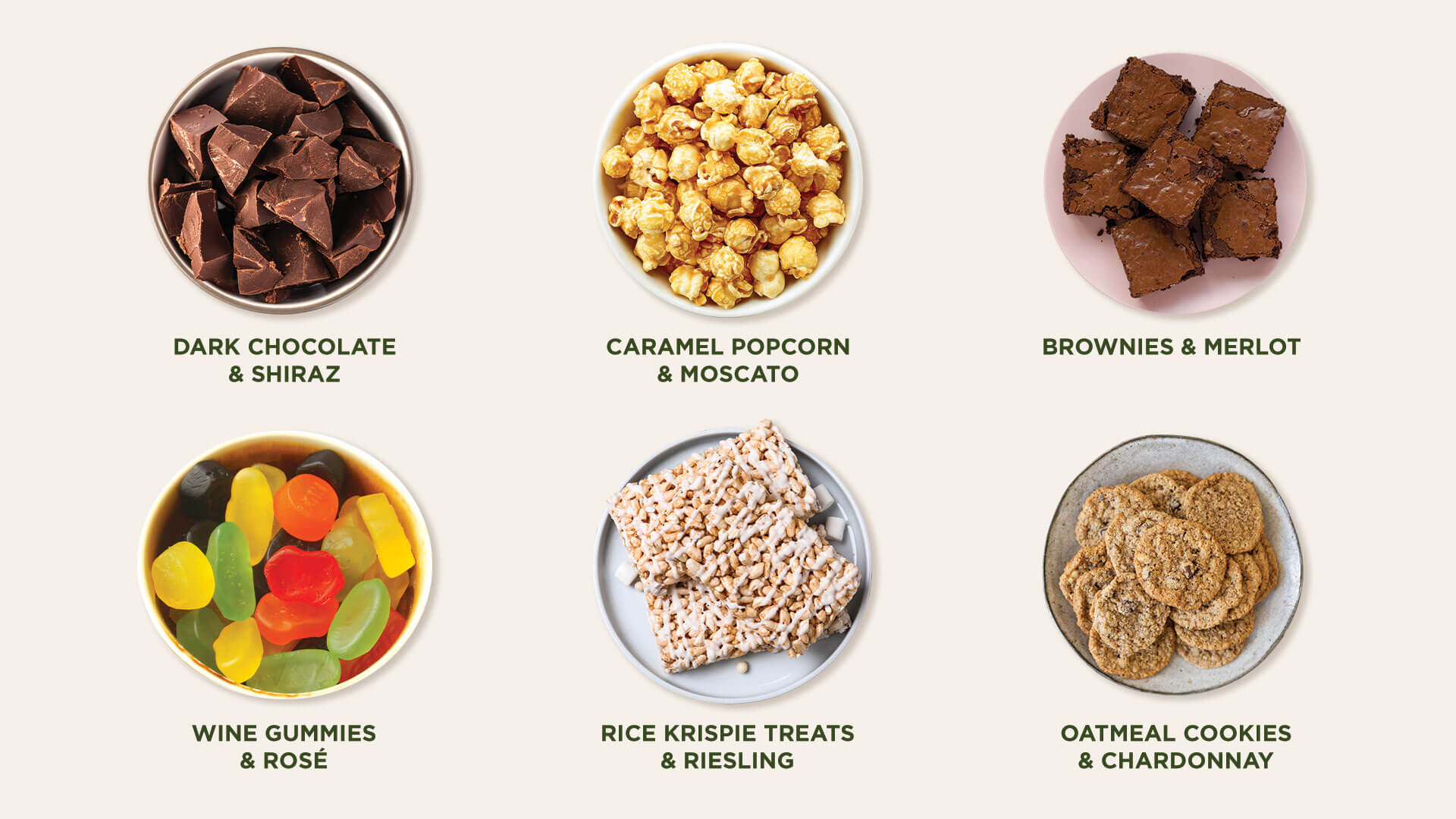 Dark Chocolate & Shiraz
The signature characteristics of Shiraz include a rich, robust character and black fruit, smoke and savoury notes – and often a touch of residual sugar. No wonder it's an excellent match for dark and bittersweet chocolate which has such a similar flavour profile. Consider it an easy dessert, too!
Brownies & Merlot
Looking for a red sipper to match your love of brownies? A velvety Merlot works well. The wine's signature fruit flavours (raspberry, plum, black cherry) and spice are tailormade to sing with rich chocolatey goodness. Tip: Top your brownies with a sprinkle of flaky sea salt to make this match even more harmonious.
Caramel Popcorn & Moscato
This popcorn's brown-sugary and toffee coating calls for a wine that is as sweet or sweeter. A dessert-style of Moscato is a solid match here; its citrus, pear and honeysuckle notes add depth and nuance alongside all of that caramel deliciousness.
Tip: When wine pairing with sweet snacks, choose a wine that's as sweet or sweeter than your treat.
Wine Gummies & Rosé
Jujubes, wine gums and gumdrops: These sweet treats call for a wine with the same juicy, fruity character. A crisp, sweet Rosé fits the bill. While dry Rosés are great for dinner pairings, well-chilled semi-sweet and sweet pinks with plenty of berry and floral notes are delightful for this lighthearted pairing.
Oatmeal Cookies & Chardonnay
Oatmeal cookies belong in the canon of classic cookies with their toasty flavours and oh-so-satisfying crunch. No surprise that a classic oaked Chardonnay with similar toasty, buttery and baking-spice notes makes a top-notch pairing. When raisins are involved, they'll also help bring out the wine's subtle fruit notes.
Rice Krispies & Riesling
Crisp, sweet Riesling and Late Harvest Riesling are ideal to sip with classic crispy-rice treats. The wines' high acid keeps the tasting experience fully balanced. Caramel, honey and orchard-fruit notes are also fantastic paired with the snack's much-loved marshmallowy and buttery flavours.
Chocolate-covered Strawberries & Pinot Noir
For elevated snacking on chocolate-dipped berries, a delicate and fruit-forward Pinot Noir is a savvy match. The wine's red fruit notes and silky tannins balance beautifully with the richness of the chocolate and the fresh fruit. An off-dry sparkling wine made with Pinot Noir grapes would also work.