Nk'Mip Cellars 2020 Qwam Qwmt Chardonnay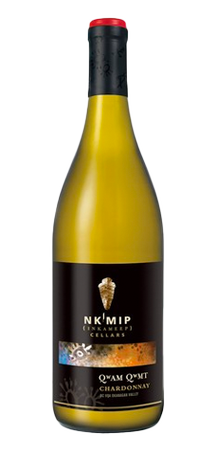 Wine Profile
Tasting Notes
The nose has hints of butterscotch, melon, tropical fruits and lemon. The pallet has a soft entry with citrus, light tropical fruits and hint of spicy oak. The crisp acidity carries through the finish.
Awards
BEST CANADIAN WHITE OVER $15 - DECANTER WORLD WINE AWARDS SILVER MEDAL - WINE ALIGN NATIONAL WINE AWARDS SILVER MEDAL - LONDON INTERNATIONAL WINE AND SPIRITS COMPETITION
Vineyard Notes
March and April saw cooler days - this thankfully shifted late April when temperatures rose to seasonal averages accelerating bud break to historical norms. May and June continued to be warmer than usual and cooled down in July. September was challenging - it was wetter than normal making it difficult to establish pick dates and caused fragile grapes to begin to see bits of botrytis. We got busy in harvesting susceptible varieties before the disease could affect the quality. Overall, while a challenging vintage, the overall quality of the 2019 wines is wonderful and, in some cases, exceptional.
Production Notes
We started our Chardonnay harvesting on October 4th and finished on the 15th. We whole cluster pressed the grapes and fermented in our finest Burgundian French oak with 38% of it being new barrels.
Winemaker Notes
These Chardonnay grapes were whole-bunch pressed to extract the highest quality of juice. Complete malolactic fermentation during 10 months in French oak barrels developed the unique bouquet and mouth-feel. Rich and nutty in flavour, offering lots of caramel, marzipan and pear. Enticing and aromatic with subtle layering of honey and pineapple is followed by a lingering vanilla finish.
Food Pairing Notes
Pairs well with creamy Risotto, Seafood pasta, Alaskan King Crab or Roasted Rosemary Chicken. For quick crowd pleasers try pairing this wine with warm brie cheese, and pâté on a soft French baguette. Pairing aged Gouda and aged Cheddar will also make very happy guests.
Product Reviews
Hayden Taylor
(Oct 6, 2015 at 10:47 AM)
Hosting a Dinner that served a Traditional Aboriginal cuisine, as part of my University Thesis, The Qwam Qwmt Chardonnay was the perfect pairing with with a Smoked Salmon Cream Cheese on a Bannock Chip. I highly Recommend this wine for any occasion.