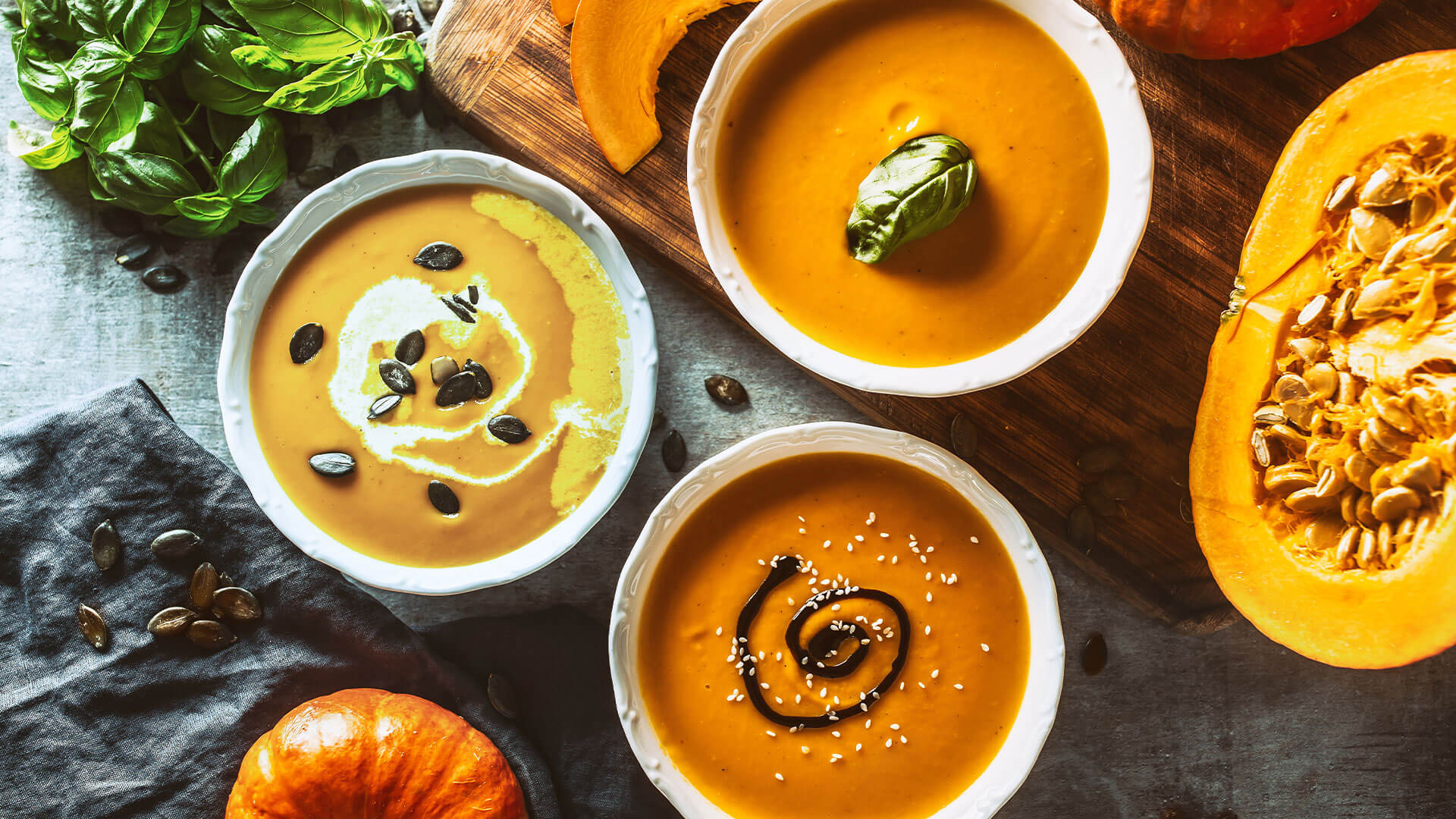 Best Soups for Fall and Winter
It's comfort food by definition. To feed your body and soul, we've rounded up a few of our all-time favourite soup recipes.
Pair a delicious bowl of soup with a well-matched glass of wine for an everyday but elevated meal.
Squash and mushroom, cauliflower, potato and beef-barley: Simmer up one of these homemade soups and you've got the perfect meal for a cool-weather day. Simply add fresh crusty bread, a simple green salad and a glass of wine to match!
Butternut Squash Soup
Squash soup is delicious any time of year but especially in the fall and holiday seasons. Even without the cream garnish suggested in this recipe, this squash soup recipe is super-creamy and hearty. Croutons, pepitas or a sprinkling of chives, rosemary or thyme add another layer of flavour and style. You can also add a pinch of cinnamon, nutmeg or smoked paprika to the base to spice things up.
Find the recipe and a recommended wine pairing here.
Truffled Cream of Cauliflower Soup
This cream of cauliflower soup fully satisfies, whether you're looking for a light meal or an elegant starter for a multi-course dinner. Though it's quick to whip together, this vegetable soup truly impresses with its harmony of flavours and textures. The freshness of cauliflower is delicious with the salt of the ham, the umami essence of the truffles and the richness of cream.
Find the recipe and a recommended wine pairing here.
Potato with Irish Cheddar Cheese Soup
Potato soup is a classic. This recipe is quick and easy-to-make while the additon of aged cheddar cheese brings richness, plus nutty and peppery undertones. Feel free to garnish with your favourite toppings, whether croutons, fresh herbs and extra grated Cheddar when serving.
Find the recipe and a recommended wine pairing here.
Wild Leek and Potato Soup
Leek and potato soup is a staple in French cuisine. What begins with garlic and butter is quickly transformed into a most delicious meal thanks to the sweetness of leeks and onion, potatoes and rich vegetable broth. This rendition benefits from an extra flourish of sautéed leeks added just before serving. Hosts take note: This is a an easy soup recipe for family meals but exceptional for dinner-party menus too.
Find the recipe and a recommended wine pairing here.
Beef and Barley Soup with Root Vegetables and Mushrooms
This old-fashioned beef-barley soup is a terrific recipe for using up leftovers. Other budget-friendly cuts of beef would also work well, such as chuck roast and stewing beef. You can also use a variety of mushrooms, from white and button to portobello or whatever you have on hand to give the soup its rich umami flavour.
Find the recipe and a recommended wine pairing here.