Potato Soup With Aged Irish Cheddar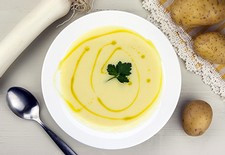 Measurements:
Imperial (US)
Ingredients
3 cups potatoes, peeled and roughly diced
1 medium onion
3 cups leeks, green tops removed and whites chopped
1 cup Irish style cheddar (Dubliner is a great choice), grated
3 tbsps butter
8 cups water
2 tbsps salt
1 tbsp pepper
Directions
Heat a medium size pot over medium high heat. Add in the butter and melt. Next add the onion, leeks and garlic, cook while stirring constantly for roughly 2 minutes or until the vegetables are translucent.
Add in your potatoes and water. Turn the heat to medium-low and simmer until the vegetables are tender (roughly 30 minutes).
Transfer the soup to a blender and add the grated cheese. Puree for at least 1 minute to ensure a smooth texture. Add water to adjust consistency if needed. Adjust season with salt and pepper if needed