Truffled Cream of Cauliflower Soup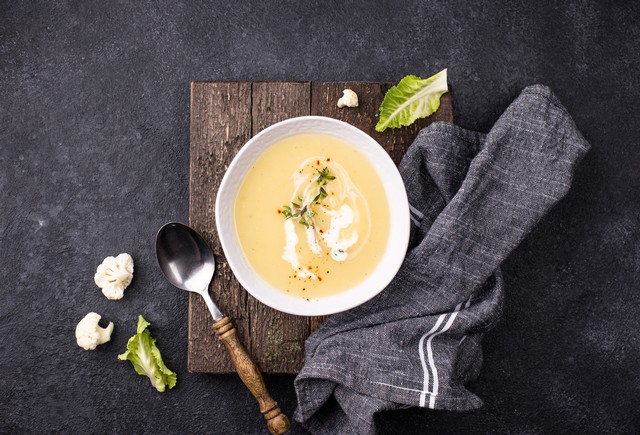 Recipe Date:
November 2, 2023
Measurements:
Imperial (US)
This cream of cauliflower soup fully satisfies, whether you're looking for a light meal or an elegant starter for a multi-course holiday dinner. Though it's quick to whip together, it truly impresses with its harmony of flavours and textures. The freshness of cauliflower is delicious with the salt of the ham, the umami essence of the truffles and the richness of cream.
Ingredients
3 tbsps extra virgin olive oil
3 tbsps unsalted butter
4 slices pancetta, chopped
1 medium onion, chopped
1 head of cauliflower, washed and roughly chopped
4 cups chicken stock
1 truffle, sliced very thinly with a truffle shaver or mandolin
4 tbsps all-purpose flour
1 cup light cream
4 drops truffle oil
salt and freshly ground white pepper to taste
Directions
Heat the oil and butter in a stock pot and cook the pancetta until it is crisp. Add the onion and cauliflower and cook for 10 minutes. Add the stock and half the truffle slices, bring to a boil and simmer for an additional 10 minutes. Remove from heat and cool enough to handle. Purée in a blender. Return soup to pot and heat over medium-low heat.

Mix the flour and cream until very smooth. Add to the soup very slowly, stirring constantly. Simmer for 6 to 8 minutes and season to taste with salt and pepper.

Ladle soup into six individual soup bowls and garnish with remaining truffle slices. Drizzle with a few drops of truffle oil and serve warm.