Butternut Squash Soup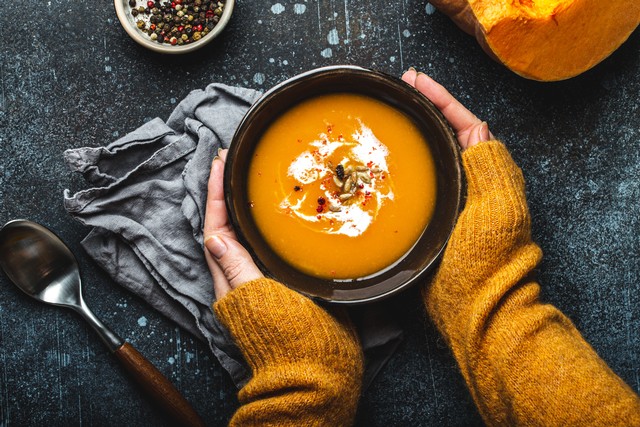 Recipe Date:
November 2, 2023
Measurements:
Imperial (US)
Squash soup is delicious any time of year but especially in the fall and holiday seasons. Even without the cream garnish suggested in this recipe, the soup is super-creamy and hearty. Croutons, pepitas or a sprinkling of fresh chives, rosemary or thyme add another layer of flavour and style. You can also add a pinch of cinnamon, nutmeg or smoked paprika to spice things up a bit!
Ingredients
1 medium onion, peeled and diced
3 garlic cloves, peeled
3 tbsps unsalted butter
1 medium butternut squash (approximately 1.5 lbs)
3 cups water
1 tsp salt
1/4 tsp pepper
1 tsp olive oil
crème fraîche (optional)
Directions
Split and seed squash, rub flesh side with olive oil and roast in a 350ºF oven until flesh is tender (about 20 minutes). Allow to cool, scoop out flesh and discard skin. Melt butter in medium size saucepot, add onions and garlic. Sweat on low heat until tender, about 5 minutes. Add roasted squash, salt and pepper, cover with water. Simmer for 10 minutes until onions are cooked through. Purée in a blender for 2 minutes or until the texture is smooth and silky. Ladle soup into six bowls and garnish with crème fraîche (optional).

Pair this soup with a Riesling or Gewürztraminer to provide a hint of sweetness and acidity for a balanced pairing.

Serves six as a starter.