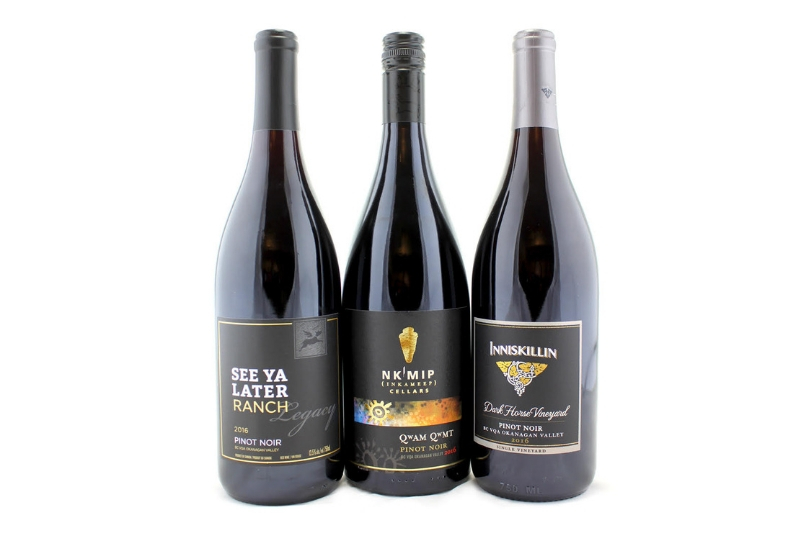 Discover the Variety of Pinot Noir Wines in the South Okanagan
The pinot noir grape originates from the Burgundy region of France but it thrives in the South Okanagan.
We asked three of our winemakers to share their approach to pinot noir.
We start our exploration with Derek Kontkanen, winemaker for Inniskillin Okanagan Estate Winery. He shares the Dark Horse Pinot Noir with us. This wine comes from grapes grown on the Golden Mile Bench - British Columbia's first sub-appellation. As Derek explains, the wine has a clear sense of terroir.
Next up is the Qwam Qwmt Pinot Noir from Nk'Mip Cellars. Senior winemaker, Randy Picton describes this wine and explains how it represents excellence in wine. Plus, he offers his favourite pairing for this wine. It'll definitely make you want to visit the Nk'Mip patio restaurant!
Finally, we hear from David Saysomsack the winemaker at See Ya Later Ranch. His Legacy Pinot Noir is exceptional because, as he explains it, it's made with the 'best of the best'. If you're looking for a Pinot Noir that breaks the mould, this is the wine to try.
Learn more about all three wines in this video.
Pinot Noir Wine Tour of the South Okanagan
These Pinot Noirs show how much diversity you can find in a varietal within a specific geographic region. But, why take our word for it? Make your next wine tour an exploration of the amazing Pinot Noirs of the South Okanagan. Start at See Ya Later Ranch in Okanagan Falls, make your way to Inniskillin Estate Winery in Oliver, and end your tour at Nk'Mip Cellars with a beautiful view of the Osoyoos. Or, try them all in one stop at the Great Estates Wine Experience Centre in Penticton.
We're happy to answer any questions you have and we'd love to see pictures from your Pinot Noir Wine Tour! Connect with us on Facebook, Instagram, or Twitter!

Wintertime is a Busy Time in the Vineyards
A lot of people think that there isn't much to do while the vines sleep under their blanket of winter snow. This couldn't be further from the truth. Winter is an important and busy time in the vineyard. It's the time when have to get the vines in perfect condition to produce beautiful fruit. To get a better sense of what that entails and to find out what else is going on in the vineyard right now, we connected with Troy Osborne, Director of Viticulture, Great Estates Okanagan.
What's happening in the vineyards right now?
Pruning is the start of our season and is by far our most time-consuming task. We started on January 8th and two months later, 70% of the vines are pruned and canes are ready to be tied to the fruiting wire.
Tying will start once pruning is complete and the sap starts to flow. Sap flow makes the canes more pliable and easier to manipulate for tying minimizing damage to the fruiting wood. Tying usually begins mid-March and takes about 30 days.
We are also making final preparations for our aggressive new planting plan.
Our new blocks at See Ya Later Ranch will include new clones of Pinot Noir and Pinot Gris (blocks are located on the lowest bench of the vineyard, they are the first vines you will see on the left side as our you head up from Okanagan Falls to visit the wine shop).
We are also planting a mix of Pinot Noir and Cabernet Franc that will add just under 30 additional acres on the Wolf Creek site and 12 acres of Riesling on the Whitetail vineyard location.
The largest planting in one area will be on our Black Sage Vineyard site. Just under 50 acres of late-ripening reds will be planted on this premiere red vineyard location. Varieties include multiple clones of Cabernet Franc, Cabernet Sauvignon, and Zinfandel.
The first grapes for all of the vines planted in 2019 will be harvest in 2021, reaching full production in 2023.

How was the Icewine harvest this year?
We were very fortunate to have picked the majority of our Icewine grapes in early December when the fruit was still fresh and vibrant and free from rot and desiccation. Our Whitetail vineyard is an ideal location for Icewine as temperatures on this higher elevation vineyard average 4 degrees colder than the valley bottom. This gives us a huge advantage when valley temperatures are just on the edge of adequate for Icewine harvest.

It's been a strange winter, what could the mild then cold winter mean for the vines?
Late fall and early winter conditions are the most important for vine dormancy and fortunately, the conditions were very good at the end of 2018 allowing for very "winter hearty" vines.
Buds are hearty to below -25C and these killing temperatures have not been reached to date and it is highly unlikely as we move into more spring-like conditions in the coming weeks.

As spring approaches, what will you be doing or looking out for in the vineyards?
We are just finishing our bud assessments, providing verification that fruiting buds are healthy and have made it through the winter in good shape allowing crop targets to be met. It all looks great.
Other than completing pruning, tying, and planting preparations, we are busy training our team members on some of the more technical tasks within the vineyard. In particular, our vineyard monitors and our GIS (Geographic Information System). Our GIS gives us a real-time view of what's happening across all of our locations. This allows for the best decisions to be made. This critical information ensures we maintain the delicate balance between obtaining the highest standards of fruit quality and vineyard sustainability within.
Thanks for sharing that with us, Troy!
Now that you know how important the winter season is for the vineyards' health, we hope you'll drop by soon and visit. You might be surprised by how beautiful our winter vineyards are.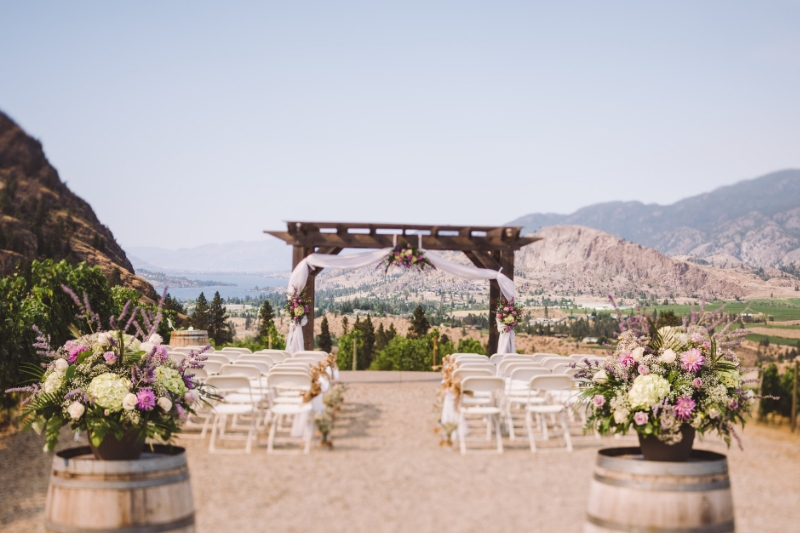 Vineyards, Vistas, and Vino are all Part of a Winery Wedding
Mention the term 'destination wedding' and chances are images of beaches and palm trees pop up. But, that's all changing. Couples today are looking to keep their destination weddings a little closer to home and the Okanagan is becoming a real hot spot.
We'll look at this new trend, explore what it means for couples, and how they can plan an Okanagan vineyard wedding with ease.
Why is the Okanagan so Popular for Weddings?
Monti Samuel is the co-owner of Coco Events and Weddings. She loves to bring couples to the Okanagan for their dream wedding. She says we can thank the exchange rate for the recent interest in Okanagan vineyard weddings.
But it's not just because of the economics. The Okanagan offers couples the whole package as a destination. Monti points out that there's a lot to keep the bridal party and guests happy before and after the big day. Guests can easily make a long weekend or a week out of visiting the beaches, dining, trying out a few adventures (like zip-lining or race car driving), enjoying the spa, and wine touring (of course!).
Or, it might include getting out on Okanagan Lake, explains Monti, "Depending on the size of the group, we've done the night before reception on a big boat."
Tips for Planning a Beautiful Okanagan Wedding
So, how do you pull off the perfect winery wedding when you're hundreds of kilometres away? Monti's response should come as no surprise, "Hire a planner." She's not being smug. The truth is, most destination weddings require a person on the ground who's familiar with all of the venues, the caterers, and the logistics.
Unless the couple wants to take the time to visit the Okanagan in advance and do the leg work themselves, hiring a planner is a pretty smart way to go. But, unlike other destination weddings, there is still a lot of room to personalize the day and make it exactly the way you want.
Start with the Big Picture
Monti says each couple has a vision (usually) and that helps her find the perfect location for them. She does have her favourites, though.
"See Ya Later Ranch is such a special place. It's almost like you're transported into your own little wonderland of a winery where it doesn't feel like there's anything around you. It's such an intimate location even though there is so much space there. And, there's so much for a planner; there is so much to play with. They have so many different locations on the winery for a bride and groom - a location that you can get married in, to tenting, to a big open grassy space, to the big barn that they have, to the patio that you can do something on. You can go out to the front lawn and have a cocktail party, you can go out to the back lawn and have a dance floor, the options there are so diverse."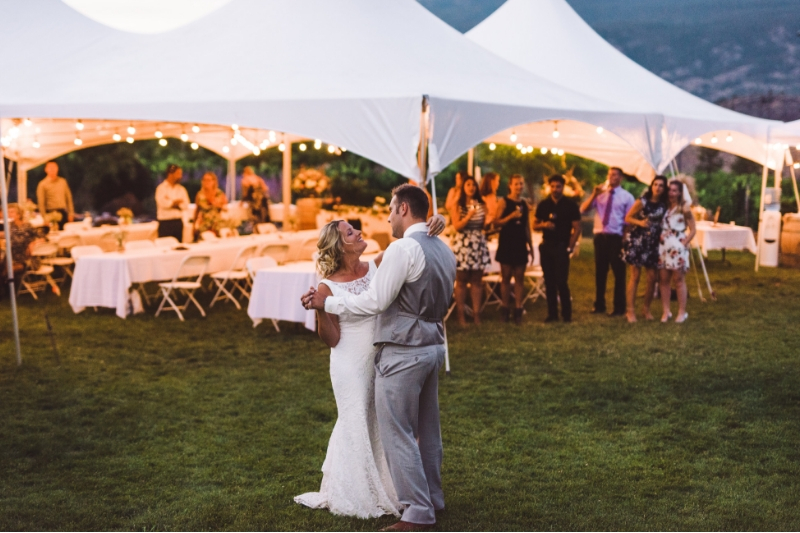 See Ya Later Ranch really does give couples a lot of options on location but the other thing that sets See Ya Later apart is their vast wine portfolio.
Monti says that See Ya Later is an ideal winery wedding location because they've got a good selection of wines, "They've got a sparkling, which is very important at a wedding, and they've got a very diverse choice of reds and whites for a bride and groom. And, at a whole range of price points, as well."
Having a large wine portfolio to choose from is particularly valuable to couples who want to give their guests a really special dining experience that includes wine pairings. Otherwise, when it comes to picking a single wine for dinner, Monti suggests that couples pick a middle of the road red and white for the dinner - a people pleaser. Wine experts at See Ya Later work directly with the couple on wine selection.
One of the best things about having a wedding at a winery is that the guests have the opportunity to experience a real variety of wines. "Guests love it. If you bring guests to a winery where the wine is fabulous, like See Ya Later, even the guests are going to go home with bottles of wine," says Monti.
But, not everyone is a wine drinker and many couples envision also having a cocktail bar. What many people don't know is that a lot of wineries aren't licensed for that. Luckily, See Ya Later Ranch is! So, the martini crowd can easily mingle with the vino lovers.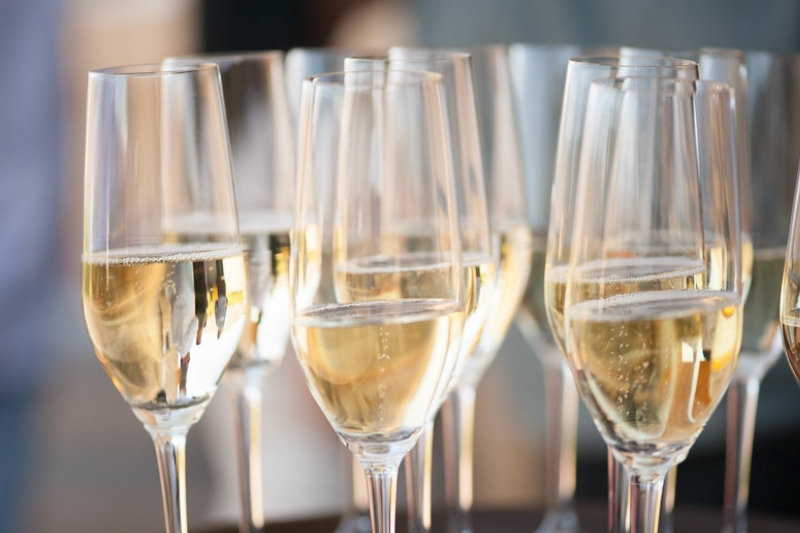 Dialing in the Details
Beverage licenses are just one of the little details that couples have to figure out. More importantly, they have to know which questions to ask when it comes to planning their big day. They might have this perfect picture in their minds but it's all of the little details that add up to create that picture.
Some couples enjoy figuring out these details and, when it comes to a destination wedding, sometimes having a 'partial planner' is all they need. This is someone who will join the couple in the last month or so to make sure all of the T's are crossed and the I's dotted. It helps to take the pressure off the couple during an already stressful time. These planners coordinate with the winery so that the couple can relax and enjoy the day.
See Ya Later Ranch loves to host weddings and has comprehensive packages to choose from or is happy to create custom options. Whether the bride and groom dream of saying 'I Do' in front of a scenic valley vista, dine in the vineyard, or dance barefoot on the lawn, every detail will be taken care of. Especially with the help of planners like Monti at Coco Events and Weddings. See Ya Later Ranch is honoured to be one of Coco's preferred venues.
Photo credit: Kevin Trowbridge Photography

A New Okanagan Brunch Option for March
Jackson-Triggs and Inniskillin Okanagan Estate Wineries (in Oliver, BC) are offering something special during the month of March - brunch! But, this isn't your typical eggs-and-bacon kind of brunch. It's creative food bites paired perfectly with wines from the two wineries' vast portfolio.
You'll be guided through the food and wine experience by our host who will help you deepen your understanding of the pairing. As part of an intimate group of up to 12 food and wine enthusiasts, you'll enjoy 4 - 5 brunch bites each served with a carefully selected wine that is guaranteed to elevate the food.
The menu includes sophisticated spins on classics like smoked salmon and cream cheese on a mini-bagel drizzled with capers and grapefruit crema. And, pancakes like you've never had them before; topped with spicy caramelized apples and icewine maple syrup. It also has unique pairings like the seafood frittata bite paired with Dark Horse Vineyard Chardonnay, and a Cornflake crusted chicken served with blackberry aioli and a glass of Inniskillin Reserve Merlot. But the one everyone is going to be talking about is the surprising use of donuts in a dish paired with the Sunrock Vineyards Illumina!
This event is not only tasty, but it's also educational. You'll learn why we pair certain wines with specific food profiles so that you can take that knowledge home and host a to-die-for brunch of your own.
We hope you'll join us in Oliver at the winery for this exceptional food and wine experience. These brunch events are only happening on Saturdays and Sundays in March 2019. The first event is on March 9th and the last one is on March 31st. Space is limited to 12 diners per day. Avoid disappointment and book now.
Weekend Brunch Wine & Food Pairing at Jackson-Triggs / Inniskillin
Time: 11:30 am - 12:30 pm
Dates:
Sat March 9th, Sun March 10th
Sat March 16th, Sun March 17th
Sat March 23rd, Sun March 24th
Sat March 30th, Sun March 31st
Price: $35 + tax per person
Reservations Required:
Discounts for Wine Club: 15% discount for member and up to 3 guests

Light the Candles and Melt the Cheese this Valentine's
How does certain food earn the label of 'romantic'? For foods like chocolate or oysters, it might be the promised aphrodisiac qualities. Fruits like strawberries might make the list because they're juicy and sweet.
But, for a lot of people, a meal is romantic when you can share it. And there is no better example of share-worthy food than fondue. You've got that big pot of melted cheese in the middle where you and your partner will slowly dip nibbles of food. See, even describing it sounds romantic.
Plus, cheese fondue just begs to be paired with wine. We can all agree that wine is the most romantic beverage, right?
So, why aren't more couples dipping their way to romance on Valentine's Day (or any other date night)? It might be that the idea of making a cheese fondue feels intimidating. It's actually a lot easier than you might think.
Great Estates Okanagan Chef, Ben Overland, shares his recipe and the simple steps to a perfect fondue - the romance part is up to you.
Ingredients:
250g Gruyere (shredded)
250g Emmental (shredded)
2 Tbsp flour
1 ½ cups white wine (or chicken stock)
⅛ tsp nutmeg (grated)
pepper to taste (optional)
Method:
Begin by preparing your accompaniments (aka your dippers!). Choose bite-sized foods you love that go well with melted cheese. For example, cooked cheese tortellini, cubed sourdough bread, sliced Granny Smith apples, cooked sausage coil (chopped), cherry tomatoes, blanched broccoli and cauliflower, and boiled baby potatoes.
Set these aside.
In a bowl, combine cheeses and flour and mix well with your hands.
In a pot, bring wine to a boil and add cheese/flour mixture.
Reduce heat to medium and stir until cheese is melted and smooth.
If the fondue is too thin, make a slurry using 1 Tbsp of cornstarch and 1 cup of cold water. Whisk well so there are no lumps then slowly stir the slurry into the hot liquid. Only add a little bit at a time until desired thickness is reached. It will thicken up quickly.
Transfer your liquid cheese to your fondue pot and heat according to the instructions.
Start dipping!
Pro Tip: When you finish with the fondue, the cheese at the very bottom of the pot will have cooked and turned into a wonderful, crispy piece of swiss cheese. Make sure you eat it. It's amazing!
We recommend pairing this cheese fondue with a dry white wine like the Inniskillin Reserve Fume Blanc, Jackson-Triggs Grand Reserve Riesling, or the Nk'Mip Cellars White Mer'r'iym.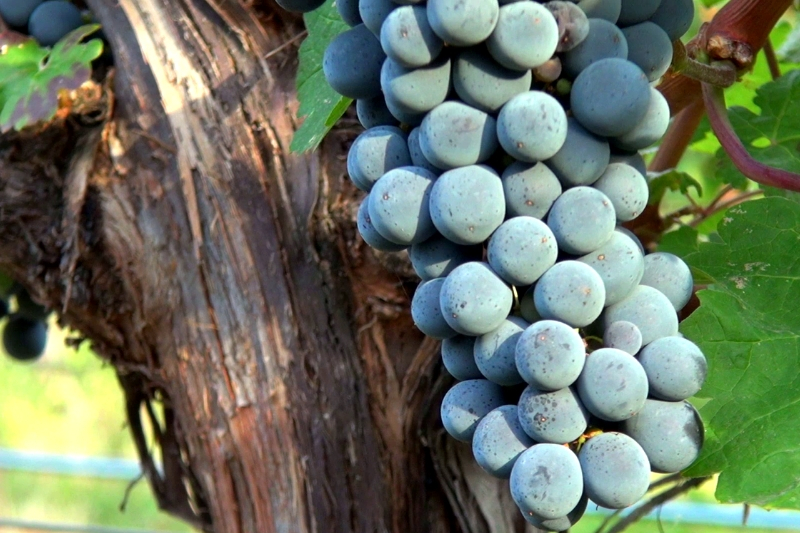 A Guide for Red Wine Lovers
Love Shiraz? We created a video just for you.
In this video, we explore three different and distinct red wines that all have the Shiraz grape varietal in common (which, by the way, is the same as the Syrah grape varietal). These wines are all distinctive and they are all delicious.
We start by meeting Jason James, the winemaker for Black Sage Vineyard. He introduces us to the big and bold Black Sage Vineyard Shiraz. He walks us through his tasting notes for the wine, tells us what makes the wine so unique in the Okanagan, and even makes a pairing suggestion. But (spoiler alert), this wine is also great on its own.
Next up in the video, we meet the winemaker from See Ya Later Ranch Winery, David Saysomsack. He tells us about Rover which is a blend that incorporates Shiraz and a somewhat surprising second varietal. He uses a very interesting technique in fermenting Rover, which he explains in the video. Plus, he gives us some tasting notes and pairing suggestions.
Finally, we hear from Dave Carson, winemaker for SunRock Vineyards. His Shiraz is distinctive because of the unique terroir that it comes from, which Dave elaborates on further. He also offers some tasting notes and food pairing suggestions. Find out why this wine definitely deserves an invitation to your next party!
But, why choose just one? Try them all and discover why each of these three Shiraz options from the Okanagan deserves to be on the 'best of the Okanagan' list.
Do you still have questions? Or, do you want to share your experience with these different Shiraz options from Great Estates Okanagan Wineries? Connect with us on Facebook, Instagram, or Twitter!
Ready to give these wines a try? Shop now online.
2016 Black Sage Vineyard Shiraz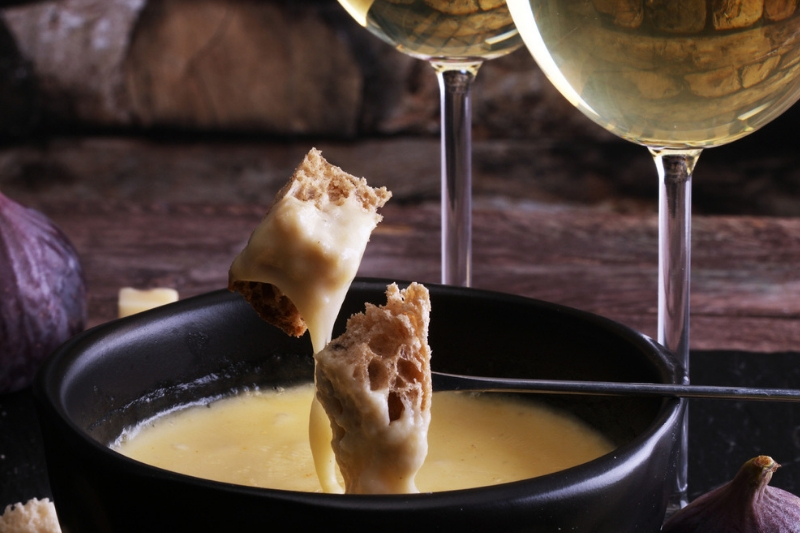 Will You Choose Chocolate or Cheese?
Fondue is a classic winter delight. Whether you like it chocolatey or cheesy, this event at Jackson-Triggs Okanagan Estate Winery will have you dreaming of a long winter.
Choose between the melted chocolate or the melted cheese. Both options come with a flight of wine featuring expertly paired selections from the Jackson Triggs Okanagan and the Inniskillin Okanagan portfolio. You and your dining partner will have an array of delicious bites of food to dip in the fondue pot.
If you've never experienced a fondue before, don't worry. An expert will explain how it works and will walk you through each of the pairings. Plus, they'll help you understand why each wine pairing works so well. This will help you experiment with more food and wine pairings.
It's not just a tasty experience; you'll learn something too!
These food and wine experiences are only available on Sat. Feb. 9th, Sun. Feb. 10th, Sat. Feb. 16th, and Sun. Feb. 17th starting every hour between 12 and 3 pm.
The only thing you have to do is pick the date and make your reservation.
Fondue for Two
Venue: Jackson-Triggs Okanagan Estate, Oliver, BC
This event is in the past.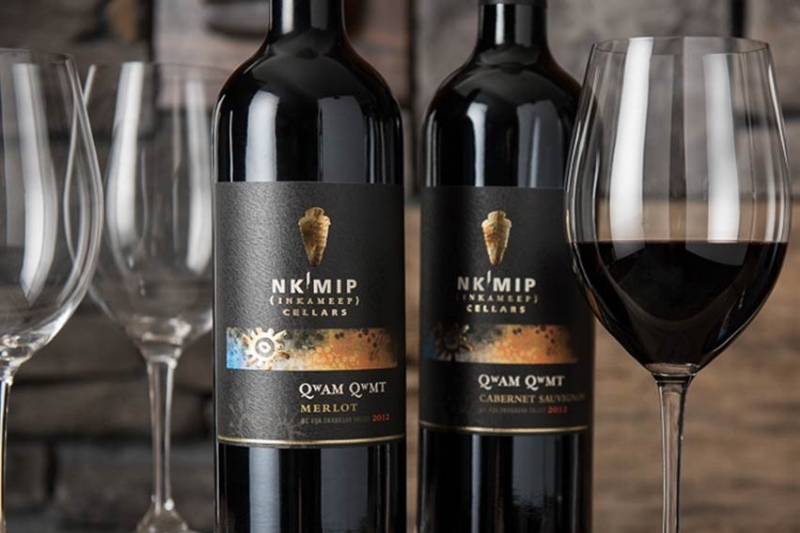 Celebrating Red Wine and Icewine in the Nk'Mip Cellar
The South Okanagan Valley is known for its amazing wines - especially the full-bodied reds and Icewines. It takes a special kind of climate and terroir to allow this to happen. Rarely do you find a place that can offer both the heat and sun required for great, full-bodied red wines and the freezing-cold winters that make Icewine possible.
The Nk'Mip vineyards are such a place and part of the reason they are so legendary.
You're invited to explore the Cellar of North America's first Indigenous owned and operated winery with Winemaker and Osoyoos Indian Band member, Justin Hall. On Friday, Feb. 15th, 2019 he'll show you to the cellar and share a specially selected collection of legendary reds and beautiful Icewines from the Nk'Mip Cellars library. You'll have a unique opportunity to taste how vintage conditions and time in the bottle shape the distinct personality of these wines.
Each tasting session includes 8 samples of wine from mixed vintages ranging from 2002 to current vintage. Space is limited so reserve yours today.
In the Cellar Series: Standing the Test of Time
Venue: The Wine Cellar at Nk'Mip Cellars, Osoyoos, BC
This event is in the past.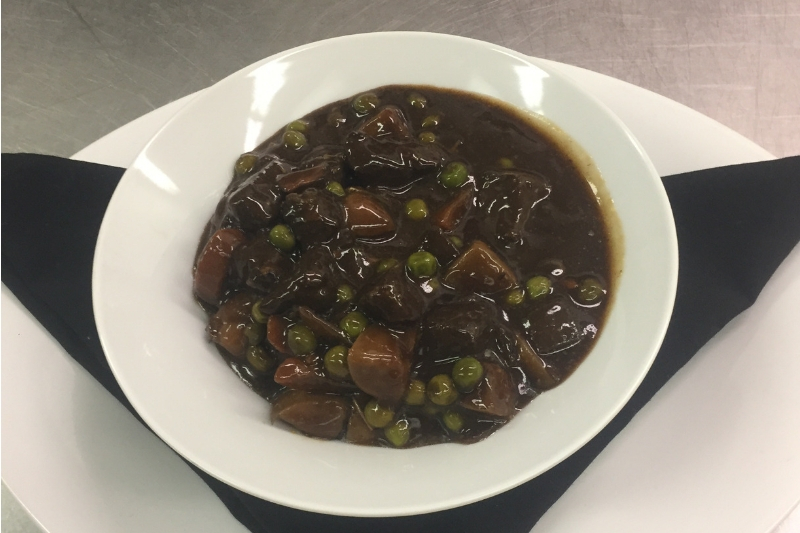 Comfort Food and Wine
Want to know the antidote to cold, dark, winter nights? Beef stew served with a bold red wine.
Great Estates Okanagan Chef, Ben Overland, loves to serve this hearty, comforting meal at this time of year. And, since there is no substitute for made-from-scratch beef stew, he's sharing his recipe with us.
This recipe can be made on the stovetop in a large stock pot or in a slow cooker. Ben has given us his recipe but he also says that stews are a great way to clean out the fridge so don't be afraid to get creative with the ingredients. Really, almost anything goes, as he explains, "Leftover squash from two dinners ago, put it in. Random herbs, wonderful."
He also likes to add celery root as an option to his stock, "Add diced celery root when you add the carrots. If using celery stalks, slice the celery about ½ inch thick and add it about an hour before the stew is expected to be done."
Ideally, you are making the stock from scratch but if you need a cooking short-cut, you can use powdered beef base - just follow the directions on the package.
For pairings, we recommend 2015 Inniskillin Reserve Merlot, 2015 Black Sage Vineyard Meritage, or the 2015 Sunrock Vineyards Shiraz. The bold dark fruit components of these wines and prominent tannins will be softened by the richness of the stew. And, the rosemary component will not override the flavours of these delicious wines. They also each provide a lovely glass of 'cook's nip.'
Speaking of cooking, let's prepeare this beautiful beef stew recipe.
Ingredients:
4 Tbsp Olive Oil
½ lb. Butter
2 lb. Stewing Beef (1" cubes, fat removed)
2 L. Beef Stock
½ lb. Potatoes
1 Medium Onion (diced)
2 Large Carrots
2 cups Frozen Peas
Salt
Pepper
Rosemary
Crème Fraiche or sour cream (optional) for garnish.
Method:
In a bowl, generously season diced beef with salt and pepper.
In a large, heavy-bottomed skillet combine half of the oil and half of the butter. When the butter is frothy and golden brown add cubed beef in a single layer. Get a nice,crisp sear on all sides of the beef. Do this in batches to keep the temperature high and the butter from burning.
When beef is seared, strain off the fat and set the beef aside. Start again with fresh fat until all of the beef is seared.
If using a powdered beef base, follow directions on the package and get this started. While the stock is heating up, cut potatoes and onion into bite-sized pieces. Peel carrots and cut them into bite-sized pieces as well. Chunky carrots are better than thin slices, as they don't break down as fast.
If using a crockpot, combine beef, potatoes, onions, and stock into the bowl, affix the lid, then set the program according to the directions.
If using a pot on the stove, combine the same ingredients and bring to a good simmer over medium/high heat. Once simmering, turn heat down to low and cover with a tight-fitting lid.
In the crockpot, this stew will take 4-5 hours, on the stove it should take closer to 3 hours.
Halfway through the cooking process, add your carrots and a sprig of fresh rosemary.
After three hours of cooking time, taste-test a piece of beef. If it is tender enough for you, add the 2 cups of frozen peas, stir, turn off the heat and put the lid back. The peas will thaw in about 5 minutes. Once the peas are cooked taste the broth and adjust the seasoning to your preference.
If you have some crème Fraiche or sour cream, add it as a garnish. It's great for the temperature contrast and the sourness helps counter the richness of the stew.
Note, if you are using powdered stock mix, use enough to make about two litres of stock. If you are going this route, Ben recommends using half beef base and half powdered gravy as it will result in a thicker strew.
For those using a ready-made stock from a butcher shop, you may want to add a thickening agent such as cornstarch. To do this, take one cup of cold stock and combine it with one tablespoon of cornstarch. Whisk until there are no visible lumps. Add this mixture to the rest of the stock.
One last tip: If you find the stew a little thin once everything has cooked, ladle out half of the liquid and reduce it by half in a separate pot (on medium/high heat). Return the reduced stock to your stew, et voila!
Pour a glass of bold, fruity red wine and enjoy a perfect winter meal.
Wine Pairing Recommendations for Beautiful Beef Stew

CLICK IMAGE TO SHOP NOW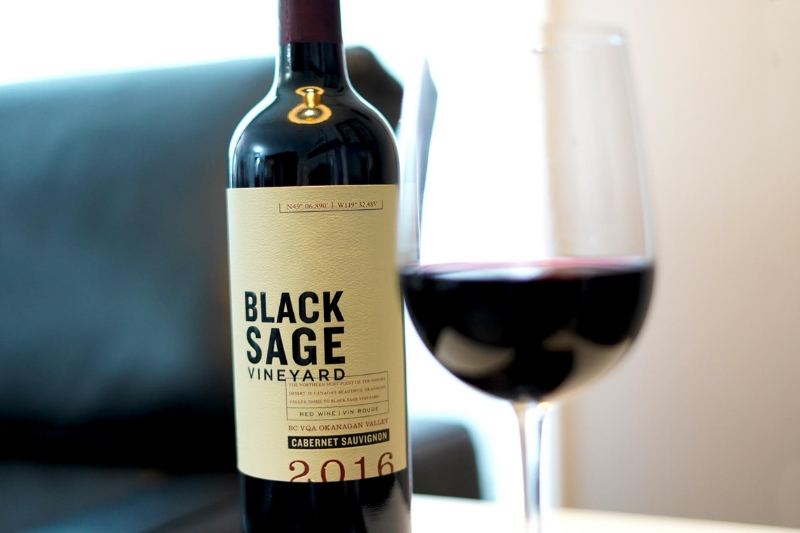 Black Sage Vineyard Winemaker, Jason James, Explains Tannins
Everyone talks about tannins in wine but what are they? And furthermore, why do we want them and why are they considered food's best friend? We take a stroll through the vines with Jason James, winemaker at Black Sage Vineyard, to find out more.
What are tannins?
Tannins are the mouthfeel that a wine imparts; there's the flavour of the wine and then there's the tactile element of it in your mouth.
Tannins are a chemical compound which you find in other drinks too— tea is a good example as it gives you that 'mouth drying' feeling. A good way to understand tannins is to take a grape and eat just the skin—that chalky drying taste is the tannins!
Why do we want tannins in wine?
Tannins help to give structure to the wine. They also help stabilize the colour as that beautiful red tone comes from the skins of the grapes. They play a couple of different roles but what they mostly do is hold the wine together.
Do you get tannins in red and white wines?
Tannin levels in white wines are going to be very low compared to reds because when you make white wine you crush and press the grapes right away and you don't ferment on the skins [because skins are removed before fermentation]. When you make red wine, you make it by fermenting with the skins and sometimes the seeds and stems too. With seeds and stems you get more aggressive tannins, so we don't want to extract those too much, but we do want the tannins from the skin.
What's the difference between a red wine for sipping or one for pairing with food?
When it comes to choosing a wine for sipping, something that's quite 'big' like a Cabernet Sauvignon maybe isn't the best choice. If you just want to drink red wine without food look for lighter varietals such as Pinot Noir or a softer medium-bodied Merlot. Cabernet Franc can be a good choice because it has a nice structure but it's not a huge wine.
Think about your cellar, high tannin wines are good to age. What happens during aging is a chemical reaction. The tannins 'polymerize' which means that they become longer chains as they bind to each other and become softer and less bitter. That's why you'll hear people say that tannins have 'integrated' in an older wine.
Why do wines with tannins pair so well with food?
Big wines with a lot of tannins are good for pairing with foods because of how the tannins react with protein - you can bind up those tannins with your food so they're not all in your mouth!
It's a chemical reaction. Tannins want to jump on to a protein, which without food would be the inside of your mouth and tongue, but when you add food it binds to that instead and the flavour softens. You'll find that if you drink a softer wine, like Gamay Noir, with steak, it just gets overwhelmed. You need something bigger to pair with the food.
How do Black Sage Vineyard wines work with food?
When I make wine, I go for something that will get both sides. My wines have that tannic structure, but we don't extract every last drying tannin from the skin and seeds of the grape, so you can still drink it alone, but it will also pair nicely with steak or a chop. I like my wine to be versatile.
What wine and food pairings do you like?
I really like to keep it simple with my wine and food. I do a lot of braised meat in the winter and you need a great wine to cook with. I'll cook with a Black Sage Vineyard wine and serve food with it too, so you get a layered flavour. A lot of people think you shouldn't cook with good wine, but you always should. Never cook with anything you wouldn't drink! That's a terrible idea – I don't know where that myth came from.
Do you have a favourite?
I love to have our Merlot, it's got a ton of fruit and that nice structure, the tannins are silky and there's a lot of them but they're not clunky or drying. I'm a big fan of my Cab Franc too – that's another one where there's more acidity to it but it has nice tannins. Black Sage Vineyard wines have matured; every year just seems to be better and more balanced. I've had enough time to work with them now and I know what I'm expecting and what they'll develop in terms of tannins and flavour profiles. It's really coming together!