August 1, 2019 | Great Estates Okanagan
Summer Sippin' Wine Cocktail Recipes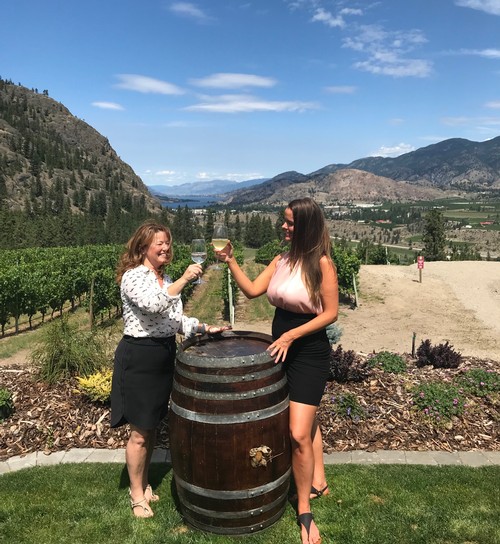 We shared a wine cocktail Virtual Tasting Room video on our social media recently and by popular demand, we are excited to share these wine cocktail recipes with you. These are perfect for sipping on your patio, with friends at a gathering, or next to the pool.
Summer Sipper

Ingredients
Ice
Twig of fresh lavender (sub with mint if lavender is not available)
1 ounce of elderflower syrup (available at IKEA)
Generous pour of Pinot Gris (or Sparkling Brut)
1/2 cup Perrier (or any other sparkling water)

Method
Add ice to your glass, then break up lavender into glass. Pour in elderflower syrup, Pinot Gris and then top with Perrier. Stir, sip, enjoy!
Ginger Ninja

Ingredients
Ice
Two tablespoons of peeled & roughly chopped fresh ginger
1-2 tablespoons agave syrup
1/2 cup Ginger ale (artisanal style soda preferred)
1-1/2 cups of Gewürztraminer
2-3 mint leaves
Method
Add ice to your glass. Place chopped ginger a fine sieve and place over a bowl (to gather pressed juices). Pour agave over ginger and press the ginger with a spoon to release the juices into the bowl. Discard ginger/sieve and add ginger ale into agave/ginger syrup in bowl to loosen up the syrup. Stir gently. Add ice to glass and pour agave syrup/ginger ale mix into glass. Top up with a generous amount of Gewürztraminer. Stir, sip, savour! Want an extra kick? Add a splash of tobassco sauce!
Peachy Keen

Ingredients
Ice
1 fresh, very ripe peach
1 cup Sparkling Brut
2-3 leaves Thai basil
Few drops of Basil infused oil

Method
Add ice to your glass. Cut peach in half and squeeze the juice into the glass, ensuring some of the flesh of the peach is crushed into the glass. Top up up Sparkling Brut. Drop in Thai basil leaves and the basil infused oil. Admire the beauty, sip, enjoy!
Comments
Commenting has been turned off.