Great Estates Wine Experience Centre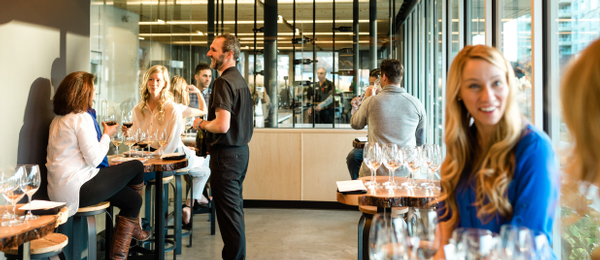 For a full list of EVENTS happening at the Experience Centre | CLICK HERE
---
Tastings
Daily Tasting Bar
Daily
Flight of 4 wines,
$10.00 per person (redeemable with purchase of $50)
Sample a daily selection of wines from our South Okanagan Estate vineyards. Small lot and single vineyard wines offer you some of the best the South Okanagan vineyards have to offer.
Compare and explore tasting bar offerings. Wine selection rotates and changes daily.
No reservations required
---
Portfolio Room Tasting
Spring/Summer
(May 1 - September 30)
12pm to 4pm daily

Fall/Winter
(October 1 - April 30)
12pm to 4pm daily

$20.00 per person
($10 redeemable with purchase of $75)
Our portfolio tasting room will offer a selection of wines from one of our Estate portfolios daily and create a heightened tasting opportunity to enjoy wines in a more private setting. Wines tasted in the portfolio room will be served in a Riedel varietal specific glass and each tasting will be accompanied by a small plate with food bites paired with each wine.

No reservations required
---
Experiences
Wine + Chocolate = Happiness
Date: Daily
Time: 1:30pm
Price: $25 per person
If you love wine and you love chocolate then there's no doubt that participating in our Wine + Chocolate = Happiness experiences will put you in your happy place.
Join our wine educators for an indulgent experience learning how to pair chocolates with four of our wines from the South Okanagan! Discover how delicate dark chocolates filled with organic Okanagan fruits pair beautifully with red, white, and dessert wines.
We kick the Wine + Chocolate = Happiness experiences off with a glass of sparkling wine. We then explore the world of chocolate, fruit, and South Okanagan wine to discover how these decadent flavours enhance and contrast one another.
We've partnered with Maison Mulnati to bring you this amazing pairing experience. New to Penticton, Maison Mulnati is a French artisan chocolatier creating handmade, vegan chocolates without preservatives. Some are even infused with our finest selected vintages of wine.
The experience will satisfy the most discriminating of palates and will give you a new appreciation of two of the worlds best things - wine and chocolate.
Reservations Required
---
Wine and Cheese "The Perfect Pairing"
Date: Daily
Time: 4:00pm
Price: $25 per person
Serving wine and cheese together feels like a no-brainer but which wines work best with which cheeses? From red and white wine to dessert-styles, join us to discover the wine secrets of creating perfect pairings every time whether it's with a nutty Parmesan, a creamy Brie or powerful Blue. Taste along with our wine educator in a fun 60-minute session which will give you the essential skills to put together truly harmonious wine and cheese pair-ings at home.
Reservations Required