March 27, 2019 | Okanagan Travel | Great Estates Okanagan
Explore the Amazing Pinot Noirs of the Okanagan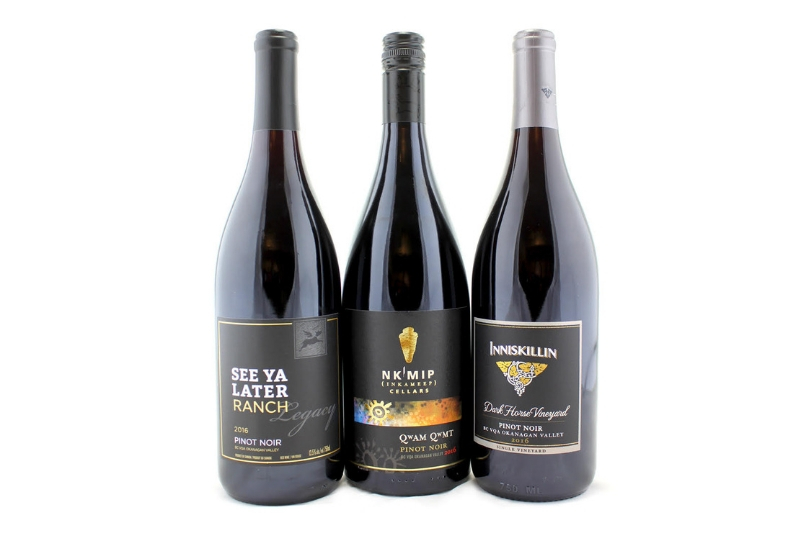 Discover the Variety of Pinot Noir Wines in the South Okanagan
The pinot noir grape originates from the Burgundy region of France but it thrives in the South Okanagan.
We asked three of our winemakers to share their approach to pinot noir.
We start our exploration with Derek Kontkanen, winemaker for Inniskillin Okanagan Estate Winery. He shares the Dark Horse Pinot Noir with us. This wine comes from grapes grown on the Golden Mile Bench - British Columbia's first sub-appellation. As Derek explains, the wine has a clear sense of terroir.
Next up is the Qwam Qwmt Pinot Noir from Nk'Mip Cellars. Senior winemaker, Randy Picton describes this wine and explains how it represents excellence in wine. Plus, he offers his favourite pairing for this wine. It'll definitely make you want to visit the Nk'Mip patio restaurant!
Finally, we hear from David Saysomsack the winemaker at See Ya Later Ranch. His Legacy Pinot Noir is exceptional because, as he explains it, it's made with the 'best of the best'. If you're looking for a Pinot Noir that breaks the mould, this is the wine to try.
Learn more about all three wines in this video.
Pinot Noir Wine Tour of the South Okanagan
These Pinot Noirs show how much diversity you can find in a varietal within a specific geographic region. But, why take our word for it? Make your next wine tour an exploration of the amazing Pinot Noirs of the South Okanagan. Start at See Ya Later Ranch in Okanagan Falls, make your way to Inniskillin Estate Winery in Oliver, and end your tour at Nk'Mip Cellars with a beautiful view of the Osoyoos. Or, try them all in one stop at the Great Estates Wine Experience Centre in Penticton.
We're happy to answer any questions you have and we'd love to see pictures from your Pinot Noir Wine Tour! Connect with us on Facebook, Instagram, or Twitter!
Comments
Commenting has been turned off.