Great Estates Wine Experience Centre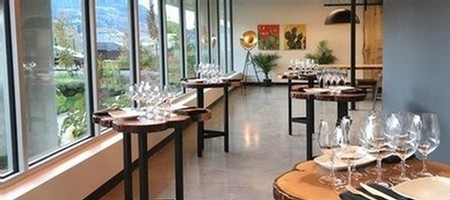 Grand Opening
September 22, 2018
Great things are coming to Penticton from September 22nd when the Great Estates Wine Experience Centre opens on Lakeshore Drive. The Experience Centre will be a hub for visitors and locals alike to learn more about the unique wine region of the South Okanagan, where the desert meets the mountains and the lake.
Take a look at our experiences and keep checking back as we'll be adding new tastings and food and wine pairing adventures as the season progresses. We can't wait to welcome you!
---
What You Can Expect at the Great Estates Experience Centre
Visitors to the Experience Centre will have the chance to take part in daily tastings so they can sniff, swirl and sip their way through the Great Estates Okanagan portfolio which includes Black Sage Vineyard, Inniskillin, Nk'Mip Cellars, Jackson-Triggs, Sunrock Vineyards, Dark Horse, Steller's Jay, See Ya Later Ranch and Sumac Ridge.
In addition to running as a year-round tasting lounge and one-stop-shop for browsing winery exclusives such as cult favourites Dark Horse Chardonnay and SunRock's Illuminia, the Experience Centre will also offer a range of fun and educational seminars for all levels from wine newbie to professional sommelier.
If you're new to the world of wine, join a session with one of our friendly wine educators to raise your game and learn the secrets to pairing food and wine together with confidence; whether it's discovering how to perfectly pair your favourite subtly spiced South Asian cuisine with the fresh aromatic white wines of the South Okanagan or diving into the delicious world of bubbles at a super-sparkling seminar featuring six Great Estates bubbles to pop your cork over!
Wine pros, we've not forgotten about you: join us for in-depth Reidel seminars; take a deep dive into the unique terroir of the South Okanagan or learn more about the history of grape growing in the region in a fascinating discussion with fellow wine aficionados .
---