Watermelon & Cucumber Salad With Fresh Ricotta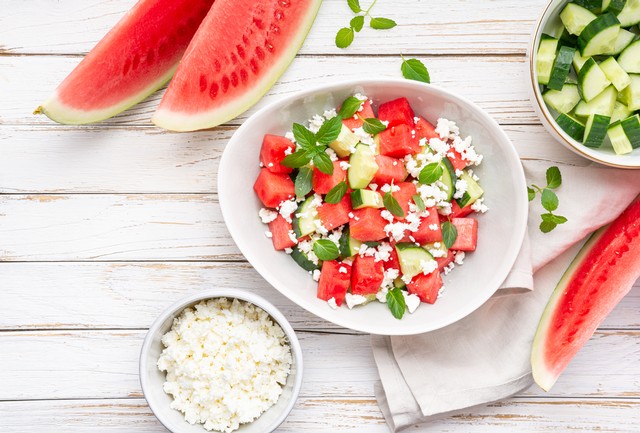 Measurements:
Imperial (US)
Ingredients
1/2 watermelon, peeled and diced
1 cucumber, diced
1 small red onion, peeled and thinly sliced
1 cup fresh ricotta cheese
1/4 tsp fleur de sel
1 bunch sweet basil
1/3 cup olive oil
1/3 cup vegetable oil
1 tbsp honey
1/2 rose
5 peppercorns
1 shallot, diced
1/4 cup rice or white wine vinegar
1 tsp salt
1 tsp black pepper
Directions
Vinaigrette
Reduce wine, shallots & peppercorns in a saucepan by half, cool. Whisk in vinegar & honey until combined. Drizzle in oils until lightly emulsified. Season with 1 tsp salt and 1 tsp pepper. Vinaigrette will keep in fridge up to two weeks

Salad
Toss watermelon, cucumber and onion in a large bowl with vinaigrette and top with fleur de sel. Garnish with torn basil and crumbled ricotta.

Serve with a refreshing Rosé!