The Perfect Roasted Chicken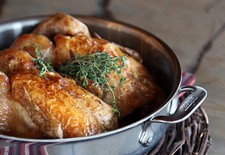 Measurements:
Imperial (US)
Ingredients
1 3 lb free range chicken
16 cups water
1 cup salt
1/2 cup sugar
3 tbsps whole peppercorns
1 bulb garlic
1 lemon
1 bunch thyme
1 bunch parsley
Directions
Bring water, salt and sugar together in a large pot. Bring to a boil, when the salt and sugar dissolve remove from heat. Cut the lemon and garlic in half. Add garlic, lemon, herbs and peppercorns to the brine and let cool completely.
When the brine is cold add in the chicken and refrigerate for 4 hrs*. Remove the bird and rinse well under cold water, then dry off with a kitchen towel. Place back in the fridge uncovered for 1 – 12hrs*. This will ensure the brine is evenly distributed and will also give the skin time to dry giving us a crispy exterior when roasted.

Remove the chicken from the fridge and let rest at room temperature for a half hour*. Preheat the oven to 350ºF. Rub the chicken with olive oil and place breast up on a roasting tray. Roast for roughly 90 minutes or until a meat thermometer inserted into the inner thigh (close to but not touching the thigh bone) reads at least 165ºF (74ºC). Let the bird rest for 30 minutes before carving.

**Please note that the cook time mentioned above does not include the brining, refrideration, or resting time of the chicken. Please allow additional time for each of these steps.

A red wine suggestion with white meat! The round soft flavours in a Meritage or the Cabernet-Shiraz blend provides a complimentary pairing that does not overpower.