Seared Sea Scallops On Apple & Celery Slaw With Riesling Vinaigrette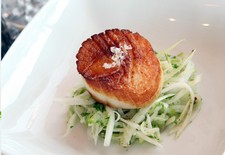 Measurements:
Imperial (US)
Ingredients
1/3 cup olive oil
1/3 cup vegetable oil
1 tbsp grainy mustard
1/2 cup riesling
5 peppercorns
1 shallot, diced
1/4 cup rice or white wine vinegar
1 tsp sea salt
1 tsp black pepper
1 granny smith apples
1 stalk cellery
4 large scallops
1 tbsp olive oil
Directions
Vinaigrette
Reduce Riesling, shallots, and peppercorns in a saucepan by half, cool. Whisk in vinegar & mustard until combined. Drizzle in 1/3 cup olive oil, and 1/3 cup vegetable oil until lightly emulsified. Season with 1 tsp of each salt and pepper. Vinaigrette will keep in fridge up to two weeks.
Scallops
Heat pan with 1tbsp of olive oil on medium-high heat. Sear scallop on both sides, 1 minute per side or until golden brown colour develops. Season with salt.
Apple & Celery Slaw
Julienne apple and celery, season lightly with salt and pepper and toss with 1 tbsp of vinaigrette. Serve seared scallops on top of apple salad.

Try pairing this recipe with an off-dry Riesling!