Sausage & Taleggio Pizza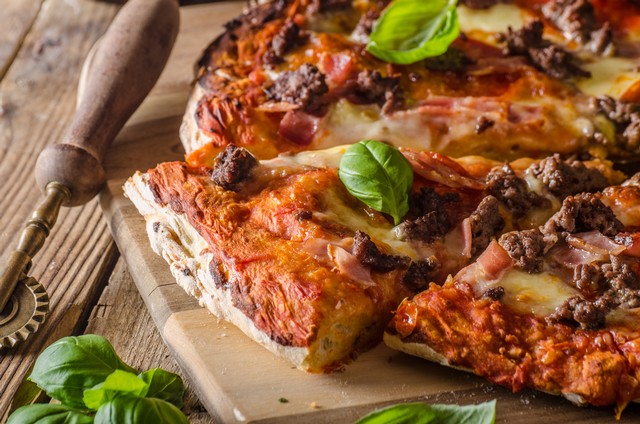 Recipe Date:
August 29, 2023
Measurements:
Imperial (US)
Ingredients
2 tbsps Extra Virgin Olive Oil
2 Pork Sausages, casings removed
3 ozs Provolone, sliced
5 ozs Taleggio Cheese, chopped
1/2 Fennel Bulb, thinly sliced
1/2 Red Onion, thinly sliced
1 Rosemary Sprig
3 2/3 cups 00 Flour
1/2 tsp Dried Instant Yeast
1 tbsp Extra Virgin Olive Oil
1 tsp Sugar
Directions
For the pizza dough, place 00 flour, dried instant yeast, 1 tbsp of extra virgin olive oil, sugar, 1 tsp salt flakes and 1 1/2 cups lukewarm water in a large bowl. Mix to combine. Add 1 - 2 tbsp more water as needed. Cover with a damp tea towel and proof until doubled in size.
Once risen, knead dough until smooth. Cover and set aside in a warm place for a further 30 minutes or until slightly risen again.
In the meantime, preheat the oven to 240 degrees celcius. Place a large 40 x 30cm baking tray in the oven to preheat for 10 minutes.
Roll out dough on floured baking paper to the same size as your baking tray. Drizzle with 1 tbsp of oil and top with sausage, cheeses, fennel, onion and rosemary. Drizzle with remaining 1 tbsp of oil and season.
Slide pizza on top of preheated tray, bake for 10 - 20 minutes until golden. Remove from oven and let stand for 5 minutes before cutting. Serve & enjoy with your favourite glass of Cabernet Franc!