Rigatoni Ragu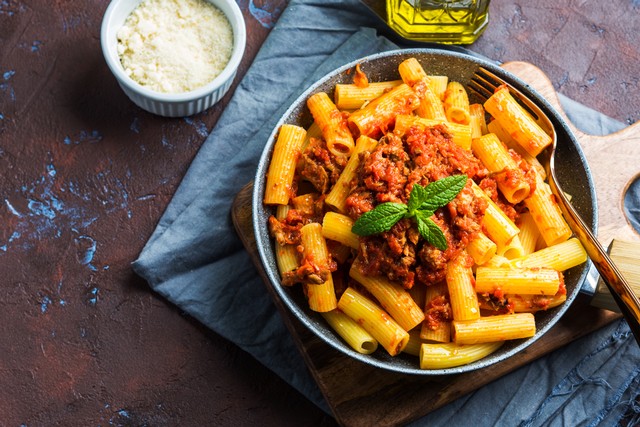 Recipe Date:
March 27, 2023
Measurements:
Imperial (US)
Ingredients
1 lb Rigatoni Pasta
Kosher Salt
1 Onion, peeled & quartered
1 Celery Stalk, quartered
1 Carrot, peeled & quartered
2 Garlic Cloves, peeled
2 tbsps Olive Oil
1/2 lb Ground Beef or Veggie Alternative
1/2 lb Ground Pork or Veggie Alternative
2 tbsps Tomato Paste
1 tsp Oregano, dried
Fresh Ground Black Pepper
1/4 cup Sunrock Vineyards Red Meritage
15 ozs Tomato Sauce
2 tbsps Unsalted Butter, cold
Parmesan, grated - to serve
Directions
Cook pasta in a large pot of boiling, salted water until a dente, drain and transfer to a large bowl.
While pasta is cooking, in a food processor, process onion, celery, carrot and garlic until finely chopped.
Heat oil in a large skillet, add chopped vegetables, beef and pork - break up with a spatula and cook until meat begins to brown, about 3 minutes. Stir in tomato paste, oregano, 3/4 teaspoon salt and 1/2 teaspoon pepper, cook and stir occasionally until heated through, about 1 minute. Add wine and cook, stirring constantly until reduced by half. Stir in tomato sauce and then reduce heat to medium, simmering until sauce is slightly thickened.
Remove from heat, then stir in butter. Toss sauce with pasta and top with parmesan to serve.