P.E.I Mussels With Cilantro And Ginger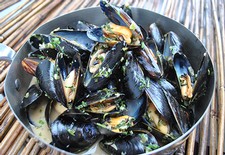 Measurements:
Imperial (US)
Ingredients
1 kg fresh mussels, "beards"* and barnacles removed
6 cloves fresh garlic, minced
1 jalapeño, seeded and diced
1/2 cup white wine
1/4 cup coconut milk
2 tbsps soy sauce
2 tbsps brown sugar
3 green onions, sliced, whites and green seperated
2 tbsps cilantro, chopped
2 tbsps thai basil, chopped
2 tbsps mint, chopped
2 tbsps lime juice
2 tbsps sesame oil
1 tsp salt
Directions
*The beard is the string-like bit coming out from the front of the shell. The mussel will use its beard to cling onto its habitat in the ocean. You can pull the "beards" off quite easily with just your hands. Simply scrub the muscles with a clean scrub pad for dishes to remove the barnacles. Any mussels that are cracked or will not close when tapped on a counter top should be considered dead and be discarded.
Heat a large pot over medium high heat. When hot add in the oil, the whites of the green onions, garlic, ginger and jalapeno. Cook for 1 minute or until the garlic just begins to brown.Turn the heat to high and add in the mussels, soy, brown sugar, coconut milk and wine. Cover and cook until the mussels begin to open. This should take roughly 5 minutes. Stir your pot every minute or so. Discard any mussels that haven't opened. When cooked stir through the greens from the onions, the chopped herbs and lime juice. Adjust seasoning with salt.

Serve with a sparkling wine or a Sauvignon Blanc!