Merlot Braised Short Ribs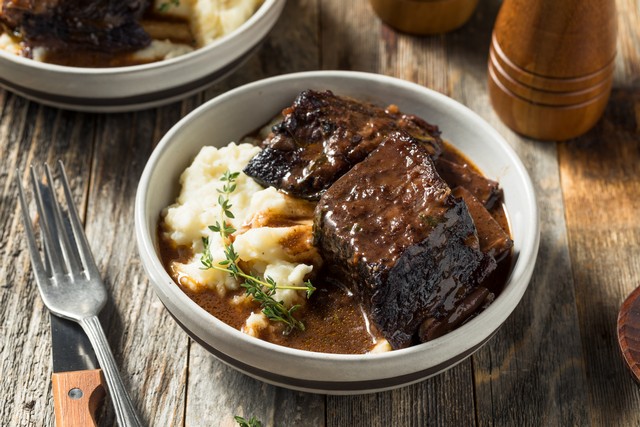 Measurements:
Imperial (US)
Ingredients
1 bottle merlot (or any red wine)
2 tbsps olive oil
6 short ribs, trimmed and deboned (also called Portugese steak)
1 tsp black peppercorns, crushed
10 garlic cloves, peeled
4 shallots, sliced
2 medium carrots, peeled and diced
2 stalks celery, diced
1 medium leek, sliced
6 sprigs parsley
2 sprigs thyme
2 bay leaves
2 tbsps tomato paste
8 cups unsalted beef stock
salt and pepper to taste
Directions
Season meat with salt & pepper. Sear ribs in olive oil in a deep sautee pan until golden brown. Add all ingredients to pan. Bring to a simmer and cook for 4 hours on low heat or until meat is fork tender. Strain off liquid and reduce until sauce coats the back of a spoon. Set ribs aside and discard vegetables. Finish by adding ribs back to sauce and warm through. Season with course sea salt.

Pair with a rich and robust red such as Merlot.