Grilled Chicken Kebabs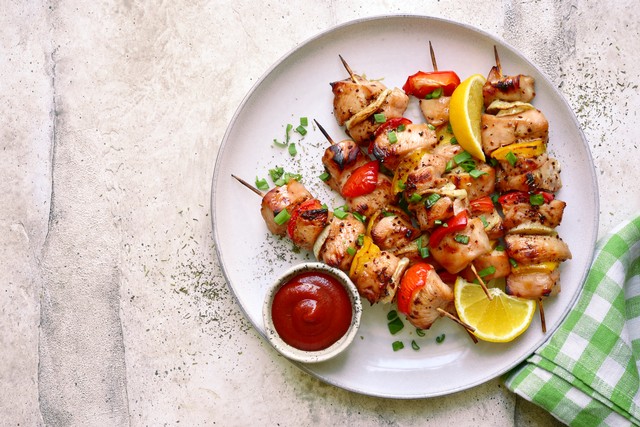 Recipe Date:
May 24, 2023
Measurements:
Imperial (US)
Ingredients
1 lb Boneless skinless chicken breasts, chopped into 1 inch cubes
1/4 cup Olive Oil
1/3 cup Soy Sauce
1/4 cup Honey
1 tsp Garlic, minced
Salt & Pepper to Taste
1 Red Bell Pepper, chopped into 1 inch cubes
1 Yellow Bell Pepper, chopped into 1 inch cubes
2 Zucchini, chopped into 1 inch slices
1 Red Onion, chopped into 1 inch cubes
1 tbsp Parsley, chopped
Directions
Add olive oil, soy sauce, honey, garlic and salt and pepper in a large bowl, whisk to combine.
Add the chicken, bell peppers, zucchini and red onion to the bowl and toss in the marinage. Cover and refridgerate for at least 1 hour.
Soak wooden skewers in cold water for at least 30 minutes. Preheat grill to medium high heat. Thread the chicken and vegetables onto the skewers.
Cook for 5 - 7 minutes on each side or until chicken is cooked through. Sprinkle with parsley, pour a glass of wine and serve!
Alternate method of cooking: broil in the skewers in the oven for 5 minutes on each side.