Cheese Fondue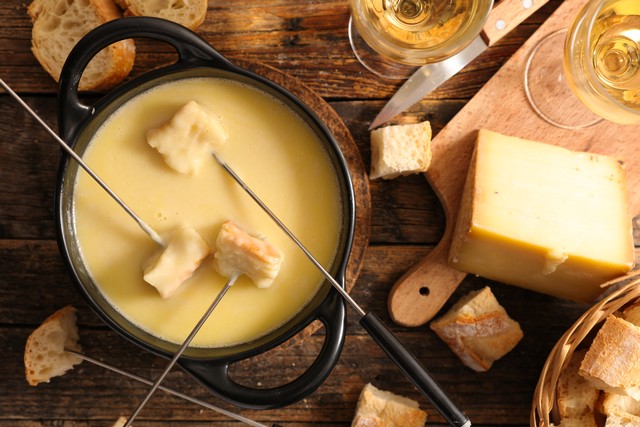 Measurements:
Imperial (US)
Ingredients
1 1/2 cups Chardonnay
4 cloves garlic, minced
3 tbsps butter, divided (1 tbsp + 2 tbsp)
2 tbsps flour
1 cup milk
1 cup Le Douanier or sharp cheese of choice, grated
1 cup St. Paulin or any semi soft mild cheese, grated
Directions
In a medium sauce pot, melt 1 tbsp of butter over medium heat. Add in the minced garlic and sauté for 30 seconds. Add in the Chardonnay and reduce by 2/3. Reserve.
In an additional medium sauce pot, melt 2 tbsp butter over medium low heat. Once the butter begins to bubble, whisk in 2 tbsp of flour, and cook for about 5 minutes, stirring constantly to avoid sticking and burning. Remove the flour mixture from the heat and let cool for 5 minutes.
Whisk the Chardonnay reduction and milk into the flour mixture. Return to medium heat and whisk constantly until the mixture reaches a simmer. Add your cheeses of choice and stir until they are melted. Season with salt and pepper to taste.