Vintage Ink Whiskey Barrel Red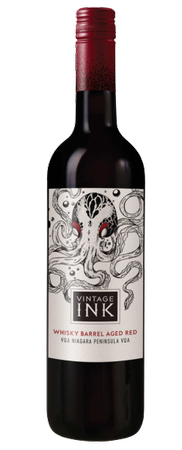 Wine Profile
Tasting Notes
Rich dark fruits, smoky vanilla notes and subtle whisky undertones on the nose. The aromas carry onto the palate with red and dark fruits and an intense vanilla cream with hints of whisky flavours. The tannins are supple and luscious, with balanced acidity and a long finish.
Winemaker Notes
The fruit was picked at optimal ripeness and fermented in stainless steel tanks. The wine then went through secondary fermentation and a portion was aged and finished in whisky barrels. The remainder was aged with French and American oak. The final blend consists of: 60% Merlot, 20% Merlot, 11% Shiraz, 3% Malbec, 3% Tempranillo, 3% Petit Verdot.
Food Pairing Notes
Try this unique red wine with Sticky BBQ Ribs, Pulled Pork, Smoked Brisket, and Bold, hard cheeses.
Product Reviews