Sumac Ridge 2021 Private Reserve Ridge Red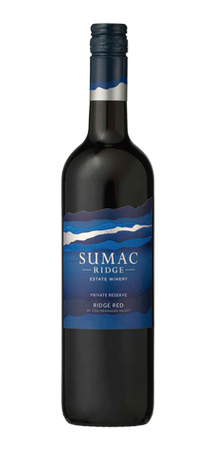 Wine Profile
Tasting Notes
This red blend is a selection of the Okanagan's best red grape varieties blended together to create the perfect wine for everyday. Lots of juicy red fruits on the nose, with layers of spice and vanilla notes as well. The palate carries over what was noticed on the nose, with a loads of fresh red fruits and an undertone of smoky oak and vanilla. Soft supple tannins, balanced acidity and a medium finish.
Food Pairing Notes
Try our Ridge Red with grilled peppercorn steaks, smoked brisket, and barbecue burgers, as well as Edam, Gouda and Parmesan cheese. This wine is also a great choice for pizza or pasta night.
Product Reviews
Al Hammersmark
(Dec 10, 2020 at 12:47 PM)
great value, easy drinking, I need more!!
Anita Darvill
(Mar 9, 2021 at 3:59 PM)
Has a lovely berry jam smell! smooth taste and a great table wine or anytime wine. Cant beat the price
Stuart M Saunders
(Jul 27, 2021 at 12:28 PM)
This blend works. Fruit forward, easy drinking, anytime wine. Great value.
Luc Shih
(Sep 9, 2021 at 2:09 PM)
Great wine! Hope it gets restocked soon!
Angelo Dicerni
(Jun 23, 2023 at 5:08 PM)
Great value for the price. I would make this a go to wine for an every day red with pizza, pasta or grilled meats. Nice ripe fruit taste and aroma with a smooth lingering dry finish.