See Ya Later Ranch 2018 Vidal Icewine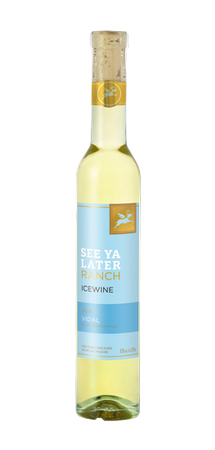 Wine Profile
Tasting Notes
Notes of honey, beeswax, and caramel apples tickle the nose. On the palate, pear, apple, and notes of fig. A rich dessert wine with an acidity that pairs well with the overall sweetness making it a hit before or after dinner.
Food Pairing Notes
Pancakes doused with icewine, grilled pork roast, berries and fresh cream, fois gras, crème brulee. Cheese: Roquefort, Pecorino, Gruyere, Parmigiano-Reggiano.
Product Reviews
Kim Rhodes
(Dec 11, 2019 at 1:24 PM)
Excellent ice wine.....tasted like caramel apples.