Saintly | the good rosé 2021
BC VQA Okanagan Valley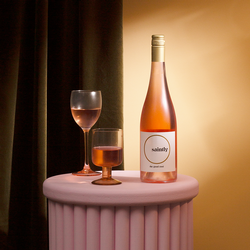 A vibrant, refreshing rosé with aromas and flavours of strawberry, grapefruit and lime, as well as subtle floral notes. The palate has generous acidity, with a medium finish of lingering stone fruit notes. Saintly is a versatile wine that pairs well with anything.
Food Pairings: Pair with Pad Thai, Tuna Niçoise, moulles-frites, or a backyard barbecued hamburger.
Vintage: 2020
R/s: 4 g/L
*WINES NOT AVAILABLE TO SHIP TO ALBERTA* 
Wine Profile
Tasting Notes
You don't have to be a saint to drink this divinely good rose that is the perfect balance of dry, fresh and fruity. It's saintly... so you don't have to be.
Product Reviews
Cristena
(Aug 19, 2020 at 12:08 AM)
This wine is amazing! It came up as an Instagram add and the look of the wine/bottle had me. What girl can resist pink & gold! I can drink Saintly and wake up with no hangover or headaches, unlike some other wines. I am so glad I gave Saintly a try, and I recommend it to everyone I know. It is my go to wine, so much so I just took advantage of the promotion and ordered 6 bottles. Try this wine, you won't regret it!
Clare
(Sep 14, 2020 at 7:31 AM)
A store clerk recommended Saintly - 'the good rose' - chilled it is amazing, a very easy wine to sip with friends and we all instantly fell in love with the colour the label and superior taste. Can't wait to drive down to the winery and pick up a case or two. Congratulations.
Elaine and Debra. Both industry people
(Jan 14, 2021 at 5:41 PM)
Crowd pleaser mon our second glass now. Pairs nicely with our smoked salmon and mussels amd various cheeses. Enjoy. A bit of salt and smoke with the fish was delightful.
Deborah
(Dec 30, 2021 at 4:56 PM)
Stunning rose. Fresh flavourful on the palette . First time Love it!
Lo