Inniskillin Okanagan 2022 Reserve Pinot Gris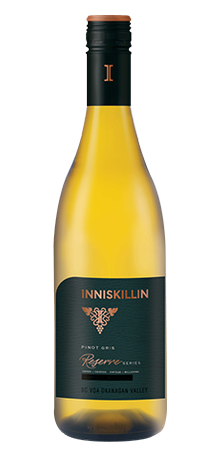 Wine Profile
Vineyard Notes
The onset of bud break was a few weeks ahead of the "regular season", and was complemented with hot summer days and cool nights. The latter part of the summer and early fall cooled off to allow the grapes to reach their full flavour maturity. The white and red wines both benefited from the cooler temperatures at the end of summer to allow for slightly longer hang time which helped flavour development catch up to sugar accumulation. The white wine grapes developed intense fruit flavors while still holding onto some bright acidity. The red wine grapes experienced an amazing season, the extra hang time allowed the red wines to develop more complex flavour and tannin profiles.
Winemaker Notes
Our Pinot Gris grapes were harvested on Oct 15th from the Thomas vineyards at 23.5 Brix. The grapes were crushed and gently pressed, after which the clarified juice was fermented with a specially selected yeast strain at temperatures between 13-17˚C for 14 days. Once the fermentation was complete it was aged in older oak for 3 months, then the finished wine was clarified and stabilized before being bottled.
Food Pairing Notes
Pumpkin stuffed ravioli in a brown butter sauce, Quiche Lorraine, New England clam chowder, roasted pork. Cheese: Monterey Jack, Cheddar, Asiago, Feta.
Product Reviews